<!– This sets the $curauth variable –>
Seir Luciel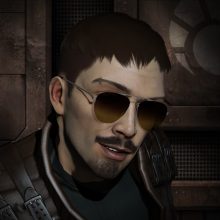 About me
Seir Luciel is a literature grad student who is currently teaching rhetoric at his university. He is in Pandemic Horde, and is the son of Gray Doc (a Goon editor/author on INN), which leads to some pretty interesting conversations; those conversations are often inspiration for articles on INN.
EVE Online Links
Upcoming Events
May 26 @ 5:00 PM

-

6:00 PM

May 28 @ 5:00 PM

-

6:30 PM

May 28 @ 9:00 PM

-

10:00 PM
Popular Articles

At 12:15 ET on March 23, Fraternity undocked over 30 Ti...

On Tuesday May 17, the anticipated price changes for EV...
Latest Comments