The title of this article, for many, will seem shocking. EVE Online has often been touted as one of the supreme examples of capitalism in action. A recent Talking in Stations article noted that:
A Caldari player 5hipy4rd pointed out on reddit recently that EVE Online represents pure unimpeded Capitalism at its finest. New Eden is full of Mercs, Warlords, Organized Crime, Arms Dealers. Wealthy players making money off of poor players who believe they can strike it rich. Power brokers who change the political landscape of the game through war and espionage to serve their interests. Hey, it beats space Communism. No one wants to play a bread line simulator where they're told exactly what to do every session for the good of the state. (TIS News, Sent 2021.04.17 23:48)
Posts like 5hipy4rd's perpetuate a rather long-ingrained fiction that EVE represents a capitalist ideal, or even capitalism at all. But EVE's economy is not capitalist; far from it. In fact, EVE online represents a rather successful alternative to the capitalist mode of production; this includes the way ownership is distributed across New Eden, how ownership itself is produced, and how "labor" and large organizations enter into voluntary agreements with one another. Moreover, some of the elements most prominent in capitalist relations that are found in EVE, especially renting, are some of the most condemned practices by large portions of the community. In other words, EVE Online represents a far more socialist economy than a capitalist one.
This article does not aim to advocate any particular economic system. Rather, I recognize that topics like this can sew many divisions and can even, at times, be inflammatory. Therefore, in an effort to avoid inciting any major arguments or ideological debates, I primarily focus on the definitions of economic terms and provide examples of how such terms would play out in both the real and the EVE world. I hope that, no matter your particular political persuasion, you will be convinced that the EVE economy is not very capitalist. How you feel about that conclusion will be up to you.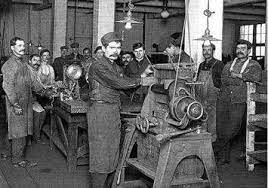 How Was This Misunderstanding Created?: The Free Market
I don't know when EVE was first labeled "capitalist," or even more erroneously, a "capitalist utopia"; but I believe the reason the idea has persisted so long is because of a misunderstanding of the term "capitalism," specifically in its relation to another term: "the free market." Many people conflate the two, but they are not the same.
The free market is a concept most of us are familiar with: goods and services fluctuate by supply and demand and anything that can be monetized can be sold. The primary feature of the free market is that prices, being created via supply and demand, are not set (by a government or some other authority). Most people, when they talk economy/business 101, they think they are talking about capitalism when actually they are describing the conditions of a free market.
Not All Free Markets are Capitalist
It is worth bearing in mind that the free market is old, far older than capitalist production, which arises during the end of the feudal era and gains real traction during the industrial revolution, indeed because of it. The free market, where prices are determined by supply and demand, has existed as long as things have been bought and sold. Importantly, the free market can exist in many kinds of economies: capitalist economies as well as socialist economies. Ineed, according to economic theory, even socialism/communism and the free market are not mutually exclusive ideas.
It is helpful to think of a free market as a kind of a spectrum, rather than a have it/don't have it dichotomy. Very few economies are ever fully free, or fully un-free. In most capitalist economies in the real world, many things cannot be legally sold in the public sphere: narcotics, a position as a student in a prestigious university, human organs, certain guns and other weapons. These examples show that even the free market is limited in what can be sold.
Further, the free market is limited in many capitalist economies by certain forms of price regulation: many capitalist economies limit how much pharmaceutical companies can charge for medications, for example. Most capitalist economies also, through government subsidies, provide large inducements (i.e. payments collected from taxes) to farmers and energy companies, often in the billions of dollars/euros etc.
Why? Because nations don't want to suddenly find themselves out of energy or out of food because private business owners in these sectors have made poor business decisions and went belly up, especially in war time when such crises can be catastrophic. Vital markets, even in capitalist economies, are heavily protected by government subsidies, breaking traditional free market principles.
In sum, most capitalist economies don't have fully free markets, though the level of "freeness" varies from place to place. In the same way, socialist/communist economies have many goods and services with prices being set by the ancient law of supply and demand.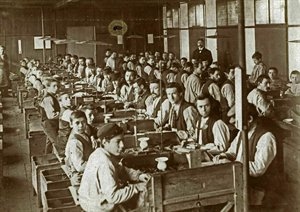 A Unique Experience
EVE Online's economy is unique, not in its closeness to the capitalist ideal, but in how free its market is. In EVE Online anything that can be monetized is for sale and can be bought; there are no restrictions regarding how people can make ISK. All the prices of every good and service in EVE is determined by supply and demand, without any sort of regulation or price setting.
About the only prices that are set include those which are paid for in PLEX. The price of an Omega subscription, for example, is set by the government of CCP, though you could argue that this price is also set by supply and demand in the real world. CCP does not hand out subsidies to various businesses, though large corporations and alliances may do this to aid their various lines of production.
Goods like moon goo and ice may be sold to one's alliance/corporation through a kind of buyback program, paid for by the taxes of the alliance's members; one might call this a kind of subsidy, since it is a player-run government propping up a part of its industry with its tax dollars. Even in EVE, goods aren't only sold from one business-minded individual to another, but are frequently socialized via buyback programs, SRP, etc. The prices, however, for these kinds of social programs are normally determined by supply and demand and other market forces.
Wages, Ownership, and EVE Online
If capitalism isn't the same as the free market, what is capitalism and what is socialism? As a political question this has a thousand different answers; I'm not going to touch this one from the viewpoint of politics. But, as an economic question, it has a fairly simple and definite answer. Capitalist modes of production have a few key features that distinguish them from socialist modes of production: specifically the heavy presence of wage-labor and a very narrow distribution of property/ownership.
A classic real-world example is the capitalist auto-factory. In the capitalist scheme, the factory is owned by a single individual or corporation. That individual has paid for and owns: 1) the land the factory sits on; 2) the physically building which houses the equipment and machinery which makes cars; 3) the equipment and machinery; and finally, 4) the raw materials used to create automobiles. After all these elements have been bought and assembled on location the owner/capitalist must 5) hire labor to run the factory and machinery. Capitalists hire workers to work for wages as they run the equipment/machinery. These fives steps cost a huge amount of start up money, but once set up, they allow the capitalist to generate income.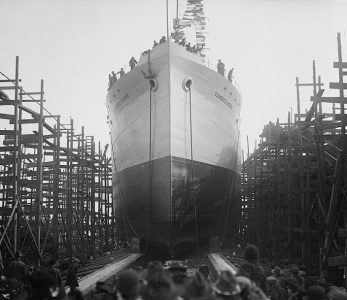 In EVE, You Don't Work for Wages
Two keys to understanding capitalism, then, are the heavy presence of wage labor and a narrow distribution of property/ownership. Let's say the owner of the auto-factory hires 100 workers, each for a set wage, and the factory produces a number of cars. How is ownership/property distributed? The capitalist owns the land, the factory, the machinery, the raw materials, and also the newly produced cars, which the capitalist owner then sells on the market.
The wage-laborer owns nothing other than the wage they have earned for their labor; they have helped make the car, but don't own any product which they could sell for profit. Therefore, the wage-laborer comes ends the pay period, after effectively renting the capitalist's equipment, with purchasing power but not selling power; only 1 out of 101 people have selling power in this capitalist auto-factory. This demonstrates some key features of capitalist economies: they have vastly more buyers than sellers, vastly more wage-laborers than producers, vastly more renters than owners. 
This system looks nothing like the mode of production found in EVE Online. New Eden has roughly the same amount of buys as sellers, though the scale fluctuates wildly between players. Even the smallest newbie in their Venture owns the ship they mine with and the ore that they gather. In other words, even the lowest of players own both the means of production and what they produce, to be sold on the market like any other tycoon, though naturally in much smaller amounts.
The newbie Venture miner even does his work, if in highsec, on land free to all, without a private property sign in sight. Because anyone can go anywhere in high sec, except those with poor standings with the local authorities, and though in theory these spaces are "owned" by the empires, in practice they represent a free, unregulated, communist (meaning communal or community owned) space: anyone can be there, work there, and sell the products of their labor there without oversight. I can't think of many places in the real world that operate like this.
In EVE, You Own What You Produce
In nullsec things are different; space is owned and enforced by various powers and organizations. If you are neutral and wander into another alliance's space, they will likely shoot you on sight. However, if you are a member of a nullsec alliance, you are free to travel and do just about anything, other than shooting blues, within your borders.
Nullsec players are free to work at anything and each player owns what he gathers and produces to sell on the market; they do not relinquish ownership of what they gather or produce to the owner of their corporation and then are given a wage for their labor. They are not told what jobs to do, nor can it be said that an alliance "fires" a player if they get kicked out. Factories and refineries and ore compressing is free for all members to use, if sometimes taxed.
In this sense, EVE corporations operate very differently from corporations in the real world. They are more like nation states than businesses. I would never be able to walk into a real auto-factory with some raw materials, use their machinery, and walk away with my own vehicle to either use or sell. Likewise, I would be hard pressed to find a corporation in EVE which loaned me a Procurer which I traded back in at the end of the day, with all the ore I mined, and was paid a wage for my effort after clocking out.
Is EVE Socialist?
Well, it depends on how you look at it. In terms of lore, EVE is absolutely not socialist. I presume, within the framework of the lore, that each ship and station is supposed to be heavily manned with a crew to support the ship's size. Even the lowly Venture, I assume, has a crew that has been hired by the capitalist player and paid wages for operating the ship. If you are an Amarrian character you might simply have your slaves do it. I assume, in terms of lore, the PI materials don't just gather themselves; we are probably supposed to believe that, depending on the amount of automation going on, there are thousands, maybe millions or even billions of workers on planets laboring for EVE's playerbase and that these invisible lore workers don't own the materials they gather/work for because, well, we do.
In this sense, EVE is very much a capitalist world, but without many of the troubles a real-world capitalist might have to deal with. For instance, I am not periodically alerted that the workers on my PI planets have gone on strike until I raise their wages, or worse, that I must put down a slave rebellion in order to keep getting Oxygen from my gas planet. Inside stations, we do not see advertisements from charity organizations informing us about the many people who survive on less than one ISK a day, working in sweatshops producing T1 frigates; the camera does not zoom in on the face of a very sad and frail woman belonging to the Sebiestor tribe.
In terms of lore, players must represent some of the most wealthy and opulent capitalists of New Eden and have managed to isolate ourselves from the nitty-gritty aspects of capitalist maintenance: thank God I don't have to manually pay my ship's/planet's workers' wages, or negotiate with their union. Don't you dare get any ideas, CCP.
The Essence of Socialism?
Aside from lore, though, what about for players. Is EVE socialist? In essence, yes. EVE's modes of productions more closely resemble socialist modes of productions than capitalist, though EVE's market is one of the freest ever conceived. All players own what they sell and produce, free to use or sell the products of their labor as they see fit. Very few, if any, players work for ISK wages—at least none I have ever heard of. Ownership is distributed much more widely in the EVE economy than in capitalist economies, and there is even a huge swath of property in the middle of New Eden, called empire space, that isn't privately owned but is traveled, inhabited, and worked by the EVE community.
Social programs like ore and ice buyback and SRP are paid for by player taxes, centralized, and distributed by player-run governments. EVE gameplay is defined far more by co-operation among players than competition; any player will tell you that every-man-for-himself isn't the way to be successful in EVE, even if people are working together for their own interests. The strongest nations in EVE are those who work together rather than competing against their own citizens.
Imagine if every Goon or Horde member shot each other to get at the biggest loot at the end of a battle or structure bash; or imagine a single player willing to tank their own corporation's market during wartime just so that they personally could make a huge profit at the expense of every other blue. Even in EVE, much of our behavior is socially motivated and for the good of the collective.
Neither Capitalist or Communist, but Something Else
The following is a passage from the work Anarcho-Syndicalism: Theory and Practice by the American socialist Rudolf Rocker: "In place of the present capitalist economic order Anarchists would have a free association of all productive forces based upon co-operative labour . . . In place of the present state-organizations with their lifeless machinery of political and bureaucratic institutions Anarchists desire a federation of free communities which shall be bound to one another by their common economic and social interests and shall arrange their affairs by mutual agreement and free contract" (originally published 1938).
This short description outlines the most basic framework of Rocker's version of syndicalism, a kind of libertarian-socialist economic philosophy; it much more closely resembles EVE economic relations than the "pure unimpeded capitalism at its finest" fallacy 5hipy4ard proposes. Players in EVE experience an economics not defined by wages, private property, and never getting to sell the goods you produce; on the contrary, it is defined more by "co-operative labour" and "federation[s] of free communities [i.e. "corporations" and alliances] . . . bound to one another by their common economic and interests" all tied together "by mutual agreement and free contract" i.e. NIPs, treaties, mergers, and trade agreements. In other words, the EVE economy is more accurately defined as a socialist/syndicalist economy (perhaps of an anarchist variety, depending on where in EVE you live—nullsec or empire space).
In Conclusion
One of the basic features of EVE gameplay, and the key tenets of socialism, as an economic theory specifically, is worker control and ownership of the means of production. This means that workers collectively own the factory and the machinery in it, and collectively owning the products produced by their collective labor. Rather than wages, workers are paid (usually equally, though not always) by dividing up the profit of their sold goods.
The main takeaways: 1) in socialist economics and in EVE, the workers own the car or ship at the end of the supply chain to be used or sold, not the capitalist; 2) in socialist economics and in EVE, the worker has access and ownership of the means of production, such as a ship to mine with; and 3) in socialist economics and in EVE, space, buildings, machinery, and production services are publicly available, inhabited, and worked on with little restriction.
Furthermore, it does not follow that because EVE's market is incredibly free and unregulated it is capitalist. Nor does the fact that there are incredibly wealthy players who make money off of poor players, nor that there are "Mercs, Warlords, Organized Crime, [and] Arms Dealers" in EVE mean that it is an example of a capitalist economic system. (By the same token, simply because EVE's players exhibit some behaviors motivated by the good of their collective rather than themselves as individuals mean EVE's economy is socialist.) What matters is not the existence of these behaviors and businesses but the mode of their production: how wealth, ownership, and property are distributed as goods/services are produced.
It is also important to remember that EVE's economy will always be driven by different motivations and needs than real life economies. A person in real life may work, even at a job they don't like, because they and their family would starve or be made homeless otherwise, and they want to send their child to college. EVE players work and produce, theoretically, in order to have fun. There exists little penalty for not participating in some aspect of EVE, or even playing altogether. The same is not true for real working conditions. Therefore, while in real life there are positive as well as negative consequences compelling one to work, in EVE there are only positive ones. Death and homelessness don't affect New Eden clones, at least not in the same way as us. Any accurate analysis of the EVE economy must take this into account.
The truth is Karl Marx would view EVE's economy with less criticism than that of Europe's in the 19th century. It's true: in EVE you won't be playing "bread line simulator where they're told exactly what to do every session for the good of the state"; but you won't be playing bread line simulator doing exactly what your corporation's CEO or middle-manager tells you to do either. EVE is neither the Soviet Union nor Amazon. You might think this is a good thing or a bad thing. Your politics are your own, and I am not here to persuade you either way. But no matter your politics, EVE's economy is most certainly not a capitalist one and, if we want to accurately understand this game we love to play, we need to stop claiming that it is.