June 6 was a busy day for the ALOD desk. Usually, we will see one or two humorous bits of fitting nonsense in a week. Yesterday, however, there were three worthy candidates in one day.
Venture Forth little Bee
Our first worthy mention of the day belongs to the Imperium. A group of brave bees set out to find content in the Fountain region. However, this quartet swiftly met with calamity at the hands of a gate camp by The Culture. Not to be deterred, the team reshipped into more elusive cruisers and managed to break through the earlier camp. The roamers managed to get a couple kills in Fountain before they were again set on by locals.
Now alone, our brave survivor set course back to home. But alas he was apprehended at the border by the same gate camp from the start of his saga.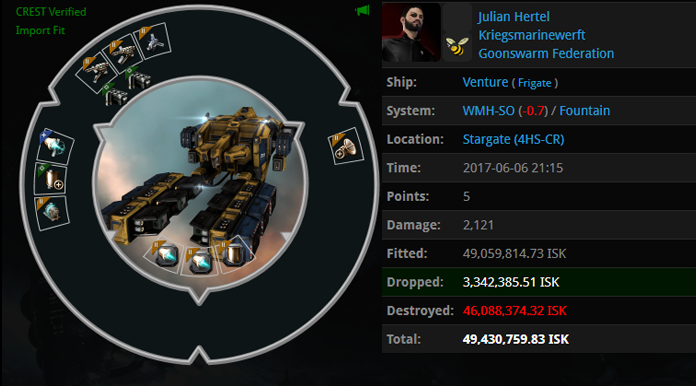 On the face of it, this ALOD isn't so very far out of the norms for a combat fit on a non-combat ship. It has a bit of tank, some damage application, and a prop mod. However, having already been snagged and destroyed in a Stratios earlier in the evening, it seems an odd choice to put an A-Type MWD into the mix that is worth more than 160 times the value of the hull.
When posed with that specific question, the pilot had a reasonable argument in his defense.
"because of the MWD, I did tank the fighter damage from the first fight so it sure was worth it. The Venture does about 3300 m/s without heat."
As such, maybe this entry should really just be an honorable mention.
Pandemic Revelations
Our next entry to the desk is another case where a casual examination of just the values of the loss could mislead the reader into missing some very odd fitting choices. For myself, when I write ALODs, the easiest first step is to look at the fitting values and find the ones that are WAY more expensive than the hull can support. To that end, I reached out to Jay Amazingness for his extensive cap knowledge on the run down of why this entry reached the ALOD desk.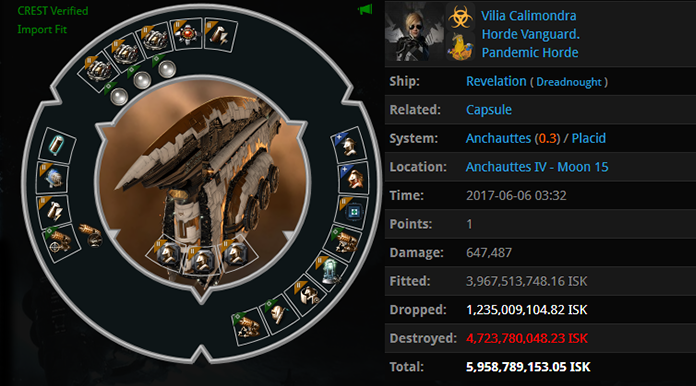 "Cap Fits Roasted by Jay Amazingness"
In this case, the first glaring error is that the dreadnought class capital ship was sporting a frigate fitting mod in its low. "(Micro Aux Power Core), this is used on frigates and provides no real bonus to ships larger than destroyers."
Next, "Drone tracking mid slot (Revelation has no drone bay)"
And finally, "-T2 rigs on a dread (cost more than the hull)-Having a plate and a rep fit is a risky choice as the norm is double plates for dreads."
Jay also reached out to Gobbins of Pandemic Horde for comment.
Gobbins [HORDE]: That guy asked at the start of the op if he could jump in his Titan
Gobbins [HORDE]: Luckily I was checking my phone
Gobbins [HORDE]: Or maybe unluckily cuz tbh I'm curious at this point
Navy Caracal Carrying Half a Super
Tonight's final and perhaps best entry for this ALOD platter is this Navy Caracal who appears to have been doing combat sites in Aridia.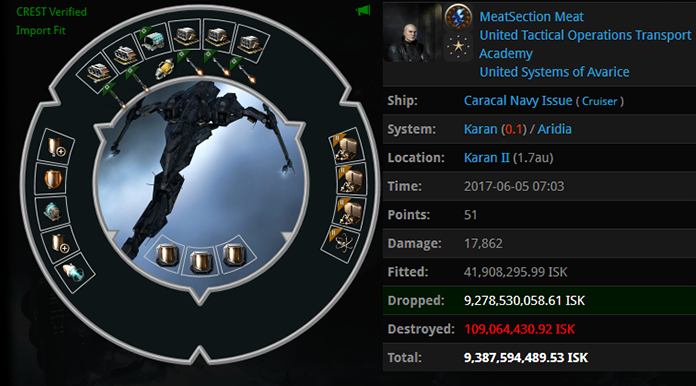 The fit by itself isn't shocking or dramatic. So where in the world does the nearly 10B in value come from? Well, dear reader, it comes from the 13 skill injectors that this brave/foolish pilot was hauling around in the cargo.
Now right off the bat, the cry was "RMT SPOTTED" but there is a twist. Only a few min later, seeing that the injectors dropped, Mr. MeatSection was right back out there in a trusty Ibis trying, presumably, to snag the loot and escape.
Unfortunately, no further entries were present on his KB to suggest success or failure. There was no response when messages were sent for comment but the story can be updated should Mr. MeatSection Reply.