Header art by Quendan Comari.
(Editor's Note: This article is the second in a multi-part series that describes the true problems with EVE's gameplay loop and disputes the notion that forced-scarcity is a viable solution. Part one explains why nerfing resource distribution runs counter to CCP's intended goals, while part two offers solutions to the true problem that has plagued EVE Online for years – the lack of high-end predation.)
The First Step: Admitting You Have a Problem
I know, I know, all the cool kids were doing it before and then all your friends were doing it. I know you mined your titan yourself over the course of two and a half months in a Rorqual and you worked really hard. Your hard work deserves to be rewarded, but it can't be rewarded properly under the current conditions. CCP is on the verge of making the entire game suffer because they don't want to confront the obvious: you are far too fat, and you've spent too long sedentary, tethered onto citadels you're too fat to enter.
The harsh reality is: you need an EHP nerf and that nerfing needs to be extreme, potentially in the neighborhood of 75%.
Capital pilots of New Eden, this is an intervention. Look at this chart labeled A: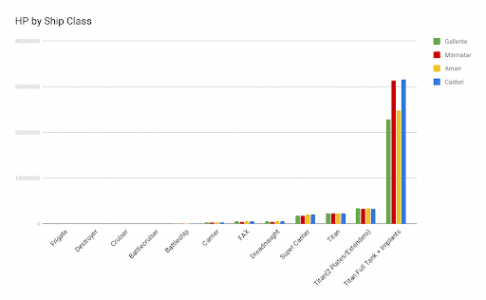 The chart above shows the base effective hit points of a selection of blank hulls from each major ship category. The only exception to this rule are the titans, who have two extra columns, one for blank with a pair of extenders or plates, and one for a fully tanked fit with implants. This is post-nerf by the way.
Compare this to the chart below: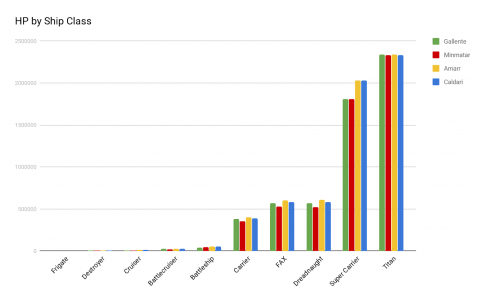 Chart C shows the regular caps: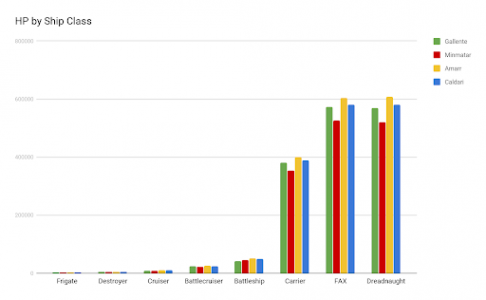 Finally, here is the portion of the game that is actually sane: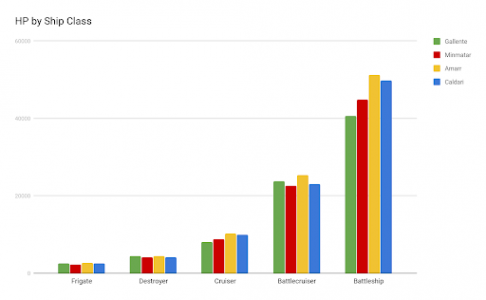 As you can see from Chart D, the other ships of the game progress in a linear fashion, with each category roughly doubling the hit points of the category that comes before. When we jump from battleship to carrier, however, the jump is 8-fold. Battleship to FAX or dread is 12-fold. Moving up to super caps, a fitted Aeon has more than 15 times the hit points of a fitted Archon. A fitted Leviathan has 17 times the hit points of a fitted Phoenix! These are the post-nerf numbers.
The Second Step: Visualize a Thinner, Fitter You
Obviously, anything approaching the level of change I am talking about would require throwing capital pilots a really big bone. The purpose of this proposed change would not be to drive capitals out of the meta; but to correct the current imbalance, to orient the game toward a healthy level of attrition at the super capital level, while delivering on the implicit promise such a big, shiny toy provides. A thinned out capital or super capital, with its current weapons paradigm, would suck and nobody in their right mind would ever want to use or acquire a super capital under those conditions.
It is extremely important that capitals and super capitals remain viable, though with drastically reduced hit point pools. Their offensive systems and non-hitpoint, non-resistance defensive systems would need major buffs. Subcaps should be terrified of these things, but if the supercap pilot makes a mistake, the subcaps should absolutely eat them like a tuna on rye.
The Third Step: Come Up with a Plan for Change
So, now that we know capitals have to change in order to return the game to a healthy state, and now that we've discussed that such a change would not bring all doom and gloom for capital pilots, we need to talk about some ways that this could actually happen:
Slash the EHP dramatically.

Improve damage application.

Improve agility.

Rethink HAWs.
And longer term goals might be to:
Rethink special abilities.

Consider adding some unique abilities and mechanics.

Consider a new ship repair mechanic for super capitals.
Let's look back on where capitals have been and consider where they could go with positive change. The reason CCP has needed to continually nerf damage application is because otherwise the super capitals would dominate everything else in the game, while themselves remaining virtually invulnerable due to server issues.
The "Siege of 9-4", which holds the world record for the largest PvP battle in video game history, should have resulted in super capitals dying by the bushel. It was hyped as the "Million Dollar Battle," but instead ended up being a bust. Most of the super capitals that died were due to disconnects, with a few unlucky folks being shot in the traditional way, and a few dying to good old-fashioned subterfuge. More recently, the Battle of 49-U suffered the same fate, only this time with far fewer pilots involved. Massive player battles such as these drive attention toward EVE, are covered in the mainstream press, and no doubt bring new people into the game. But flops that could have been something great end up frustrating current players and sow doubt among the wider gaming public. Ironically, the most deadly titan fight in recent memory was far smaller, but since the game didn't break, the deaths got to happen. Such fights are rare, as outside of small conflicts, the mechanics don't encourage them. If most battles were like O1Y, capital EHP wouldn't be that big of an issue. But most battles aren't like O1Y.
Because capital EHP is completely out of whack from the rest of the game, capitals are slowly becoming worse and worse at actually projecting damage. In order for super capitals to attain the damage boosts that would make them desirable, they ironically have to be far more killable. With the route CCP is taking, super capitals will become expensive paperweights, unattainable by most players and of limited utility to those who can acquire one. A thinner capital could be more agile, apply more DPS, and be given cool abilities that let it act in novel ways on the battlefield.
Given the reduction in hitpoints, changing raw DPS numbers would be less necessary than damage application, since far fewer hitpoints means capitals would die much faster, and would equate to an indirect DPS boost. In order to fix application problems we need to look at HAWs. Instead of single modules, XL weapon slots could act as storage containers that modules are placed in. A pilot could then fit either: a single XL gun, 4 L guns, 8 M guns, or 16 S guns in each slot. Titans could even be given either range or damage bonuses, which would make various combinations more effective. Imagine a Leviathan with 96 rapid light missile launchers. In this way HAWs could be customized depending on the presumed target. With the EHP taken care of, Doomsday weapons could have their damage cut in half and their rate of fire doubled.
Under this paradigm, carriers and supercarriers, with their superior range, would become the de facto counters to dreads and titans. On the other hand, they would be extremely vulnerable at short ranges and would need to use their improved agility to avoid trouble.
In the longer term, new abilities and modules could be developed to further solidify the super capital role (especially with regard to the titan). Various crowd control and fleet support modules could be devised: for example, a variation on the PANIC module that generates a temporary POS type shield around the titan, either protecting the ships nearby, or breaking the locks of enemy ships that are too close. The old-school 250KM doomsday could return in modified form, maybe acting as an EMP rather than direct-damage attack, that breaks all target locks, deactivates all modules, and applies a slight amount of heat damage to any ship in range. Pilots could turn everything right back on, but it might just give the friendly subcaps the edge they need to break enemy reps, or an unfortunate pilot might burn out a module, having already pushed it to near the limit.
The Road to Recovery
The point of all this is to say that capital pilots need to realize that these ships have never been sustainable. It was only a question of when the bill would come due. Well, the bill is now past due. CCP is on the verge of ruining this game for everybody by trying to avoid this very obvious issue. While it is critical that capitals and super capitals remain amazing ships, don't get it twisted: this proposal is intended to cause them to die in massive numbers. An easy come, easy go approach necessitates the easy go portion. Embracing the run-away wealth creation and ensuring lots of things die all the time will create a far more entertaining and engaging game for everybody, and this proposed solution is far more attractive than the punitive alternatives currently in the works.
Think of the game we could have instead. A game where people fight and die and love doing it, a game where people are out in space churning out production as fast as they can. A game where an alliance's ability to sustain their losses outweighs their ability to put more people in a single system. This sounds like a better game to me than the sucky-McSuckface game of feudal poverty that CCP seems to be planning.
Tune in later for Part 3, where we will discuss the other problem child of EVE, Citadels.