H1Z1 is being invaded by the Imperium, and the reaction has already exceeded expectations. If you've played H1Z1's Battle Royale mode, or joined the Antidote and Batter servers, you may have come across Imperial soldiers.
You might have also noticed the these brave pioneers wearing a stylish uniform shirt, complete with a unique armband. It's possible you've seen the tactical helmet skin, which uniquely comes with goggles. Perhaps the last thing you saw was a customised machete carrying His Regards.

His Regards Machete – TMC Welcome Pack
But most importantly, it isn't just an Imperium uniform. The TMC Welcome Pack is free to every one of our readers, regardless of affiliation. Registration to TheMittani.com is free, and entitles you to our first major giveaway, which we are very excited to share with with the world. Claiming your code also enters you into the draw for an Ultrabook laptop.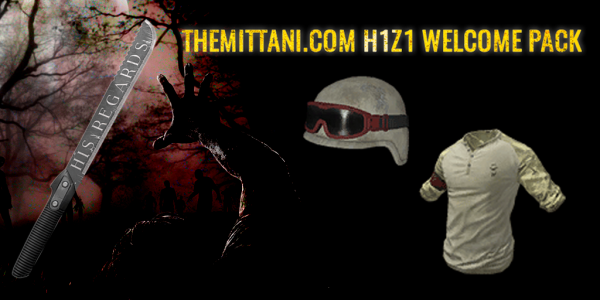 The exclusive TMC welcome pack for H1Z1
Claim your exclusive in-game skins!
Redeeming your items is a simple process too! Simply open up the in-game marketplace and use the "redeem a code" tab. You can also do this through the Daybreak website.
It is worth pointing out again that these are permanent skins that will be added to your account. They are not used up when applied to an item, though you will lose the skinned items when you inevitably die.
If you're playing H1Z1 for the first time, or returning to check out the latest patch, you should also read our survival guideand primer on base building and raiding.