A few weeks ago, the largest concentration of players in gaming history to date converged on a Keepstar citadel in the system of M-OEE8. It was such a big deal that CCP even made Scope videos about the days leading up to the destruction and a synopsis of the final battle. CCP even gave us an estimate of the amount of people in the Keepstar: 132 million people, or the combined population of the top 7 most populated cities in the world. Another way to put that into perspective: the population of Russia was 143.5 million as of 2013.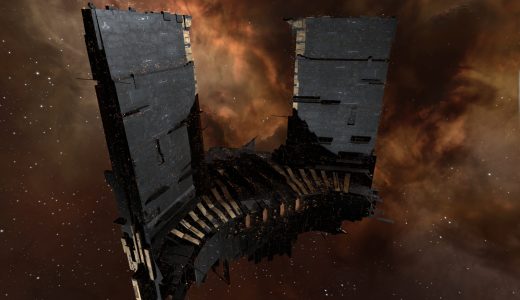 Polygon compared the Keepstar to the Death Star from Star Wars. I was originally going to try and point out how the first Death Star (120 km axis) was slightly smaller than a Keepstar (197 km axis), but still only had roughly 400,000 people on it; nowhere near 132 million the Keepstar has. Then a friend pointed out to me that the Death Star was really a military installation, whereas citadels come in multiple sizes and have various uses. Both the industrial complexes as well as the proper citadels are meant to be staging points and full of life. The closest real-world example of this is perhaps how castles were used in the middle ages. CCP marketed citadels to players—and the people of the in-game universe—as "your city in the heavens". They are places of trade and commerce, while also being dangerous weapons of war. They are a place for a garrison to stage attacks from and have significant anti-siege weapons as well (most notably the Keepstar's doomsday device). Still, 132 million is a lot of people to be trapped in a single structure in the middle of a war zone.
In CCP's defense, they did mention that CO2 organized "Civilian Evacuations" via a title during a segment in their second video as they evacuated their own ships. However, the excerpt was still very brief and vague. While there were several days before the battle actually started, millions would have had to have evacuated in less than a week. In the end, an estimated 62,455,000 civilians were left onboard the station at the time of its destruction. CCP notes in the second Scope video that the remaining occupants had dug their heels in as the final CO2 Leviathan-class titan jumped out of system, determined to take as many attackers with them as possible.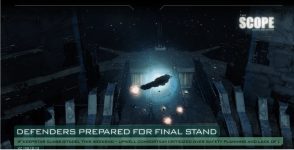 This brings to my mind not only the capsuleer who was manning the citadel, but also millions of workers who had made that station their home and wanted to defend it. Similar to the scene in Star Wars a New Hope where Luke and Han Solo are fighting off TIE fighters in the Millennium Falcon, I can see many of those defiant souls manning the guns and blasting away with tears streaming down their faces as they looked death in the eyes and continued to fire anyway. When the final explosion came, I can easily imagine the terrified screams of those panicking from the destruction of everything around them, running through the halls to futily escape the inferno licking the walls as it barrels towards them similar to how the viewer feels the panic of the inhabitants of the USS Kelvin in J.J. Abram's Star Trek as the time-travelling Romulan Nero obliterates pieces of their ship. All before their voices were "silenced."
Lack of Galactic reaction
Much like the Titanic, I feel that the Keepstar event would spark some kind of controversy among the empires if it has not already. Where is the outrage from the Gallente Federation or the Minmatar Republic that the Citadel did not have enough escape pods or civilian mass evacuation transports? Why has the new Tash-Murkon Empress of the Amarr Empire not commented on this immense loss of life? Where is the Upwell Consortium's comment on how the Citadel performed in combat and how many of the inhabitants ended up dying in the process due to evacuation protocols they plan to amend? Would this not put a damper on the enthusiasm of those interested in going off into Nullsec since Citadels are supposed to be somewhat safer than a ship? The Keepstar could be considered one of the largest civilian casualties caught in the crossfire of capsuleer conflicts in New Eden's history and yet there is naught beyond a peep about their deaths.
In a previous Scope video regarding the initial Drifter Sightings, CCP mentioned in the underlying text that there was a controversy among the families whose loved ones died on the Thanatos carrier that the capsuleer pilot Dantheus lost when he said "Don't fly what you can't afford to lose." This would indicate he was more concerned about the loss of his ship and not the lives of his crew. If this caused controversy, a mere 350 to potentially 18,000 civilians, why has the loss of millions not been commented on by the empires?!
If nothing else, why have we not seen some kind of demand for better evacuation protocols from the empires to try making the possibility of giant battles like this be less of a threat to those who want to make a new life for themselves on the frontier? The most recent (at time of writing) World News article is about Alpha clones bolstering Capsuleer numbers despite drifter assaults. While I get CCP is full of real people with real lives, and this happened right before a major holiday, it still strikes me as somewhat of a disconnect that they would go through so much trouble to cover the battle and yet they barely made a blip about the people who lived on the station? I mean do we really care that there are dangerous NPCs coming to get us when giant wars are happening that have less scripted consequences? CCP dropped a bomb of specifying 132 million people and then somewhat mention it again at the end as yet another punch to the heart and that was that. Seriously.
Immersion breaking
As a roleplayer in nullsec, I have found myself discounting the roleplay ramifications of the choices I make on my character because the Out-of-Character reason is that it's fun. I was able to participate in the battle that destroyed the Keepstar in question as a member of Pandemic Horde and just barely get on the killmail. But that choice raises questions about who I am as a player vs who my character is. I could simply say he was supporting his faction in their war for the Tribute region. But I know Vulxanis would also struggle with seeing the Scope video and view it with pain in his heart knowing that he and his friends destroyed millions of innocent lives. He is a very grandfatherly character who has done a lot of humanitarian work and this would hit him where it hurts.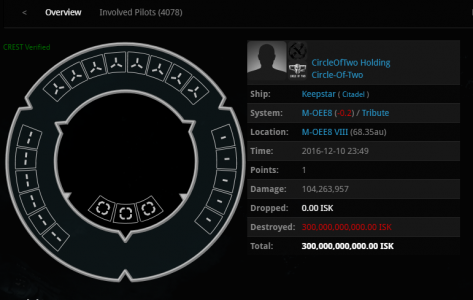 There is a little bit of a disconnect philosophically on how unaffected by the loss of life we are as capsuleers (and as players) that we inflict in this videogame. Ultimately, they are just pixels. But EVE is arguably a different entity altogether in some ways. It is not just a videogame, or even a simulation. It could be argued that EVE's living world is an alternate universe that is simply controlled by our own. Your character would be affected in some way by the experiences they have in New Eden. Thus it would not be too far fetched to consider the ramifications of your ingame actions while happily blowing ships up on your merry way.
I am not saying you as a player need to feel guilty for blowing up pixels. This is a videogame, not Aleppo. My personal favorite form of relaxation in EVE other than chatting with friends is ratting or running a mission and watching all the things explode. However, CCP has presented us with a living, breathing world, and this universe has major inconsistencies in how it presents itself. The lack of reaction by the empires to the Keepstar is not the first time CCP has done this and it likely won't be the last. I mean really: a blood raider fighting in the Amarr succession trials? Really CCP? Did you forget how the Theology Council feels about heretics? But I digress.
Many players may chalk this article up to a roleplayer simply being too sensitive or overthinking these events too much. But please keep in mind that over 13,000 people signed a petition for the ending of Mass Effect 3 to get changed because they felt disrespected. If those players cared so much about a world that they had invested themselves in, are the gripes roleplayers and lorehounds have with CCP any less valuable?
This oversight on CCP's part for not mentioning the rest of the universe's reaction to the battle for the Keepstar in M-OEE8 can be potentially slightly excused by them not having enough time. Better yet, rectified by a new article or video coming out after New Years talking about the rest of New Eden's reaction to this giant battle. But if the bar is set as high as CCP has regarding the quality of immersion from the universe as a whole, it can be very frustrating to those who throw themselves into this universe as deeply as possible when there are inconsistencies that are not addressed. They released a video covering the battle, why not mention how the empires reacted to it? Even a simple article of 500 words written in 20 minutes would be sufficient. We expect more because of how good we know CCP can be.
Ultimately, these disconnects cause "Ludonarrative Dissonance", or in EVE's case, "Ludoworld Dissonance". Ludonarrative Dissonance is a conflict between a video game's narrative and its gameplay. While it is unreasonable for everything to fit perfectly and make perfect sense – if we did not have magically reappearing asteroid belts or sites to rat in, the game's economy would collapse – because it is ultimately a game, this battle is kind of a big thing that happened that I feel CCP should address a tiny bit more. I want to know more about the living world's reaction to what I affect.
If nothing else, the entire battle for the Keepstar would make an absolutely EPIC film.