The Battle of Tsushima. A pivotal engagement in the Russo-Japanese War at the beginning of the 20th century, this engagement was one of the most significant meetings of surface fleets in the formative decades when naval tactics were still adjusting to the rapid technological development that took place in the latter half of the 1800s. Wargaming has released a new video in their Naval Legends series looking at this historic encounter, and the two ships that still survive from that fateful day over 110 years ago: the Japanese battleship Mikasa, and the Russian cruiser Aurora. Filled with analysis and explanations from Naval Historians, the seventeen-minute-plus video explains not only the events of the battle, but also the significance and the reasons behind it.
But that's not all Wargaming has done recently. In what might be a first step toward active leaderboard rankings, Wargaming.net has also made players' service records publicly available. Want to focus your entire team early on eliminating their best player? Finding him just got easier. And of course, the trolls out there can look up just how good the people on the other team are – and how bad your team is – without having to sacrifice even a moment of actively complaining about them all during a battle.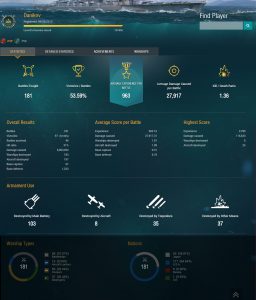 In many ways, the web profile is a faithful reproduction of the information available in-game. In others, though, it provides even more information than was previously available, like the armaments use section. The 'Detailed Statistics' and 'Achievements' tabs will look instantly familiar to anyone who has looked at their own profile in the game client, while the 'Warships' tab allows for an in-depth look at the ships each player commonly uses. Not enough information? Scrolling to the bottom of the Warships tab allows you to look up a player's complete combat statistics for every ship they've ever used, individually. No more being surprised when the guy with the 34% overall win ratio comes in sailing the one ship in his fleet he captains well, ready to shred you the moment you get under his guns.
Overall, the information is presented in a clear, easy to read and understand format. Wargaming has put together a solid design added useful stats and, taken in its entirety, the new public profiles are a great example of how to make player records available to show off to friends and research foes.
This article originally appeared on TheMittani.com, written by Arrendis.