Monthly Economic Report, SEPT 2017
It is that time again boys and girls. Time for the real masters of Eve, the mathematicians and spreadsheet parsers, to get their monthly dose of raw data graph porn.
I've always loved seeing the regional breakdown bar graphs, and since I am far from an expert on the specific topics involved I will be limiting my reporting to the 10,000-foot view of that one graph for the most part.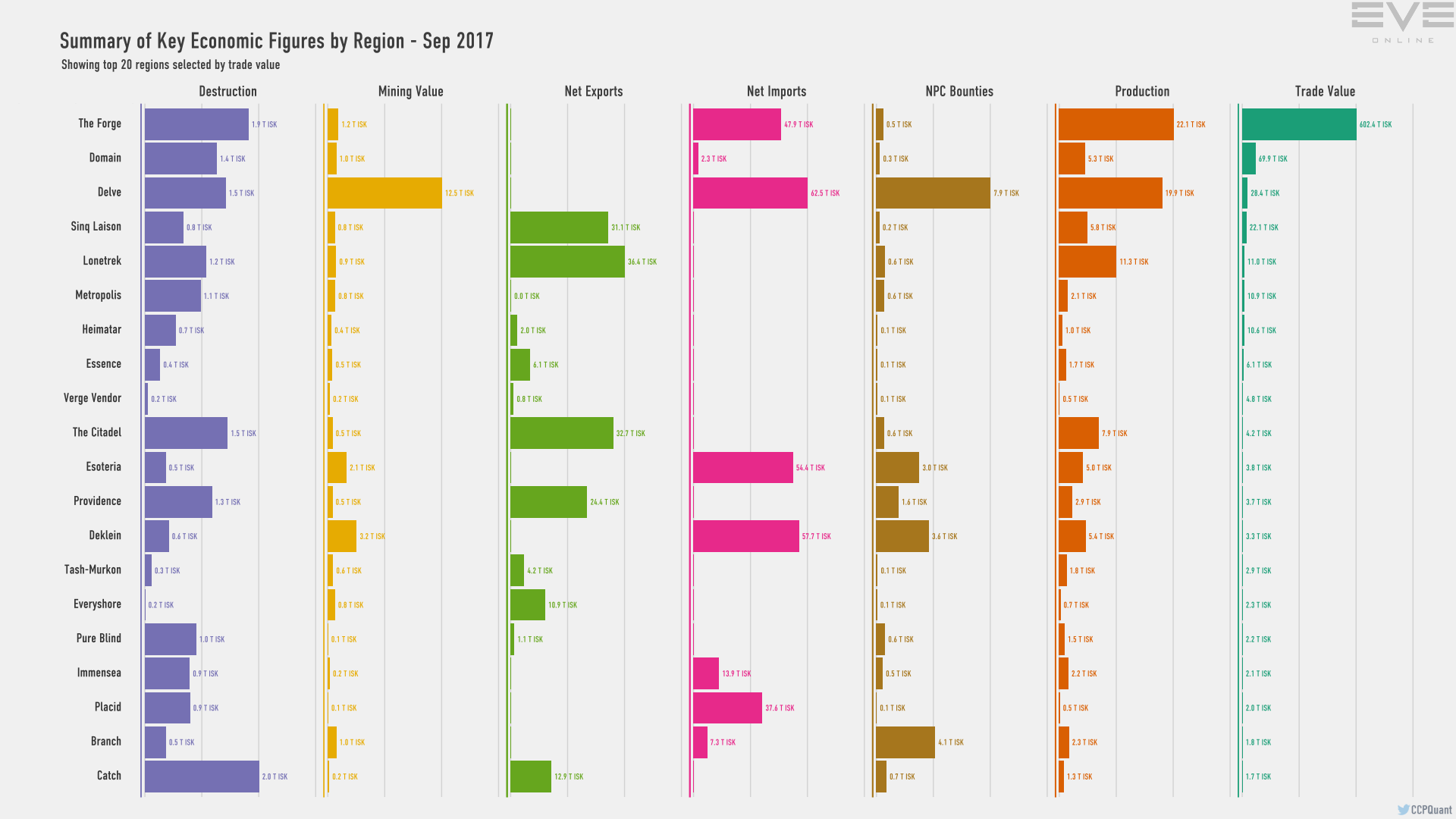 Fortress Delve
The most obvious and controversial take away is going to be Delve.
Anyone who looks at these graphs for more than a few seconds is going to see that Delve is pretty close to taking the lead in almost every category.
Destruction? Tied for third at 1.5 Trillion.
Mining? Nearly 400% more than second place Deklein.
Exports? Effectively 0. What happens in Delve stays in Delve. (More on this in a moment)
Imports? 1st place again.
NPC Bounties paid? About twice that of second place Branch.
You get the idea.
Production and Trade
Highsec in general, and the Jita region in particular, continues to dominate the trade metrics as you might expect. However, Delve and other null region productivity numbers are high across the board. Delve sees 90% of the total production of final products as The Forge region.
My question is this, "If nullsec has such high production numbers, what would happen in those goods started shipping to other markets in real number?" Now I will grant you, a not insignificant amount of those production numbers are going to be capital assets that can't move to highsec in any meaningful way. But the spirit of the question remains. Given the high production taxes and added expenses of working in highsec, would a null power be able to disrupt and effectively tank the highsec markets? We have already seen what the pre-nerf Rorquals did to mineral prices.
An interesting thought experiment, but one that would take a wiser mind than mine to really tackle.
Safety and Occupancy
Ultimately the question of Delve, and why its numbers are so very high is twofold. First, there is the effect of having a solidly controlled region where the worker bees are being watched over by fiercely Africanized killer bees. Delve is a region where the intel channels are heavily populated and the rage pings bring in tons of players to help rescue a Rorqual in trouble. The supercap umbrella is a real safety blanket.
The next part is occupancy. Fozzy sov was heralded as being all about making players live in and work in their space. Delve is a perfect example of what a large and well-organized group can accomplish if they embrace occupancy as a goal. Delves MER numbers are a direct reflection of hundreds of space nerds out doing mining, killing NPCs, and building stuff around the clock day in and day out.
Conclusions
Hate goons all you want, the reports show that even after a number of nerfs to various aspects of the ISK printing game, the combined aspects of making your space safe (ish) and putting people to work in that space combine to create a raw economic powerhouse.