With just two days to go before the festivities begin at Eve Vegas, CCP have released the Twitch stream schedule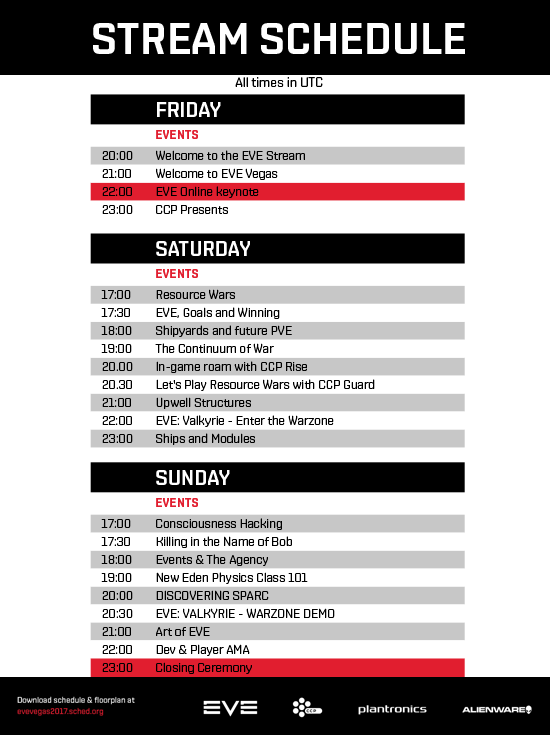 The first big event is the Keynote at 2200 UTC on Friday night, and streaming runs from 1700 through to 0000 each day over the weekend.
There is a good mix of CCP events, and player presentations, including INN's Matterall at 1900 on Saturday. There are some non-Vegas events too, including an in-game roam with CCP Rise. CCP Guard will be trying out the new PvE addition, Resource Wars.
If you want to primarily catch the CCP  EVE presentations, the ones to watch are:
Friday
2200 – Eve Online Keynote
2300 – CCP Presents
Saturday
1700 – Resource Wars
1800 – Shipywards and future PvE
2100 – Resource Wars
2300 – Ships and Modules
Sunday
1800 – Events and the Agency
2100 – Art of Eve
2200 – Dev & Player AMA
2300 – Closing Ceremony
For the player presentations, more information and the full schedule with details of each talk can be found on the EVE Vegas schedule site.
We will have a number of INN staff in Vegas, to provide updates on the other events (more on that tomorrow!) and we will also be providing write-ups of the key presentations. Whether you are in Vegas watching live or relaxing at home watching on stream (or at work sneaking a look at the stream on a browser tab), there should be something for everyone to watch.