Since our last article on Operation Frostline, The Scope has released the above video covering the attacks on Serpentis sites. As Alton Haveri reports:
"The Serpentis Corporation has been suffering heavy losses both in ships and material since Operation Frostline was launched against it by the Upwell Consortium. The decision made by Upwell to declare all recovered loot as reward to capsuleers attacking the Serpentis certainly paid off, as the attacks are relentless.
Reports of recovered items range from clothing to Endurance ice-mining frigate blueprints and valuable implants have been confirmed. Recent rumors of logistics frigate blueprints being captured as well will only serve to intensify the attacks even more. How the Serpentis Corporation came into possession of logistics frigate blueprints is unknown.
The Upwell Consortium has certainly established itself as a power to be reckoned with and the Serpentis seems to be serving as an example to those thinking about standing in its way. Although there are many who feel that the demonstration of wealth by forgoing the ownership of all retrieved goods to win capsuleers over to their cause, is a bigger statement than anything else surrounding Operation Frostline."
The Presents
Everyone likes presents! In a post from CCP, 24 hours before the operation, they were quoted as saying "Please be aware that the loot drops will be changing over the course of the holidays to add in even more content, so be sure to keep your eye on the news for more information."
Indeed, at least relatively, the loot has changed since the release. In a post on Goonfleet.com, members were asked to take snapshots of their loot to gain an accurate representation of the progression in dropped rewards. Directly after Operation Frostline started on December 8, nearly all capsuleers were recovering Serpentis clothing and Quafe Zero boosters at the sites.
The huge influx of Quafe Zero has completely destroyed the booster's market value. Over the past year, Quafe Zero's price-per-unit shifted from just under 18 million ISK to just over 20 million ISK. On 27 November, the price per unit plummeted to 14 million ISK, and with the start of Operation Frostline, Quafe fell to 5.8 million ISK/unit. Since the release, prices have ranged from 4.5-8.5 million ISK/unit and continue a trend towards lower prices.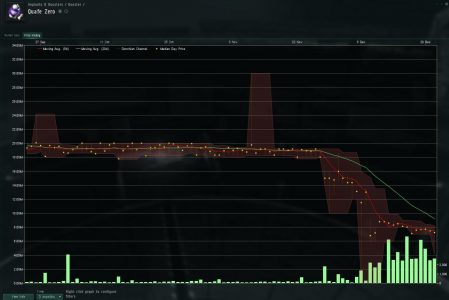 At the end of the first week, pilots were noting 30-day Serpentis ship skins, Shadow Serpentis modules, and BPCs for meta-level entosis links as dropping from Frostline sites. There was even a pilot who's drops included a Multiple Pilot Training Certificate. Two days later, Namamai of Goonfleet stated he had looted, over thirty sites, thirty standard sets of shirts and Quafe Zero, two synth-quality boosters, two 30-day Serpentis ship skins, and two BPCs for meta-level entosis links, as well as confirming the extremely rare MPTC drop rate. Posts from the second week confirmed that Endurance BPCs and permanent Serpentis ships skins were dropping.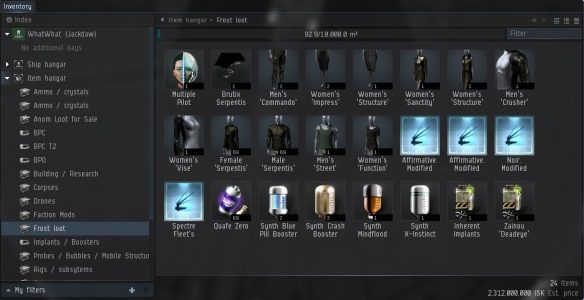 Looking Forward
With Christmas and other holidays at hand, what else can we expect to drop from these sites? CCP is hitting the gas pedal with surprises during this event. One concern held by many before the event is that CCP would use Frostline to give away special holiday gifts instead of the free bag of toys given out each year. However, CCP has stated that the event gifts and rewards would be separate – expect some snowball launchers on December 24! We've seen the loot gradually change over the past two weeks changed from simple clothes and huge quantities of Quafe, to implants, faction modules, boosters, BPCs, ship skins and MPTCs. Could a new booster be just around the corner as mentioned in our last article? As more and more players are coming home for the holidays, these sites will definitely becoming a site for PvP and PvE. With more people logging in while at home during the holidays, even better Frostline loot may be coming as the event wraps up. Only time will tell!
This article originally appeared on TheMittani.com, written by Lemba.