CCP have been running a PLEX for Good for the Australian bushfires since January 15, which closes on January 26 at 23:59 UTC. During this campaign, there have been roams, brawls and streams to raise PLEX.
On January 24, a sale ad was put up on the Eve-O forums for a Gold Magnate, with a starting price of 1 trillion ISK. This Gold Magnate is one of four that were given out to the winners of the Amarr Championships in 2016; of these, one was destroyed by the owner when they left EVE, while a second was lost in a trap, leaving two remaining in-game.
This Gold Magnate was sold for 3.5 trillion ISK to Scott Manley, a previous EVE player and Youtuber, who announced his bid via Twitter in a series of Tweets on Friday night:
I made a bid:
One Million PLEX
(which should translate to a real world donation of tens of thousands of dollars, or, 160 years of game time)

but some people questioned whether it's authentic: pic.twitter.com/IorTNzL0Ye

— Scott Manley (@DJSnM) January 24, 2020
The sale was confirmed in the early hours of Sunday morning:
Yep, It happened, most expensive ship in @EveOnline history, arguably the most expensive internet spaceship ever, and the proceeds are going to Charity – thanks to Kelon Darklight for making this piece of Eve history available.
Now… to figure out how to get it somewhere safe. pic.twitter.com/u3WgkzgKG4

— Scott Manley (@DJSnM) January 26, 2020
The seller of this particular Gold Magnate was the captain of the Amarr Championship winning team, Kelon Darklight. We spoke to Kelon to ask him about why he sold his Magnate, and how he felt about the price that it fetched.
When Scott put in his bid, Kelon was suprised as he was expecting 1.5T maximum for the ship. The one million PLEX bid immediately put a stop to the auction, as it was so far ahead of the original price, and it was so unlikely anyone would outbid it.
Kelon also told us that he decided to sell his ship because it did not fit with his playstyle; he follows the mantra of "Do not fly what you cannot afford to lose" and has always been fine with taking a loss as long as he can take a few people with him to the giant junkheap in the sky. Unique frigates do not fit in this style, and are best used while being as safe as possible, such as by tempting people into novice or small Faction Warfare plexes to try to fight you.
To use the Gold Magnate in a fight would have been against what Kelon does in EVE, and so in his view, it is better for it to collect dust in someone else's hangar than his, while also doing some major good for the PLEX for Good cause.  He has enough assets to keep his playstyle sustained for quite a while; he has flown T2 fits with no implants for years and has had some good success with this. As a result, while he could have increased the cost of the ships he flies if he had sold it privately, he is happy with his current playstyle and ship costs.
INN has also reached out to Scott Manley to find out how he came to be involved in this incredible sale, and when we receive his reply, we will update this article.
The one million PLEX donation is estimated to be in the range of $35k to $40k, but as yet CCP have not provided a conversion rate.
Whatever the final pricing, this is a great way for the sale of a very rare ship to happen, and a really good closing event for PLEX for Good this time around.
One final thing: while we were talking to Kelon, he mentioned that someone attempted to scam him out of the Gold Magnate. Just hours before he sold it to Scott, he received one of those chain mails that you get from time to time in Eve, accompanied by a contract: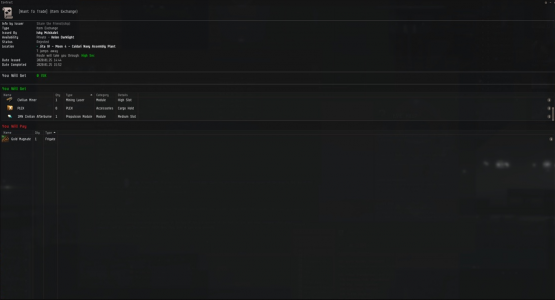 As a seasoned Eve player, he knew to triple check contracts and reported this to CCP, who responded to him quickly. If he wasn't paying attention, this whole story could have ended very differently!
Update: We caught up with Scott Manley, who told us that he saw the Gold Magnate up for sale via a Reddit post, and as he was planning on donating one million PLEX anyway, this seemed like a good way to donate, and get hold of a rare ship.