CCP's new Metaliminal storms are now live in New Eden, with the first of them showing up in Providence. Null-sec players expect this to be the first of eight storms, per CCP Fozzie's forum post.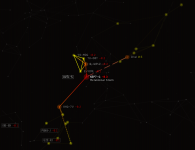 As INN's previous coverage described, systems up to three jumps out from the center of a storm will see decreasing storm effects. Capsuleers brave enough to venture into the center of a storm will see greater rewards from its sites. Players can also expect each storm to jump its 'hub' system through a gate every 24 to 48 hours, slowly working its way up or down various pipes. CCP has also said that the storms will prefer not to double back on themselves, unless they hit a dead end system.
The first storm (an electrical storm), is centered around KBP7-G in Providence, with its effects spilling into nearby high-sec and low-sec systems as well. The first storm affects 21 systems, including its core, or hub, system. The second storm (an exotic matter storm, pictured below) is centered around PF-346 in Syndicate, with its effects also spilling into nearby high-sec and low-sec systems in the area. The second storm affects 17 systems, including its core.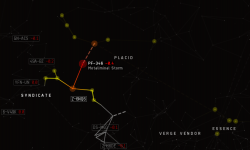 The effects for each storm are listed in the picture below.

The third storm (a Gamma Ray storm), has spawned and is centered around M-OEE8 in Tribute. Much like the other storms this weather is leaking into nearby high- and low-security space.

The third storm affects 16 systems, although it only affects two regions, unlike the weather in Syndicate. Something to note is the Nalvula system, which is currently experiencing weak effects of the new storm, and is also experiencing a Triglavian invasion. Significant caution should be used by any players travelling through Nalvula at this time. Also of note is the lack of weather effects in Obe, a system three jumps from MO-EE8 which should be experiencing these effects according to the initial devpost.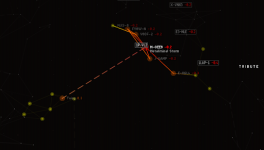 As of publishing time, additional storms expected have not yet spawned. Stay tuned to INN for additional updates as more information becomes available.