Test Alliance Please Ignore (TEST), the lead alliance in Legacy coalition, is flying high. Eight months into the current war, their member count is as high as it's ever been, and the alliance holds more sov than at almost any point in its 10-year history. But TEST's war successes have come at the cost of not just their enemies, but of their coalition as well. While TEST sits atop the DOTLAN alliance leader board, their allies in Legacy coalition slowly bleed – both at home and on the front lines.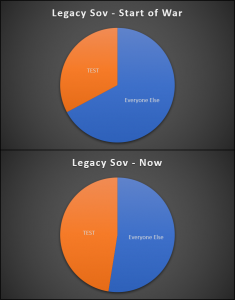 Legacy: A Stool with Three Legs
At the beginning of the current war, Legacy coalition could fairly be described as a stool with three legs. The two major alliances in the coalition – TEST and Brave – each formed a leg, and the remaining 10 smaller alliances (let's call them "the minor powers") combined to form the third leg. Of these three legs, Brave was the smallest. TEST and the minor powers each had more than 15,000 members; Brave had just over 10,000 members. The leg with the largest sov holdings was, by far, the minor powers, with approximately 280 systems between them, followed by TEST with approximately 165, and Brave with just under 60 systems.
When Legacy leadership announced the coming war at the end of June 2020, the announcement post was headed with an image of rolling dice. The risk being taken by the coalition was clearly stated: "We may all die in a ball of fire or we may engage in the greatest of victories imaginable." Now, eight months later – with victory still uncertain – there is no question about the price Legacy is paying.
The Minor Powers Decimated
For Legacy's minor powers, the cruel reality of this war has been very close to the 'death by fire' that Legacy leadership described at the beginning. While TEST has grown by every major alliance metric (membership up 13%, corp count up 19%, sov up 37%), the minor powers, as a component of Legacy, have been decimated (membership down 29%, corp count down 10%, sov down 33%).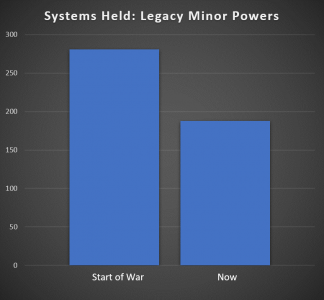 What's more, since the war began, three of Legacy's minor powers have been hit with massive disruptions that have fundamentally affected their ability to function within Legacy.
Decade-old alliance The Watchmen boasted almost 2,000 members last year and held just under 40 systems. At the beginning of this year, after six months of non-stop war, it collapsed completely. While still officially incorporated in name, it is an empty shell with just 11 members.
Legacy founding member Requiem Eternal (REQ) was completely disbanded in November 2020 as the result of internal betrayal. Although a replacement alliance, Eternal Requiem (REQ.), was created in its place, its member numbers have never fully recovered.
Russian alliance Siberian Squads (SB-SQ) actually withdrew completely from Legacy in January of this year and joined the Imperium to fight against their former allies in February.
The negative effects of the war on Legacy's minor powers are visible in terms of both raw statistics and in terms of publicly-reported anecdotes from line members. Evictus., Already Replaced., Vindictive, Warped Intentions, and Rezeda Regnum have all seen significant drops in member counts during the course of the war (as tracked by DOTLAN), and many Legacy alliances have lost sov in their home regions such as Catch, Impass, and Immensea. "iHubs and TCUs began to fall in the outer loop of our little Immensea pocket. . . . It seemed as though the coalition was unwilling to save us," wrote one line member of Federation Uprising in a Reddit rant.
When questioned about the obvious and irrefutable pain that Legacy's minor powers are suffering in pursuit of Legacy's war, Legacy leadership had some solace to offer. TEST military director ProGodLegend pointed to the benefits of victory. "The winners of this war will benefit and the losers won't. We'll win so we'll benefit. The only people who won't benefit are ones who leave the winning side before the war's over." In addition, PGL affirmed the possibility that some of TEST's sov gains from the war could be redistributed to minor powers after the war ends. "None of the sov being held right now is final," he confirmed.
When asked similar questions, Dunk Dinkle from Brave made clear that he could only speak from the perspective of his own alliance and did not represent the coalition. Nevertheless, he had little of comfort or justification to offer to Brave's smaller coalition partners, implying that each Legacy alliance made its own decisions about committing to the war and paying the price involved. "I can't really speak [in regards] to other groups," he said. "We help when asked for help, but have to avoid telling other groups what to do. It's not our place to tell them how to run their alliance."
Brave: Broke and Homeless
While Brave, the second leg of Legacy's three-legged stool, has fared far better than the minor powers, when measured on the basis of key metrics, it is clear that fighting the war has been costly. Brave's long-time home holdings in Catch and Impass are under serious threat, with iHubs being lost in core systems, and the alliance has recently made the decision to relocate to a new home in Querious (a risky and contentious decision as revealed in a series of messages and leaks).
Thus they now find themselves in the midst of a precarious transition state, their old home crumbling and their new home not yet established. But Dinkle took issue with any characterization of Brave as homeless. "While we are stretched between regions currently, we are moving to our new home well, with great internal support and strong support from our allies," he said.
In addition to geographical pressures, financial pressures are another challenge facing Brave, with fiscal struggles called out in particular in the leaked leadership discussions. "We're draining our coffers," said Brave's Logistics Director n0rman in one of the leaked communications. "The current level of SRP/recon/etc bleed isn't sustainable," he said in another. Recent losses incurred on the home front (almost 100 billion in one day over last weekend) can't help. Dinkle downplays those pressures, however. "Brave has never been a 'rich' alliance, as we have a much looser set of expectations on corps and members, compared to other larger groups. Our culture seems a bit more easygoing than other groups, which people seem to like. However, this may not maximize our alliance income," he said.
As this war enters its ninth month, Legacy's gambit is not yet won, and while TEST flies high, the rest of Legacy slowly bleeds.