CCP Ytterbium has released another dev blog regarding their much-anticipated structure revisions. Entitled "Shake My Citadel", the blog focuses largely on the first planned structure type, labelled 'Citadel class' structures.
Citadels, as CCP Ytterbium defines them, are "a place you can call home and collectively interact with". In prior devblogs, these structures have been the structure type referred to as "Market and Office Hubs", but that name "sounds a little bland", in Ytterbium's words.
Citadels are planned to range in size from Medium, approximately 5-25km in diameter, to Large (25-50km) and even X-Large (100km) Citadels. Depending on structure size, players will be able to dock sub-capitals, capitals, and potentially even supercapital ships. These structures will also include an area that functions similarly to the forcefields on current Starbase towers, ensuring invulnerability within a given proximity.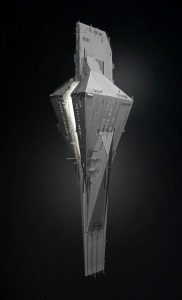 Images like this one have been sprinkled throughout the dev blog.
Medium and larger structures will use a variation on the Entosis Link capture mechanic, though the number of reinforcement cycles may be dependent on structure type and size. In addition, unlike current Outposts, Citadels may be destructible.
However, Citadels won't be helpless targets. CCP Ytterbium specifies that Citadels should be able to repel 'trolling attempts' by a lone Entosis player. Citadels are also intended to be force multipliers, allowing smaller numbers of defenders to engage larger attacking fleets, but they will definitely need those defenders to keep them safe.
Also in the discussion of combat characteristics comes information on Citadel weapon systems. As with ship docking, larger structures are planned to offer more options in weaponry. Some of the most interesting news is the planned launcher weapon with Area of Effect (AoE) damage effects (and which Ytterbium seems to be saying will include the old torpedo visual effects that many players have missed since their removal), and Structure Doomsday Weapons. The Doomsday will be similar to those on Titans, and is likely to have additional capabilities in order to offset the disadvantages of being on a static emplacement – possibly including chain-striking nearby targets after impacting the initial target.
The first Citadels released will be the Medium and Large Citadels, as the X-Large will require additional time to design and implement. No official release dates have been released, though CCP's 5-6 week development cycle means Team Game of Drones has the flexibility only release Citadels when they are fully ready.