On Monday, March 30, CCP posted "The EVE Online Ecosystem Outlook" dev-blog in which they introduce their long term goals for EVE Online, as well as the major updates planned to achieve them.
The Ecosystem Segment
The dev-blog starts with some assumptions about Eve's current state, assumptions which drive CCP's intended course. They are:
Abundance breeds Complacency and Scarcity breeds War
Predictable Inputs lead to Stagnant Outputs
Autarky is Anathema to Free Trade
The dev-blog is broken down into four different sections that address the components required to achieve CCP's ambition: a healthier, more vibrant and diverse EVE universe. It sets up what the goals are for the recently implemented and the upcoming changes by establishing a mission statement, vision, and goals. These plans and ideas came from the "reorganization of EVE Development in Q4 2019," and the goals put forth are very ambitious.
The mission statement simply reads "to continuously regulate the unique ecosystem of EVE Online in order to provide a fair and vibrant playground full of diverse and rewarding opportunities for all players." In short, make the game balanced and fun for everyone at every stage of play. This includes increasing vet engagement through nurtured conflict, improving economic health with resource and risk distribution updates, and impacting cheating severely via prevention, detection, and enforcement methods.
CCP also announced the roll out of the Quarterly Player Survey. In this survey, players will be asked to "agree or disagree with topic statements." This is designed to help CCP prioritize said topics and then develop a strategy to address them. Several examples were listed under two separate categories: "Cheating/abusing Mechanics topics (by frequency)" and "Equality of Opportunity (by negative ranking)".
Under the cheating category: botting, 0.01 ISKing, account safety, and Real Money Trading (RMT).
Under equal opportunity: risk/effort and reward balance, wealth/power distribution between individuals and groups, "healthy turnover of wealth, power and sovereign space (territory) in the game (supercapital umbrella)", and new player opportunities for success.
Ecosystem Health and Prognosis
CCP breaks down three categories and has assigned their progress with a letter grade, which is described as the "health state", as well as a "projected trend". The three categories are as follows:
Balance and Progression
Economy and Industry
Cheating and Abuse.
According to the image below, the Cheating and Abuse category has seen the most improvement, jumping from a "D" status to a "B" status, followed by Balance and Progression remaining at a solid "C" and lastly Economy and Industry with a firm "D". This is to be followed up with a road map set to be implemented in the coming months. The road map outlines key areas based on the Balance and Progression and Economy and Industry categories from the prognosis chart below. This is in line with CCP's commitment to reducing "cheating" as defined by the EULA as a separate issue. CCP has also further cemented their commitment to battling cheating by dedicating the entire fourth section solely to this topic.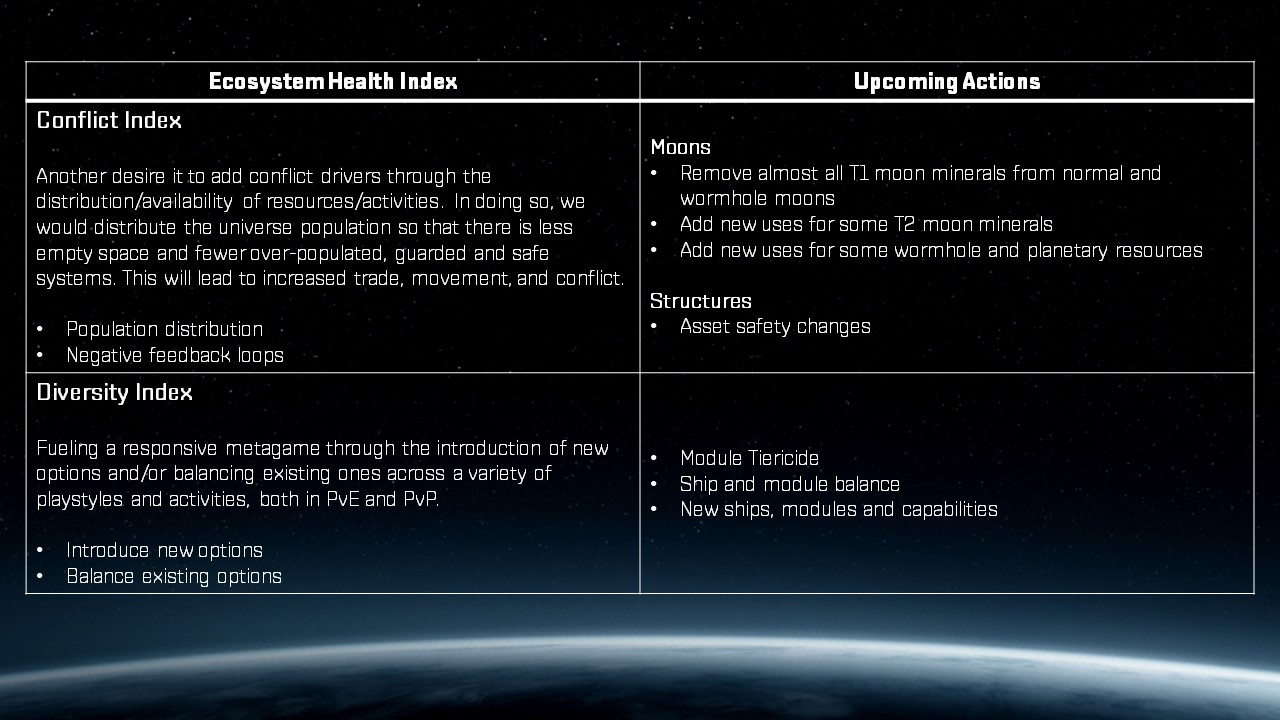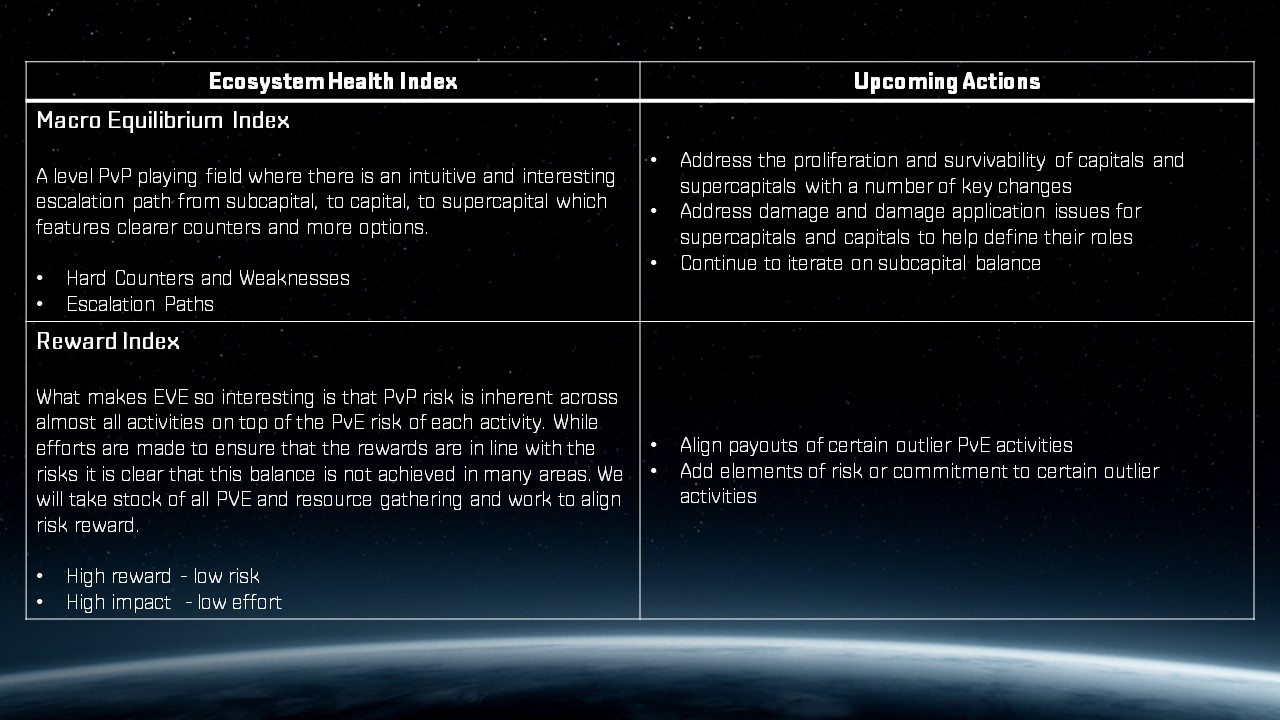 Resource Distribution
Changing the distribution of minerals in Eve has been CCP's stated goal since last year. The dev-blog explains that the driving reason for these changes is that "loss is not meaningful anymore for veteran players." Null-sec was mentioned as a place of great safety where players could amass wealth with little risk. CCP believes this state of high income with no risk isn't sustainable and illustrated this idea with the graph below.
In order to combat this, CCP has decided to institute three separate changes:
Shortage
Redistribution
Dynamic Distribution
Currently players are entering the Shortage Phase in which the goal is "to get the economy to the left side of the 'Healthy State'" (see graph above). While there are many other factors that will likely aid in achieving the goal of the Shortage Phase, such as re-balancing ship classes, inserting new classes, and  re-balancing industry, the first adjustment will be mining changes. After the first goal has been met, the next phase will be initiated, however CCP is aware that the "healthy" state "is not static", so exactly when the Shortage Phase will end remains to be seen (see picture below).
Anti-Cheating
CCP reiterated once more where they stand on the "Trifecta of Cheating":
Account hacking
Botting
Fraud.
However this dev-blog focused exclusively on botting because, "According to the quarterly player survey, botting remains the key issue for a large majority of players." This makes sense because, CCP notes, as "it is the most visible."