Late on August 24, CCP dropped a series of dev-blogs alonside a Singularity update, covering a signficant update to EVE's New Player experience. This was accompanied by broader changes to the Skill queue and training UI.
First, the New Player Experience [NPE]. This marks the fifth iteration of the NPE since 2015, by INN's accounting. Based on the amount of development resources that keep being put into the NPE, CCP is dedicated to improving the first impression of EVE Online.
The second focus is a revamp of the skills UI, including the introduction of 'Skill Plans'. The rumors of the skill plan update and the ability to share completed plans between players has been anticipated for a very long time, and is a significant quality of life improvement for anyone trying to herd cats on a large scale.
The Importance of New Blood
New players of all types can consistently agree with the bitter vets on two things: first, that there are not enough development resources to go around; and second, that the tutorial is not very good.
EVE is littered with good ideas that were released in an incomplete state, and some with minimal testing. Even in situations where players and CCP agree a change should be made, it often takes a long time to push improvements to release. Therefore, CCP's decision to dedicate their limited resources to the NPE (over and over again) makes clear what CCP feels is most valuable. To quote first line of the secondary blog: "Capsuleers are the lifeblood of EVE Online."
To quote the final header of that same blog: "New players are the lifeblood of the community". Anyone who has been around for the last 14 months has watched vast changes in the EVE ecosystem, including an incredible week-on-week drop in the concurrent player count. CCP had two choices – invest in addressing existing player complaints, or invest in getting more people into the pool. CCP has consistently chosen new players over the existing playerbase.
Exploring the decision
From a business perspective, there is a real value proposition in getting new players in once, versus getting old players to come back.
EVE Online is one of those games that almost all "serious" gamers have either considered or sampled once. The challenge of the most brutal and punishing MMO of all time is a draw all its own. As a result, if CCP can increase the rate of new butts in seats (even if just for one month), they win. Further, if CCP can entice even one month of subscription from a significant fraction of those new players, that represents a big chunk of revenue.
In addition to that, the development scope for the NPE is much smaller than the vast footprint of everything else that must be fixed. This allows the development resources to be focused much more to get the end result of butts and subs into the game. From a business case, investing in the new player makes a lot of sense, however:
"New players are the lifeblood of the community"…
Welp, guess all the old bittervets are shit out of luck

Dirk Stetille
As a long time player (sheesh, almost 10 years now), I wish I could get CCP to focus resources on what I feel is important. But I have to admit that my wishes are not going to appeal to a lot of players, and do not represent a significant return on investment for CCP.
A Few Details from SISI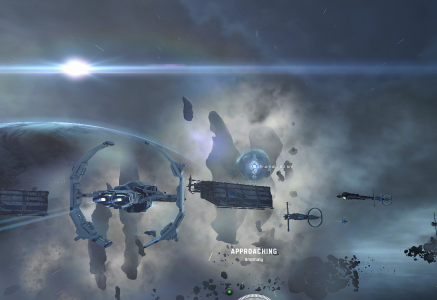 The INN editorial staff sent a volunteer to do some initial recon for the changes. The images and opinions coming back to INN reflect a few things that are good, and a few things that are "meh".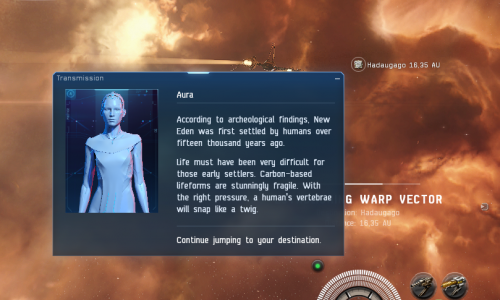 As new players zip through the tutorial, they get new lore splashes. As a disclaimer, I am not a super lore nerd. I like lore, and I want a good story to follow, but I am only a surface consumer of it. The editorial staff, however, batted around the impact of the statements provided to the NPE. While lore is not vital, it can add depth and flavor to completely fresh eyes.
Beyond that bit of 'controversy', the NPE proceeds along the same lines as the previous version. The progression goes faster than prior iterations, and pushes the new player to the career missions marginally faster than before.
However, there is one new hook for the NPE that wasn't there before.
The First Taste Is Free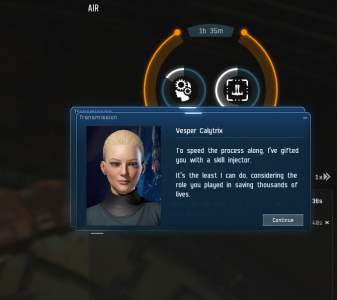 Now, a quick point to note – when the NPE gives players these skills, they aren't actual injectors. The are awarded 25k SP to their training queue. But by using the term "Skill Injector" they are creating an important association. If I want to get those new skills right now, I just need to buy injectors. Oh look: those are on the market.
That said, buying those injectors takes one of two things. The player needs to grind and make real isk, which implies paying a subscription. Alternately, the player looking for a shortcut will likely just buy plex. Either way, CCP wins in the revenue game.
Skill Trees and Sharing
Going along with the new "skill injection" is the long awaited Skill Plan sharing mechanics. This is now integral to the NPE. All new players appear to be funneled through the new Association for Interdisciplinary Research (AIR) corporation. Those new skill points are then used to clear a skill plan gate before you are directed to the usual career missions.

CCP has provided players with two key elements in this series of improvements. First, helping new players select the right skills for what they want to do. Then, providing player organizations the opportunity to push out ideal, customized training plans.
New players have 25 skill plan options tailored to their needs by CCP. These 'Certified Plans' are separated along both racial lines and specific outcomes. For example, in the Enforcer tree, there are two splits for each race – one for running missions, and one for doing bounty hunting. New and old players alike have found (at least once) that they have put an unnecessary skill in their queues. Pushing skill plans to the NPE that are free of waste will reduce that disappointment.
This tool improves the lives of veterans as well. Organization planners now have the ability to push out new doctrine skill queues to their players. Players can keep up to 10 skill plans active at any time. Additionally, the number of skills you can queue in a single tree moves from 50 to 150, and if that weren't enough, the 24hr training restriction on alpha accounts will be lifted.
Additional Comments from Sisi and CCP
Two additional interesting bits to add come from the Redditswarm. Sharp eyed players found that there are 200 new star systems are on Sisi as of this test update. As expected, speculation abounds. Predictions range from the mundane to the amusing.
I think the second hit is more interesting. CCP Aurora states in a comment that the NPE update is the first piece of foundational work towards an overhaul of the career missions, the long-maligned and incredibly antiquated holdouts from the distant past. In my opinion, good riddance. Additionally, if they do a good job at that overhaul, then a complete revamp of the boring, easy-to-bot mission system might be on the horizons as well.
Summary
Overall, the updates to the NPE seem positive. However, things are always subject to change. The stated September release date makes major changes unlikely, but stranger things have happened. One never knows.
The NPE presentation changes seem good on balance, and if nothing else they are faster to get through. If they lead to mission running overhaul, then they are dev time well spent.
Skill queue updates have been promised for years, so finally getting to test and plan around them is a good improvement. Anything that cuts down on wasted time can only help improve player retention. The change also improves the quality of life for vets and coordinators alike.
I am interested in the 200 new systems, but there is nothing to base analysis on. So I remain neutral on that particular change.