Late on the night of May 8, an explosion lit up the sky in Perimeter. The first fitted citadel to go down in New Eden exploded in a wave of flame, engulfing all the ships that had gathered to witness the event.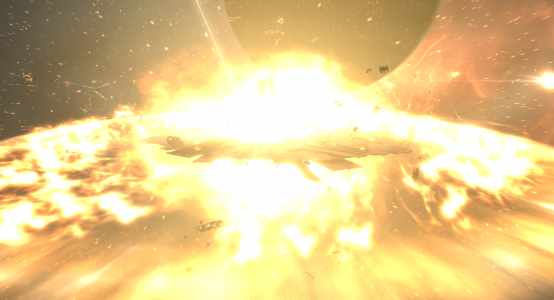 https://zkillboard.com/kill/53864737/
In the week leading up to the destruction of the citadel, many questioned the wisdom of placing a citadel near the perimeter gate, and asking what on earth the owner was doing.
In order to get to the bottom of this, I sat down with the owner, Levon Bedros of Syntonex [SYNTO], to find out the story behind his citadel, Sanctuary.
What made you decide to put up a citadel in highsec, and specifically in Perimeter?
Levon Bedros: Due to the fact that my corp isn't terribly large and that we don't have any supers of our own, I thought that high sec would be the perfect place for our citadel. In addition, one of the main advantages I saw in placing the citadel in High sec was that I could see the enemy coming in advance, through the wardeccing system, and would have the chance to prepare accordingly. I placed it specifically in Perimeter due to the fact that I wanted to see how many people would utilize the services as I had a refinery installed in Sanctuary.
One of the criticisms has been that you placed it so close to the perimeter gate. What was the reasoning behind this?
LB: Well in truth I wanted Sanctuary to be a test: literally get as many people to notice it and see if I can hold my ground in the ensuing storm when others would come to attack it. I also wanted to see how quickly I could gather support, as well as see how the citadel would fend for itself against an attacking fleet. For this reason I wanted to plant the citadel as early as possible and what better than in perimeter 2000km from Jita gate.
Why did you set the first vulnerability timer so soon after anchoring, and were you expecting the number of wardecs you ended up with (6)?
LB: I always knew that people would war dec me especially due to the place and time I anchored the citadel. One reason for having the first vulnerability timer so soon after anchoring was that I wanted to see how quickly the attackers could rally a force of their own to take down the citadel.
Had you done any testing on SiSi prior to the first vuln window, regarding citadel defenses and offenses?
LB: Yes, in addition to practicing with the new drone mechanics, I had tested multiple fits on the Astrahus class citadel in regards to getting familiar with the modules. After multiple tests I thought I had come up with a good fit for the citadel; however, in retrospect, I would definitely tweak some things as to make it more effective against high sec fleets.
Why did you not have a defense fleet for the first vulnerability window?
LB:Well the only thing that really surprised me in this whole process was how painstakingly hard it is to find an actual defense fleet. In my case, ISK was not the problem but instead it was actually getting a solid response. While the citadel was anchoring, I sent out a mail to every single merc Corp that had an ad in the crime and punishment thread. I was met with three responses: we are blue to your attackers (at this time we were already wardecced by 2 other mercenary corps), we are too busy, or nothing at all (with this being the most common response). Interestingly, what I found is that most of the mercenary corporations are all blue to each other. Thus, if one has you wardecced chances are 9 out of 10 of the other merc corps you contact will refuse to help you as they are friendly to your aggressors. Going into this process I thought it would be easy to assemble a fleet in exchange for quick ISK, but I was wrong.
What did you learn after the first attack?
LB:Well due to the fact that I could not find a willing high sec corp to help defend my assets, I was left to fend for myself. While testing on SiSi, I knew that my largest problem would be logi. If I could find a way to take the logi out, my citadel would be able to slowly chew through the main fleet and then hopefully I could survive. However, the attackers brought many more logi than I had anticipated and I was unable to survive the window.
You also didn't have a defense fleet for the 2nd vulnerability window, did you try to get one for the armor attack?
LB:At that point I was trying to still convince the other highsec mercs to either assist me or switch sides, in the case of those that had wardecced me, however those attempts did not succeed.
On Sunday, SLYCE were present, and drove off the Vendetta 21 man fleet. Can you tell us about how they came to be involved?
LB:After the 2nd window, I had 6 days to re-plan my defense strategy. I began to reach out to null sec alliances asking if they could spare one fleet for the third and last timer. I mainly reached them through friends who were already deployed in null. In most cases I was met with the same responses that I had with the highsec mercs: either we are to busy or nothing at all. The only alliance to respond with an actual "yes" was SLYCE. Originally, the plan was to have them wardec my attackers through an alt corp, as to protect the main alliance, and then funnel people through when the time came to assist me. By chance, Vendetta had wardecced them a few days before the final window, making it seem as if SLYCE happened to show up by chance during the last attack. During the actual fight, SLYCE ran into "complications" and were unable to assist in attacking my other war deccers. Because Break-A-Wish was left uncontested, the citadel fell that day.
Were you expecting there to be such a turnout of spectators for each time coming into vulnerability?
LB:No, that was also rather surprising. I did expect a few to stick around as perimeter is on the Amarr-Jita route, but having Markee Dragon and eve radio stream/comment + 600 other people in local was something that I didn't anticipate at all.
Without giving too much away, will we be seeing you again in the future with more citadels?
LB:As soon as I find a proper defense fleet, I'm sure we will be seeing another a better version of Sanctuary sometime soon.
After answering these general questions, Levon went through his experience of using a citadel in combat.
Did you have any problems with your fit, I have heard a lot of complaints about cap usage, did you experience problems with this?
LB: All the fits I tried were unstable, with the final fit I went with, I was able to last about halfway through a fight before running out of cap, so for example, in the first fight, when Break-A-Wish bought their smaller fleet, I would have been able to deal with them if I had not run out of cap.
If your citadel had been more cap stable, you would have perhaps been able to deal with the logi?
LB: In the first fight, when Break-A-Wish only bought two logi, yes, I would have been more effective, however, I would have needed an entirely different fit to counter the number of logi they bought in the second and third window.
Your citadel had T1 rigs, was this because there were not any yet invented when you put your citadel up?
LB: Yes, I did not see any when I put the citadel up, and, because you cannot change your fit once the citadel is damaged, I would have been unable to fit them later.
Having actually used a citadel actively, how do you view their role with regards to fleets?
LB: Well, the M's definitely cannot solo, so I would say they take more of a fleet support role, however, when it comes to small gangs the citadel can, in theory, handle itself.
There have been concerns about the subcap missile damage, and citadels dps against subcaps in general, what was your experience?
LB: One thing I liked about the mods in general is their range, I was able to kill 2 naga's trying to snipe the citadel during the attacks, it is neat that there are different sizes for the subcap missiles, but, the actual damage application without a web and target painter is quite low.  A target painter takes up as much cap as a neut does, which was surprising, as you can get a frig with three target painters on it to accomplish the same goal.
My fighters actually provided a lot of the DPS during the fights, especially on cruisers, and I was able to take down an escaping domi during one of the fights with my fighters.  I would say they applied a lot more damage than my missiles did, but this may be due to volley times.
One of the other concerns I have heard is regarding the ECM strength and cap usage, how did you find the effectiveness of jams?
LB: I thought that the actual effectiveness, when loaded with the right script, was fine. You get a decent 60 ECM points, which is more than most logi/BS, but, yes, again cap becomes an issue with any of these standup mods.
Moving on to the actual fights and mechanics, one thing I loved was the repair timer kicking back in, on the third fight, it got to 10m49s before being paused again, it brings a sense of urgency to the fight, do you know why the repair timer was reactivated in the first and third fights?
LB: I really love the repair timer feature as well!  During the first fight, I actually thought I was safe when Vendetta warped away to regroup after the logi incident, it was a few minutes remaining by the time they warped back in.  In the first fight, the repair timer reactivated because, from what I hear, one of the spectators spammed duel invites at one of the logi, and they accepted, and repped the neutral, and so the entire logi chain went suspect.
In the third fight, Break-A-Wish had a ship that wandered out to 79km range, so they regrouped on the straggler as he was unable to make it back into the group due to being bumped, so this reactivated the timer while they regrouped, and slowly made their way back down to optimal.
I would like to thank Levon for taking the time to answer all my questions, and look forward to seeing him back in action with citadels soon!