Some refer to it as their summer vacation home, a place for good fights™, a place to huddle in NPC-controlled stations, a permanent home or the ancestral homeland. For Northern Coalition. (NC.), Delve is relevance, a place to test their mettle in this new era of fozzie sov. In recent months NC. abandoned Querious, largely reset standings and emancipated renters before embarking on a war of attrition with ProviBlock alongside long-time allies Pandemic Legion (PL). More recently, NC. felt the endearing hiccups of fozzie sov strategies in maintaining sovereignty in Catch. By July 26, the complete dismantling of NC. sovereignty holdings there and elsewhere had occurred. NC. leadership took the opportunity to reignite and re-organize, focus and stake a claim in a nearby region.
By the end of July 2015, NC. was deployed to Sakht and began to actively take space throughout the nearby systems in Delve. These acts of agression by NC. effectively wage war on the combined force of Elite Space Coalition (ESC) which is comprised of member alliances: Confederation of xXPIZZAXx (PIZZA), Eon Alliance (EON), EV0KE, VOX, Forkoff and NV. ESC had already been under sustained attack by Pandemic Legion, whos presence in the region can be traced back to an intended assault upon Darkness holdings in Querious earlier in the month.
On July 28 NC. secured their first Delve system, M5-CGW, from PIZZA, and by July 30 had taken several additional systems including systems HM-XR2, QX-LIJ, AJI-MA from PIZZA and ZA9-PY and 6Q-R50 from EV0KE. July 31 saw the takeover of 1-SMEB from EV0KE, a critical system given its direct access to lowsec Sakht and subsequent Aridia. Control of 1-SMEB is considered a possible co-requisite to gauge success in the early days of any serious invasion of Delve.
NC. having undergone a downward spiral lost all sovereignty holdings for a period of a few days.  In recent days. NC. has rebounded in the wake of their campaign in Delve.
By August 1, NC. maintained their offensive and successfully captured G-HESZ from Forkoff (previously owned by EV0KE) and MJXW-P from EV0KE along with RCI-VL on the eve of August 2 also previously owned by EV0KE. These gains effectively purged EV0KE sovereignty holdings in Delve and null-sec all-together, a major victory for NC.
Good fortune begat tragedy for NC. when on August 2 a convoy operation to ferry ship caches from Curse to Delve was dropped by INIT and allies en route causing the destruction of a Revelation, 4 Archons (including one 32B isk Archon), a Moros, Ragnarok, Nyx and Avatar. The event was previously covered on TMC by Xenuria. Even in the face of the tragic loss, the attitude of NC. was quickly shown by the renaming of 1-SMEB to '1-SMEB V – Didn't want them titans anyway'.
HM-XR2, which was initially flipped to NC. hands on July 30, is in a state of tug-of-war with PIZZA. On August 4 PIZZA made some progress towards its reclamation, the outcome of which will be decided in due course. At the same time, NC. in partnership with Pandemic Legion managed to reinforce a highly-prized moon owned by EON in QC-YX6, remaining steadfast under the gauntlet of Imperium EG machariel projectile fire thanks to the partnership between NC. and PL.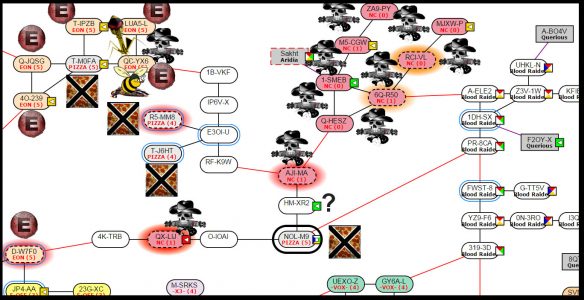 The current state of the campaign in Delve by NC. sees the insofar maintained holdings of QX-LIJ, AJI-MA, ZA9-PY, 6Q-R50, 1-SMEB, RCI-VL, M5-CGW, MJXW-P and Q-HESZ.
Now that NC. have secured a beachhead into Delve, what next? Will PIZZA retain their sovereignty or stick to maintaining at least their most critical systems such as NOL-M9? Will NC. attempt to take sovereignty in Querious? Wait isn't Delve MY™ ancestral homeland/summer camp? As the campaign in Delve continues to disturb the post-fozzie sov Delve ecosystem we will keep our eyes and ears peeled to see how the situation progresses.
Safrel of PIZZA was able to comment on the NC. invasion, located on the next page.
Safrel of PIZZA sat down to answer a few questions with TMC about the NC. invasion of Delve.
TMC > How is PIZZA enjoying fozzie sov?  Did the NC. invasion catch you off guard?
Safrel > Fozzie sov isn't turning out as anticipated. We were expecting a larger war between us and Darkness+ s2n.  But you already knew that. Instead we're playing the defensive role, and It is absolutely cancerous. It's like flatting at flies with a stick of butter.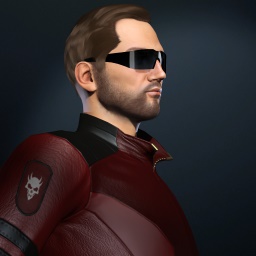 Safrel, Blood Disciple of PIZZA.
TMC > what is NC. primarily using to harass with hacking modules?
Safrel > Its NC. and PL mostly. Kitchen sink, if anything. No one wants to commit larger fleet comps because we all blue-ball each other. I went to a contested node once to face off with a PL raptor. He logs in a cynabal and i'm down a jackdaw, and nothing really changes. I could bring more dudes and boot the small guys off grid, but they'll just come back. This was a bit long winded to say, no, NC. showing up where PL is does not surprise me.
TMC > What is the current PIZZA strategy for dealing with SOV defense? What about plans for re-capturing systems lost to NC. such as HM-?
Safrel > Pizza strategy, as much as I can tell, is to wait it out until the next sov rollout. Every bit of sov, save a single system, adjecent to other entities will be uncontested.  Until then, we are kitchen sinking for small fleets, ishtaring for large fleets. HM- will ping between whoever feels the need to contest it. Pizza as an alliance will likely not be performing organized defenses. But, of course, it is my perogative to simply go and retake hm- myself, but the payoff is too little for us to commit to it. I just got a notice for HM- going into reinforce. You know who is doing it? one guy multi-boxing svipul and a cynabal. ~elite pvp~
TMC > do you think that NC. has well-established themselves in the region, or that their residence is temporary?
Safrel > I believe its only temporary. We are too early into the new sov game. They won't be getting the large scale fights they would want against ESC, but right now delve is, I feel, the most interesting place for fights in null. which isn't saying much, because I've been bored for ages while PL grinds our moons and Darkness disappears from querious
TMC > that's probably a good ending point, if you have anything else you want to comment on, go for it.
Safrel > Pizza will continue to be that delve tight nit force, and anyone who expects to evict us will fail.
Vince Draken of NC. was not available for comment at this time. EV0KE has so far been unavailable for contact.