Blizzard Entertainment announced its latest World of Warcraft expansion at a live event at the Gamescom show in Cologne, Germany today. The expansion, titled World of Warcraft: Legion, is the sixth expansion for the long-running MMORPG since it debuted in 2004. The new content delves back into the lore-heavy universe after recent expansions detoured into more nebulous territory. Apparently, a new continent of islands has been discovered somewhere in the middle of the map with a long lost Night Elf civilization, much to the joy of cosplayers and Activision's accounting division alike.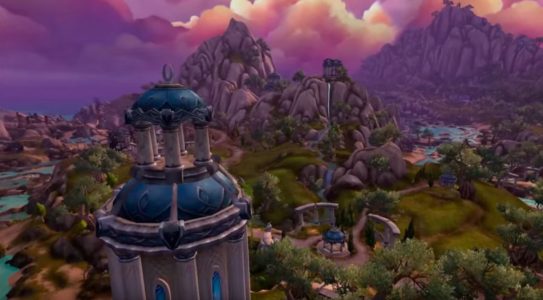 A website for World of Warcraft: Legion has already been setup laden with trailers, teasers and a button to opt-in for the upcoming beta. The new story will revolve around control of the Tomb of Sargeras, a mainstay of World of Warcraft lore that will avoid any unwieldy retconning. You can view the CGI trailer for the expansion here. Doomhammer and Ashbringer will be included with the release, showing a commitment to existing canon. Another ten levels will also be added to the cap, bringing the max to a total of 110.
The new expansion comes as subscriptions for World of Warcraft have plummeted. Earlier this year, Blizzard reported a loss of 2.9 million subscribers, taking their total of ten million players down to 7.1 million. A recent quarterly earnings call showed the hemorrhaging has not stopped, with another 1.5 million lost since then. With only 5.6 million paying accounts, World of Warcraft has lost half of its player base in under a year.
The shift has not translated into reduced earnings for Activision-Blizzard, which has seen online users increase overall with the launches of Hearthstone and Heroes of the Storm. These games operate on a more modern 'Freemium' model instead of monthly payments. Hearthstone alone had 30 million active users in the month of May. By pursuing diversified payment methods over several games and brands, Blizzard Entertainment has actually continued to grow revenues despite the slowing of its flagship IP. Regardless of these recent losses, World of Warcraft still holds the first place in subscriptions for MMORPGs. Bungie and Activision currently do not label Destiny as a MMORPG.
With a new a PvP progression system promised by Blizzard, as well as customizable weapons, developers may be trying to add more depth to the game to compete with newer IPs. In addition to the traditional new bosses, raids, and dungeons, a fresh class will be added to the game: Demon Hunter. While the beta for World of Warcraft: Legion is set to start sometime this year, the release date is still being kept under wraps.
This article originally appeared on TheMittani.com, written by Anschau