Pandemic Legion slaughtered seven rorquals belonging to a member of Goonswarm's Chinese corporation, Peoples Liberation Army early Thursday morning. Total losses according to zkillboard exceeded 72 billion.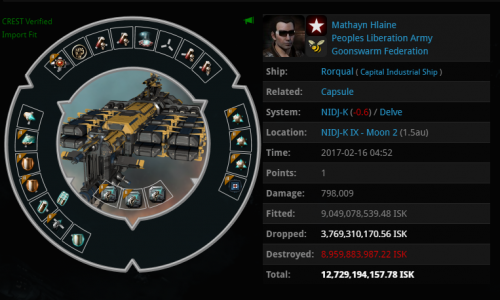 Pandemic Legion apparently used a combination of a wormhole-based tackle fleet in conjunction with dreadnaughts previously staged into NPC Delve to kill the Rorquals before help could arrive.
When the call went out to save the Rorquals, a response fleet quickly filled to capacity with capitals and a subcapital support fleet also had strong numbers. The pilot saw that mobile cyno inhibitors had been dropped, and lit a cyno immediately in the Theta standing fleet, but due to the fleet boss being AFK, and a series of miscommunications, the defenders were in a different fleet.  By the time the problem was realized, the mobile cyno inhibitors were online.
As soon as the pilot realized that the cynos were needed in a different fleet, he moved his cyno alt to that fleet, not realising that if you do this while a cyno is up, it breaks the cyno.  When Imperium.News spoke to him, he wanted this to be the main lesson that everyone learned from his losses.
Complicating all of this the pilot couldn't be clearly understood due to background noise, leaving the Rorquals to die despite an overwhelming response force ready to save them.