Header art by Mintaki.
Editor's note: This is a propaganda piece. I'm going to be promoting propaganda. If you're offended by that idea, you should probably give this particular article a miss and select another, non-propaganda piece to look at.
Welcome to the inaugural edition of Your Minute of Truth, a monthly* feature highlighting the finest work of the Imperium's Ministry of Truth. Minitru is the official propaganda organ of the Imperium**, and is comprised of artists, graphic designers, video editors, musicians, writers, Reddit posters, and other talented individuals who contribute their time and efforts to serve as the voice of the Imperium. We aim to produce not just typical goon propaganda, but exceptional goon propaganda. Your Minute of Truth will showcase ten such pieces, those which most inspired, motivated, impressed, or amused Minitru, INN staff, prominent members of the Imperium, the artists themselves, or you, the readers.
In this issue, we celebrate the work of the dedicated and talented Catlos JeminJees, Whenever the pilots of the Imperium need inspired or our enemies need their noses rubbed in something, Catlos has put pencil to paper without fail. He is regularly producing new work, inspired not only by our own but by current events as well. His message is nothing other than pure love of the State. "All I want to say," Catlos told INN, "to both the people that have given me encouragement and the one that told me to choke on a crayon is: thank you, your words keep me going."
Without further delay, I present to you the work of Catlos JeminJees:
Editor's Picks
Space Violence Adventures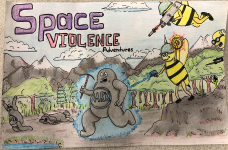 In this piece, chosen by INN's Editor-in-Chief, we see a depiction of the various SIGs and Squads working in the North in the style of 1980s adventure comics.
Kenshin Responds to the Media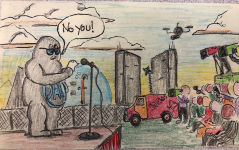 Another selection by INN's Editor in Chief, here Catlos sought to capture the words and intents of Kenshin's response to the furor surrounding the doxxing controversy following the keepstar heist.
Brought to you by Kirkland Protein Bars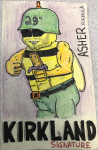 A fleet flies on its stomach, and nothing keeps a fleet fueled up and ready like Kirkland Signature Protein Bars, official sponsor of Asher Elias. Available anywhere SIGs and Squads fly!
The Goon Chariot: the AFK-Tar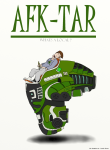 INN Editor Dirk Stetille chose this as his favorite of the collection, a celebration of the one thing goons really are good at: not paying attention.
Time to Hang Up the Gloves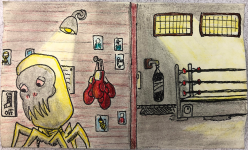 Mere weeks after announcing they would be making the region available to renters, Pandemic Legion fled Providence without firing a shot as TEST gated supers around the region. Maybe it's time. This piece was selected by INN Editor and Minitru bureaucrat Paramemetic.
Eat it!!!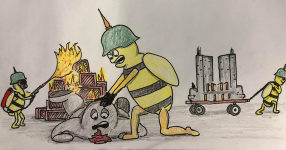 An immediate reaction piece upon the announcement of the aforementioned Keepstar theft. In the background, we see the heroic extraction of the 3…2…1… KEEPSTAR to its new home.  That alone secured its place on this list from Paramemetic.
Artist's Selections
The next five pieces are Catlos' own personal selections.
Burn Jita 2018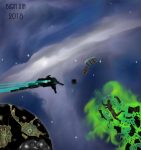 A celebration of Burn Jita, the Imperium's annual reminder that highsec exists and you should probably not go there.
Pure Whyte's Signature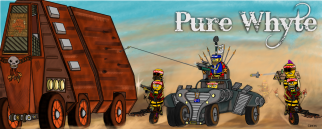 A commission for a Goonfleet Forums user and an homage to the work of the Imperium's Ministry of Love.
Propping Up a Corpse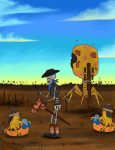 Originally posted six months ago, this piece reminds us that PL's been a scarecrow for a while now, but has anyone seen them move recently? Well, other than out of Providence?
The Reality of the Situation

A response to the botting discussion some months ago.
Make them Beg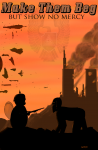 In memory of an un-person who once ordered his people to cloaky camp Delve in interceptors because some dudes flew North in jackdaws.  Good times.
In Closing
I hope you enjoyed this first edition of Your Minute of Truth, a long overdue celebration of one of the Imperium's most productive talents. Future issues will highlight pieces from the previous month, including videos, music, and other media – with occasional highlights for particular artists.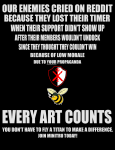 * I say "monthly" but it's more likely to be on a monthly-ish "whenever I feel like it" sort of schedule.
** You thought INN was the propaganda organ?  You fool!