Header art by Redline XIII
As the title suggests, this piece will be about the current ISK efficiency balance between attackers and defenders in the space of larger alliances, mostly Pandemic Horde and Goonswarm Federation. The focus on those areas comes as these are primary zones for content, both for defenders and attackers. This is especially true with regard to kiting. Brawling, by comparison, is much more simplistic in how engagements develop, as the opportunity to disengage is quite limited unless you're in a few select ships.
Perspective of a Solo PvPer
Many says that people who kite and roam only want easy kills, and are just as risk averse as the ratters and miners they're hunting. True to some extent, this mostly stems from the loss factor, as it does with all activities in EVE.
Compare losing a Procurer or Myrmidon if you're doing mostly afk PvE to, a cloaky artillery Loki—one of the most common "ganking" ships. After insurance, the Procurer costs roughly 20 million. The Myrmidon comes in about 30. A Loki, on the other hand, can cost 650 million after insurance for a cheap fit. Losing one of these Lokis is a much more significant loss, not only because of the significantly higher investment cost, but also because it doesn't generate as much ISK as a ratting or mining ship, which goes for most forms of PvP. Seen this way, it should come as no surprise that these types of ships mostly go for targets doing PvE instead of fighting people that are ready with ships to counter theirs.
This leads me onto my next point which comes from me specifically, as a solo PvPer, and one of the current problems in the game when it comes to PvP in general. While Blackout and the cynosural field changes were great changes to generate this sort of "ganking" content for PvPers, CCP has actively diminished the amount and quality of actual PvP content. Killing ratters and miners barely qualifies as PvP. This was done with one specific change a year and a half ago. That change made it almost mandatory to have another account in an interceptor, be in a gang with a Hyena or a similar ship, or use specific ships that are able to run away or cloak. It effectively removed huge amounts of diversity to the kiting meta which used to include everything up to battle cruisers and even some battleships. One change did that: the assault frigate changes.
Assault Frigates and Solo PvP
The entire assault frigate class used to be completely irrelevant, maybe even more irrelevant than the current combat interceptors (Taranis, Claw, Raptor and Crusader). However, after the February 2018 rework, all of them began to see use. Kiting solo PvPers and gangs used the Retribution, as it gave them the ability to outplay larger gangs and fleets. Its amazing speed and capacitor let Retributions tank a lot of the meta with speed tanking and high resists. CCP soon cut the ship's speed harshly in response to its outsized dominance.
Soon, the other assault frigates also began to see use. Many of them dominated their field, though none to the extent that the Retribution did at kiting. Close range, the Wolf saw heavy use in Blood Raider and Sansha regions for its 90% electromagnetic resists. The Hawk, with it's amazing damage and tank, carved out a niche in low sec where barely anything could beat it in a close range 1v1. Harpies and their amazing fleet utility replaced Cormorants with superior range and tank, while the Enyo found use as a high dps close range brawler akin to other Gallente ships.
And then there was the Jaguar. It took a few months to realize what kind of monster CCP had created as people were adjusting to these ships being relevant again. But once the meta had been established, it became clear that the meta had changed significantly.
The Assault Damage Control module only exacerbated this problem. Implemented exclusively for assault frigates and heavy assault cruisers, the ADC provides a brief period of almost perfect invulnerability. For up to 16 seconds, a frigate tanks as much as a battleship.
The Jaguar Menace
The Jaguar is a great solo ship with extreme amounts of utility, great tank and speed. The only thing it lacked was dps and fitting space when fit with launchers. That was the trade-off you made for all the other stats it gave you over other assault frigates. I have specifically abused this ship in solo PvP as it can take many fights no other assault frigate could take. But the problem with this dps trade-off was that tackle ships for a fleet do not require dps in the first place.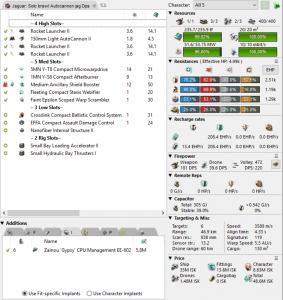 Here's the stats of a solo PvP Jaguar, a fit that I have used a lot as it is incredibly fun to fly and has a lot of utility for disengaging and controlling range. As you can see, even with almost all mid slots and low slots running the low CPU versions to make up for fitting rocket launchers in the high slots, it needs a 2% CPU implant to fit with all skills trained. This fit also has clear disadvantages. The capacitor is quite weak for an assault frigate so an energy neutralizer will give it trouble. The kinetic resist is also low, so you'd be able to kill it quickly by shooting kinetic ammunition into it.
But the strengths should also be clear. It has amazing speed, rivaling a slow interceptor in both speed and agility. This factor, along with the tank it has from the Medium Ancillary Shield Booster and Assault Damage Control is only abused further on fits that don't care about dps or utility. Lets take a look at one version of the so called "ram jag" fit with the Assault Damage Control active. The ram jag is a max tank/speed tackle Jaguar used as tackle against small gangs or solo PvPers.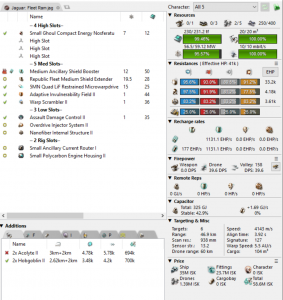 Lets compare this with the previously-mentioned Loki fit. Before the assault frigate rework, the primary tackle for fleets was always interceptors. They were fast, slippery and could take one or two large hits before going down. This let them hold tackle on slower cruisers and ships without control, but their tank was only in the thousands, barely hitting 6,500 effective hit points for a standard Stiletto. This is turn meant that the 650 million Loki we discussed earlier in the article, with a volley topping out at 5400 with close range ammo, would kill the ceptor in two shots, realistically in three or four without perfect application. Compare that to the Jaguar above, which goes almost as fast as an interceptor. The Stiletto fit I mentioned goes 4329m/s with better agility, 4.17 align time. Yet the Jaguar has twice the effective hit points, clocking in at 11.6k without the Assault Damage Control.
Now comes the huge problem: The Jaguar would still die to a couple of well placed volleys from the Loki, but when the Jaguar activates the Assault Damage Control, its effective hit points skyrocket to 41,000. So in those 16 seconds, any damage the Loki manages to do is negligible at best. That means the Loki pilot effectively wastes 16 seconds, and in those 16 seconds the Jaguar is putting huge pressure on the Loki. The Loki is unable to shoot anything else, as the Jag will catch up and tackle the Loki if it isn't forced off. In many situations, that means certain death. The potential threat to the Jaguar's capacitor is also alleviated by the Nosferatu, as a single small Nosferatu will easily keep a scram running a scram against one neutralizer. So, by the time the Jaguar is within the range of a neutralizer it'll be within range to scram. At that point you're not leaving until the Jaguar dies.
Conclusion
In conclusion, the problem with the Jaguar as a fleet tackle ship, and in turn, why it has changed the meta amongst solo and small gang PvPers so much, is the combination of strengths it brings together. It has incredible tank—without capacitor requirements—from the Medium Shield Extender and Medium Ancillary Shield Booster, great fitting space when you don't have to waste fitting on guns, and superior speed and agility. Taken together, it outshines all other options.
The only assault frigate that rivals it in agility and speed is the Wolf. However, because of the lack of mid slots the Wolf only reaches this speed and agility if you barely fit any tank as the low slots are occupied by speed modules. Minmatar T2 armor resists also need many more slots compared to shield resists which brings me back to my original point of people only taking fights they know they can win. When the enemy you're up against can throw a 60 million Jaguar up against you as tackle and your only options as a solo PvPer in 90% of ships are to either leave grid and run away or cloak up, or get tackled and die horribly to the fleet that is right behind it, most people would be inclined to avoid the problem entirely. They wind up only engaging things that can't fight back, that you can kill quickly, or aren't able to hold you. The other options just aren't fun for the player and in the end that is what most PvP is about, not gaining ISK or killing someone out of spite, but for fun.