CCP has yet to announce the next official expansion, but a few days ago they announced one of its major features, Refineries. These were referred to as "drilling platforms" in discussions revolving around EVE's new structures. The Upwell Consortium continues to evolve, with the introduction of Citadels last year, and Engineering Platforms six months ago. This week, Refineries were unveiled. However, they will arrive "when they're done," which can be anytime between Fanfest, in April, and the end of the year.
A second devblog was released on the same day to review past game development, and changes to the development pathway. CCP is going to split development into three parallel paths — fix bugs on released structures, deliver more service modules, and create new structures. That split may have caused the expected Spring expansion to push until after summer. Veteran players will remember CCP releasing two expansions per year, with "Jesus Features" to boot. They will also remember all the broken mechanics that never got fixed. Today's EVE is a tighter experience, with "bad" gameplay removed from the game, like Teams, scattering ghost site loot, and Drifter Incursions.
Refineries
Refineries are the headquarters of your harvesting efforts, for the most part. These structures will house ships, warehouse your ores, refine asteroids and scrapmetal to minerals, and compress it for more efficient hauling. It will be the only platform that can react moon minerals. If fitted properly, they can also defend your mining fleet. Like all structures a refinery can be placed anywhere in system, but when it is placed near a moon, it does its best work – Mining.
New Gameplay: Moon Mining
Moon Mining using Player-Owned Starbases (POS) was introduced in 2004 and has not changed since then. The process of setting up a mining operation was one of the few dinosaurs left in EVE. The interface was confusing, and you could easily make a mistake that would cost you dearly.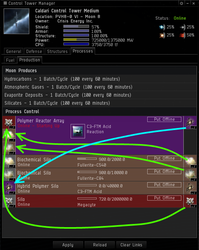 Despite the ancient interface, alliances fight hard to control rare moons, sometimes losing billions of ISK in ships defending them. Some of the best brawls were over moons. When controlled, the moon could be mined around-the-clock, creating lucrative passive income for the owner. Normally, moons were controlled by alliances or corporations. Assigned corpmates act as gardeners, fueling the POS and emptying the silos. The income of mineral sales would go to leadership, which would share it as they pleased.
CCP Fozzie, the spokesperson for Refineries, stated that their goals for a new mining system were to "create a new form of active group gameplay… The new system must support gameplay for many different types of players, involve strategic choices, and reward players who can cooperate well."
How it will work
The Refinery, if in range of a moon, will arm itself with a Death Star-like "drill" that blasts the moon, breaking off the part of the surface, causing it to drift up towards the Refinery. The Refinery operator (foreman) then blasts it again to break it into thousands of asteroids, creating a mining field. While his teammates mine the asteroids, the foreman blasts another chunk off the moon allowing it to drift. The foreman controls the tempo, but each cycle takes one to several weeks. An active group could mine every week, or every few weeks.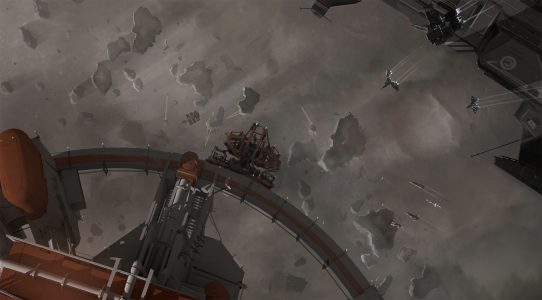 Anyone can mine the field, and the activity for a moon is logged so the foreman can see how much is mined per teammate or stranger. The foreman can also use the Refinery's defenses to defend his fleet or ward off unwelcome miners. Mining belts you do not own are the new "siphon" gameplay; Siphon units will be removed from the game.
The asteroids from the moon are new, but the materials inside them are the same raw moon materials as before. Refining the rocks will work as it does for normal asteroids, but reacting the raw moon materials will use the industry interface. A new skill will increase the amount of reactions you can run simultaneously.
Fallout
This is a major change to the status quo, and a lot of attention is focused on how this will affect low-sec groups that are not known for holding territory, or using miners. Much of their wealth came from dominating moons militarily. That is no longer enough. Perhaps they can rent them out, but valuing a moon's worth will be more difficult than before because there no clear way to know how much material will come out of the moon, how much will be mined, and who will mine it. More importantly, low sec uses all-or-nothing fights over moons as big set piece battles. It is hard for them to imagine removing a three-timer Refinery will be as dramatic, considering there are no limits on how many can be put on a single moon. To be clear, only one drill can mine at a time, therefore only one refinery can posses the moon at a time.
Larger sov-holding entities that may have an easier time of it, since most of them are "space holders" that use the resources under their domain. Well controlled and policed areas, like The Imperium's Delve region or Providence, are expected to do well under this new gameplay. You wouldn't know it by the silence in leadership circles. Most veterans are taking a wait and see approach because all this means little without knowing the material composition details. When CCP Fozzie gives the details, EVE spreadsheet artists will attempt to quantify the impact of the changes.
CCP has once again created something no one saw coming. Blasting off a piece of a moon to create an asteroid belt is epic gameplay. The EVE that gets talked about out there may be combat related, but it is creative features like this that set this game apart.
CCP Fozzie will be appearing on the Talking In Stations podcast, recorded live on Imperium news Twitch. Watch it live Saturday, 15:00 UTC on https://www.twitch.tv/imperiumnews.