Making New Eden Great Again (For Newbies)
In a devblog released today by CCP Games, Team Genesis released the first peek at the direction the New Player Experience (NPE) is moving in. As the team behind reimagining the ways in which new players can get hooked in EVE Online, Genesis wants new players to stay around longer and the new NPE direction is a big part of that. It's all about story. Now before you say, "Hey, EVE's single player experience sucks," the company is trying to improve the ways in which all players can feel part of the live, breathing universe that is New Eden. This includes the PVE experience.
Step one is allowing them to get to the fun content faster. To do this, CCP is killing an old sacred cow that said "you can't advantage new players anymore than experienced players" by giving out "mini skill injectors." This is a big deal, and while it remains to be seen whether it will improve a newbie's ability to get in more effective ships faster, it is a step in the right direction.
Step two in improving new players' immersion in New Eden is by actually making New Eden interesting. "But there's so much lore!" Yes, there is lots of lore. Unfortunately, it's the kind of time-consuming thing individuals have to seek out on their own. The way in which Team Genesis is doing things, lore finds you. This is already somewhat the case with the PVE events like the current Blood Raiders event that is going on. As was made clear at Fanfest earlier in the year, this is a direction into which CCP will be pouring more and more time and energy. The bet here is that if the NPE is made more engaging and immersive, players will have more reason to invest in the game emotionally. Right now, the "Opportunities" system that the NPE is currently centered around has players complete somewhat boring tasks until they get the hang of EVE (or quit). Inception looks like it wants to kidnap them and force them to engage in fun and exciting life or death content. Or at least that's the idea.
Introducing Newbies to the Ultimate Bad Guys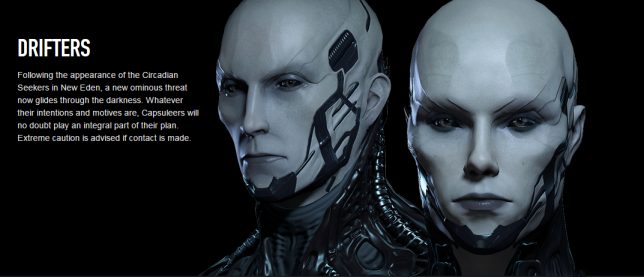 In outlining their plan to get players hooked on EVE, CCP Games has brought out EVE's ultimate bad guys: the Drifters. Inception will set each player up with a mentor from whatever racial empire they choose, who will then guide them through a series of encounters against the Drifters. This is pretty exciting because the Drifters are by far one of the most interesting antagonists to have popped into existence in New Eden. They are not rebels, nor are they a rival empire, corporation, or pirate group, they are simply "the other." Which makes them the perfect enemy to introduce new players to for the first time. It wraps them in the mystery of who the Drifters are and what they want, the same mystery that troubles the rest of the galaxy. Not bad planning CCP, not bad at all.
Worth pointing out is the fact that Inception is meant as a "first step" in reworking the new player experience.  Hopefully a more fleshed out road map will turn up soon (maybe at EVE Vegas) but for the most part, this is a refreshing take on where CCP is heading. Worth mentioning, though, is the fact that CCP Games does not always deliver on the expectations and promises that made. Opportunities, the current NPE system, seemed like a good way to introduce players to the sandbox-style gameplay that EVE is known for. However, it failed on several levels, including providing an engaging experience.
Another concern worth mentioning with all of this is whether it goes too far into giving a totally new player the appearance that EVE Online is single-player friendly. One of the most common complaints about the NPE has been that it consistently fails to integrate players into New Eden's multiplayer environment. There's nothing wrong with re-engineering the player vs. environment scenarios, NPC artificial intelligence, or any of that. But let's not lose sight of what EVE Online is, either. It's still a ruthless spaceship game where players explode other players' ships along the road to finding the ultimate ship, which is friendship.