The great struggle with Kickstarters, once the novelty of being able to fund your dream projects wears off, has always been determining which idea had a chance to see the light of day instead of simply burning your money away. The early-access platform promoted by Steam presents a similar dilemma. In that respect, H1Z1 has already proven itself, it is an incredibly playable game at its stage of development.
With H1Z1, early adopters can find themselves enthralled to such a degree that when a serious glitch does occur, they often forget the game is still in development. What other game can afford to ban 30,000 cheaters while it is still being made? As the H1Z1 development team finishes polishing the foundations of the game, we can expect them to make more interesting and radical additions to the product. This week we got a peek at what is around the corner when Sebastian Strzalkowski, H1Z1's Art Director, tweeted pictures of a new base structure: The watch tower.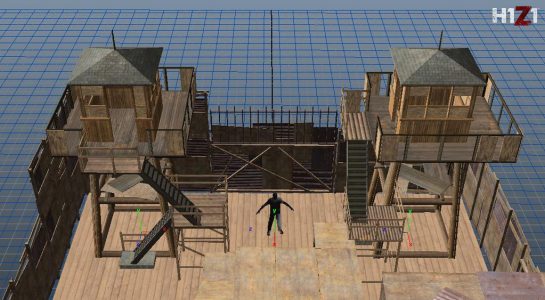 Originally envisioned as a set piece—H1Z1 is littered with a variety post-apocalyptic scenery—Strzalkowski revealed that the development team later decided to add watch towers to base building as well. The addition of watch towers will force players to consider new tactics, locations, and even group structures. It is the hallmark of a true sandbox that such a seemingly innocuous, if potentially excellent, addition can effect gameplay and strategy so thoroughly.
The reason is that bases offer the most comprehensive strategic decisions in the game so far. They aren't mandatory, of course, many players can and do live out of a backpack and stay mobile. For others, a variety of options exist when it comes to strongholds. Survivors can board up existing structures, create small shacks and shelters, or lay down tamped foundations for more elaborate walled compounds. Below we review some possible scenarios involving watch towers, and how they may shake out in the actual game.
AS OUTPOSTS
The first thing that might come to mind with watch towers, especially for those operating in large groups, is the potential for creating outposts. At a glance this might seem like the perfect synergy: Watch towers have been associated with outposts throughout history, so let us make watch tower outposts. The first issue with this is that unless you drop a tamp, and build a wall around your outpost, anyone can use it. Placing a tamp means it might as well act as a base instead of an outpost.
The next issue comes in the form of the PvP mechanics of the game. The amount of effort necessary to accumulate bullets precludes a lot of frontal assaults with machine guns, careful sniping with rifles is the more preferred method of hostility. Conflicts are decided most often by who spots who first. A watch tower has to keep an eye on 360 degrees of possible attack vectors, while someone who is assaulting a watch tower knows exactly where to aim. Assuming outposts will be placed to guard valuable locations, such as truck stops or trailer camps, you can also expect there to be a lot of cover to be sniped from.
BASE ENHANCEMENTS
Watch towers may find their calling as vital parts of a cohesive base. Currently in H1Z1 all bases are rectangles. Towers could be placed on each corner to limit the amount of exposure any one structure may draw. Primary bases tend to be more populated as well, ensuring the watch tower will have sufficient manpower to replace any fallen comrades more readily.
Furthermore, bases are currently placed next to ideal spots to gather loot and salvage. Misty Peak Dam, Pleasant Valley, and Cranberry are all popular spots to raid for supplies. Watch towers may encourage groups of survivors to place their bases further back from these locations to ensure that enemies have to traverse wide open spaces for a raid. If bases are placed close next to permanent structures, the trade off will be that watch towers will have little utility. It will be another depth of strategy to consider at the next purge.
AS PERMANENT STRUCTURES
It has been implied that watch towers were originally conceived, and may continue to exist, as permanent structures throughout the map. If this is the case it is unclear if players will be building the same kind of watch towers as the ones envisioned for "military checkpoints." It will be interesting to see how fast player built towers will degrade and if zombies will be given the abilities to climb towers in some fashion. The label "military checkpoint" also implies there may be military-grade gear to loot from these locations. Hopefully this is a prelude to additional items being added to the game.
As H1Z1 continues to mature towards a formal release; it is hard not to be excited about the phase development is now entering. We can look forward to seeing more exciting content added as the fundamental engine becomes more stable. With development accelerating, flying bears and wolves that pass through walls look ready to make way for a future bright with apocalyptic possibilities.