SAFIZON – DOMAIN: At approximately 18:07 New Eden Standard Time (NEST) a planned celebration to commemorate the commissioning of the TES Auctoritas, the Amarr Empire's new flagship vessel, turned tragic when Amarr Empress Jamyl I (aka Jamyl Sarum) was killed by Drifter-class battleships.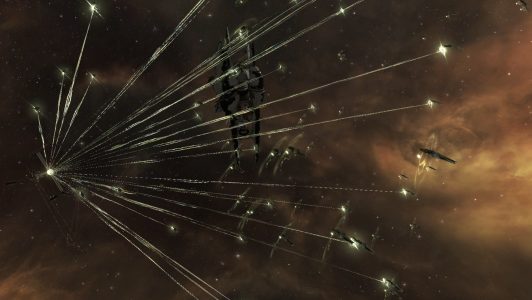 Image credit: Sahriah Bloodstone
Hundreds of capsuleers had gathered for the occasion from factions ranging from Amarr Loyalists such as Praetoria Imperialis Exubitoris and Curatores Veritatis Alliance to long-standing Matari militia alliance Ushra'Khan. Nullsec entities including pirate organization Mordus Angels and capsuleer sovholders The Kadeshi and The Imperium were also represented among the observers, as was The Sixth Empire, alliance of His Holiness, Maximillian Singularity VI, whose questioning of the Empress' legitimacy has been well-documented.
The attack took place at the Safizon II – Moon 1 – Amarr Navy Assembly Plant, headquarters of the Amarr Navy and port for the Auctoritas until she is formally commissioned. Coming out of warp, the Empress began addressing the gathered capsuleers in her normal fashion:
"Faithful of Amarr, it pleases us to see so many loyal capsuleers present here today. We are gathered here in token of our holy mission to reclaim creation and bring the glory of God to all. To reaffirm this mission, it is fitting we mark the launch of our latest Imperial Flagship, the Auctoritas. You will bear witness to the might and peerless technology of Holy Amarr as we – "
At that point, her address was interrupted mid-sentence by the arrival and immediate attack of the alien armada. The Empress' Avatar-class titan, TES Seraph, was destroyed in what has been reported as a single volley from four hundred Drifter-class battleships, which then immediately turned their fire upon her capsule.

The next transmission from any representative of the Amarr Empire or Amarr Navy came not from the Empress, but as an exchange between officers of the Amarr Navy escort forces:
Afod Hokshmi > ALL AMARR NAVY VESSELS – DEFENSIVE FORMATION IMMEDIATELY. PROTECTION OF WRECKAGE OF TES SERAPH IS PRIORITY – WEAPONS FREE ON ANY THREAT
Afod Hokshmi > COMMANDER BARMOH – CONTACT ATHRA IMMEDIATELY – SECURE THE ROYAL DELEGATES – CONTACT GRAND ADMIRAL SUNDARA AND CHAMBERLAIN HAROMI
Yai Barmoh > ROGER THAT, I'M ON IT
Afod Hokshmi > COMMANDER BARMOH – DISPERSE THE FLEET IN AMARR IMMEDIATELY – PROTOCOL 101 ALPHA – RETURN TO DEFENSIVE POSITIONS
Afod Hokshmi > ALL AMARR NAVY VESSELS – PROTECTION OF AMARR NAVY HEADQUARTERS IS NOW PRORITY ONE ON ORDER OF GRAND ADMIRAL SUNDARA
Afod Hokshmi > IMPERIAL GUARD ESCORT – ROYAL DELEGATES ARE SECURE – HOLD FOR FURTHER ORDERS
Yai Barmoh > ADMIRAL HOKSHMI – BORDER CONTROL REPORTS ZERO ACTIVITY
Afod Hokshmi > ROGER THAT – AWAITING ORDERS FROM GRAND ADMIRAL SUNDARA.
Afod Hokshmi > CITIZENS OF AMARR – PLEASE REMAIN CALM
Elfir Hanavi > MINWARCOM ORDERS WARPLAN 'GRAVITY WELL' IN EFFECT – BORDER FORCES MOBILIZING
Elfir Hanavi > – MILITIA UNITS ARE TO SECURE ALL ZONES ACCORDING TO SECURITY PRIORITY –
Afod Hokshmi > IMPERIAL GUARD ESCORT – OUR PRESENCE IS DEMANDED IN AMARR – ROYAL DELEGATES ARE SECURE – SET COURSE FOR ATHRA
Yai Barmoh > ROGER THAT ADMIRAL, COURSE SET.
Elfir Hanavi > COMPLYING – ALL LOYAL SUBJECTS ARE TO REMAIN CALM AND LOOK TO DEFENSE OF THE EMPIRE
Immediately afterward, the Navy escort group withdrew to Amarr, and was observed docking at the Emperor Family station, presumably to see to the protection of the Royal Delegates. While the Royal Delegates arrived safely in Amarr, localized fighting between members of Amarr and Minmatar militia groups has been reported in the Throne Worlds.
Gallente news organization The Scope has, as previously reported, released footage of the attack, and claimed that the status of the Empress is currently unknown. However, given the clear evidence and first-hand accounts of Jamyl Sarum's capsule being destroyed and her corpse being visible on-field, if she were to make a second miraculous return from death, even the most loyal supporters would be hard-pressed to deny the accusations of cloning, a violation of the Doctrine of Sacred Flesh, leveled at the Empress from some quarters.
As of 22:14, Court Chamberlain Pomik Haromi has confirmed the death of Empress Jamyl Sarum.
The Imperium has released the following statement:
"Today, the alien menace known as Drifters struck at the heart of New Eden's most populous and oldest starfaring power. We extend our condolences to the people of the Empire in this time of confusion and chaos, and reassure them that Imperium forces stand ready to render humanitarian and military aid in these dark times. In light of this clear sign of God's disfavor, we also call upon the Amarr people both within the Empire itself and outlying regions such as Providence, to embrace the wisdom of His Holiness, the Harbinger of Faith, Pope of New Eden, Maximillian Singularity VI, First of His Name, True Emperor of the Amarr, Scion of Kings, Emissary of Peace, Whose Wisdom Gives Hope."
TMC has reached out to members of a number of the other capsuleer organizations present for comment.
From Minmatar Militia Ushra'Khan, DeT Resprox offered the following summation of events:
"During the Safizon event, when the Gnosis belonging to the Society of Conscious Thought was destroyed, Ushra'Khan vessels were on field. At the time of seeing that the order was given to open fire on the Gnosis, i warped to range of Jamyl Sarum's vessel opening fire. The result saw me lose a Tornado to CONCORD and Amarrian support – the result was a killright on my head to Jamyl. Being made aware that tonight we would see the TES Auctoritas, a rally call was made for an Ushra'Khan fleet to assemble beforehand to strike out at the vessel. Tornado and Svipul class vessels were provided on contract and an Ushra'Khan fleet of seventeen (including several allies) were formed at 1800 EvETime.
By the time our fleet had reached Safizon, the Seraph was already destroyed and our objective was denied. However, our fleet made way towards Amarr meeting a number of PIE (Praetoria Imperialis Exubitoris -ed) combat vessels and her allies where multiple skirmishes occured.  I myself taking down Yanarfal's Coercer. Losses to our side and the Amarr side are unknown following skirmishes and i am currently trenched in engaging enemy forces.
Although the state of the empress is unknown at present – myself and Ushra'Khan have unfinished business."
JedsZero, Executor of Apocalypse Now, also responded:
"I have not been able to reach Cardinal Dex. I am, personally, however a little bit frustrated that the Imperial Navy did not reply to my requests for information after the titan was destroyed. I understand they were busy, but we were there with good numbers of capsuleers, many of whom are now worried about the Empress."
His Holiness, Maximilian Singularity VI of The Sixth Empire, has released the following proclamation regarding these events:
"Proclamation 8 – Jamyl Sarum Wanted Alive
YC 117, August 21
Today's attack on the Titan 'Seraph', destroyed by a Drifter Armada is a tragic loss for the Amarr Empire.  The Seraph had an estimated crew contingent of about 5,000 souls and rescue efforts are underway to rescue and/or recover the crew as of this writing.
This singular Drifter attack was focused on the Titan, piloted by Jamyl Sarum 1, Empress of Amarr.  While the fate of Empress Jamyl Sarum, is presently unknown, witnesses observed the Local Message that Drifters were scrambling her pod, and subsequent destruction.
However…
It is too early, and inappropriate to grieve for the Empress at this time, as no physical body has been discovered.  A similar Jamyl 'false death' has happened once before in Amarr history, as she had lost the ascension trials and her ship and capsule were destroyed in public view.
It is therefore suspected by myself and members of the Sixth Empire, that Jamyl Sarum, maybe alive.  It is our hope that she is alive.  The Sixth Empire, wants more than ever now that Jamyl Sarum be discovered, and that she be remanded into custody to face the eight charges against her.
It is our belief, that there remains the possibility that Jamyl Sarum, has taken refuge in medical clone bays provided in collusion by her overtly devout, extremist supporters within PIE and CVA… located within the Providence Region.
We ask all that are loyal to the Amarr Empire and the Amarr People, to seek out Jamyl and return her safely to our Golden Empire in all good haste.
/s/
Max Singularity VI"
TMC has also reached out to Cardinal Kahar Dex of CVA, and Aldrith Shutaq of PIE for comment on these events, and will update this story as we receive replies.
UPDATE: His Eminence, Cardinal Kahar Dex of CVA's Imperial Dreams has provided this statement:
"The events of today, will prove to be a test of faith for the entirety of an Empire… but we will not hesitate. The Curatores Veritatis Alliance, will  remain loyal to God and the Amarr Empire for over 10 years, and we shall continue to. We mourn, but we rally. We are shocked, but our resolve divine. God guide us."
UPDATE II: Cardinal Bakuhz of the Sixth Empire's Ebon Cartel has posted an announcement declaring Jamyl Sarum 'Wanted: Dead or Alive'.