ONE PRIZE POOL TO RULE THEM ALL
It's that time again: The annual "wait, how much do e-sports pay these days?" tournament.  DOTA2's The International 2016 will take place from August 3-13 with a total prize pool of $19.3 million (and counting), surpassing last year's record of $18.4 million.  (If you don't know what DOTA2 is, watch preeminent DOTA2 player Pyrion Flax's guide.)  Since 2011, Valve has been putting in $1.6 million of its own money as part of the prize, but starting in 2013 additional money was added to the prize pool through crowdfunding.  This tournament caps the three Majors hosted by Valve in the past year, each with its own $3 million prize pool.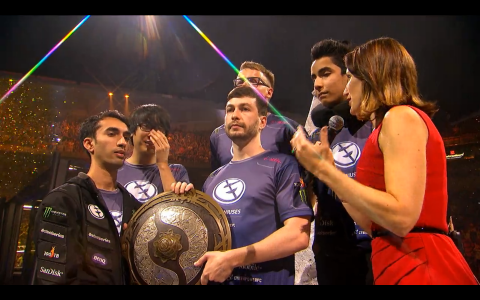 The happy faces of five new millionaires (Evil Geniuses – TI5)
In exchange for contributing to the crowdfunded prize pool, players who purchase this year's Battlepass can earn multiple rewards through completing quests, wagering on winning games, being lucky, or spending cash (naturally).  These rewards include a new courier which evolves as you obtain more levels (capping out at an obscene level 2000 for its final evolution); new graphical effects for various things such as teleports, fountain healing, blinking, or leveling; and treasures containing unique skins.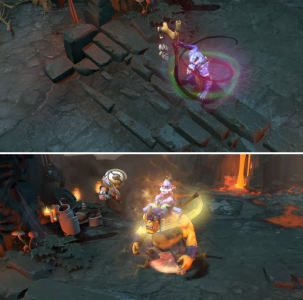 THE TEAMS
Six teams have been directly invited: Natus Vincere (TI1 champions), Newbee (TI4 champions), LGD-Gaming, Team Liquid, MVP Phoenix (first Korean team to be directly invited), and OG, winner of two of the three Majors and are the favorites to win (which may actually work against them).
Eight other teams qualified through the regional tournaments: Evil Geniuses (TI5 champions), Wings Gaming, Team Secret, TnC Gaming, Digital Chaos, Vici Gaming Reborn, Alliance (TI3 champions), and Fnatic.  The final two spots will be fought over by the wild card teams from the regionals: compLexity gaming, EHOME, Escape Gaming, and Execration.
There has yet to be a repeat champion at The International, with Natus Vincere coming the closest after winning the inaugural tournament and being runner-up for TI2.  As seen from the direct invite list, prior performance does not guarantee entry, and only one TI winner, Alliance, was truly the favorite to win before the respective tournaments began.  Every other tournament was won by an underdog.  Bottom line is that there is no foregone conclusion.
HOW CAN I WATCH?
The DOTA2 client will be streaming the entire tournament and also allow replays to be watched afterwards.  Broadcasters in multiple languages will be simulcast and also saved on the replays.  In addition, twitch.tv will carry coverage.