CCP has released this forum post about the new Blood Raider Shipyards. At the same time, they have put some of them on Singularity for testing! Thus, it was our duty to go investigate. To do so, we joined pioneers of the Imperium Incursion SIG, who were reportedly the first on site.
Moar NPC's!
It's a bloody mess: TIDI dropping to 10%, over 600 NPCs on field and they chase you around
That was the first report I got from the SIG's FC on the field. I jumped in with a carrier to get my eyes on it to forge my own opinion and oh my Max Singularity NPC's everywhere.
There were over 800 NPC's in the system, split into at least 4 fleets, with separate anchors (yes, anchors… NPC anchors), logistics,… At the time I landed on the field, they were bugged and not shooting anyone. We extracted to the friendly Fortizar while talking with CCP Habakuk.
They are yellow boxing me, I'm warping out
At this time a fleet member spoke up: "I'm yellow boxed, warping off… wait, they follow me"
We saw the entire fleet land on the Fortizar at range… and deploy! This "warping around" behaviour is currently listed as known issue in CCP's post but might be kept as a feature, just like for Drifters. The fleet behaviour, however, is part of the AI.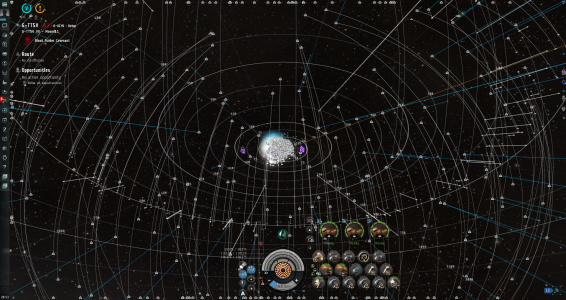 They proceeded to destroy a Scimitar, deployed around, before going back to their "home".
For the rest: TIDI peaks happened, especially during warps, with only 25 people in local!
Bloody Hell…
Bugs were everywhere, from non-agressing NPC's to red-cycling modules. We're waiting for CCP to fix everything, but this already feels like one of the most epic PVE experience in Eve. Blood Raider Shipyards seem to want to bring PVP-like experience to PVE, making it more interactive. And harder.
Here are a quick series of shots and a video taken during the evening, showing what to expect. Even one of a poor Naglfar being blapped in the name of testing!