Solo PVP in EVE is an intentional handicap. This is a community-based game, and flying is, more often than not, a team exercise. Placing yourself at that disadvantage is, in my opinion, the core of Solo PVP. You are playing the game in a way that it was not intended to be played.
Now, of course, I came into this way of thinking before the Orthrus and Svipul existed, and as we all know, those ships and ships like them could not be more clearly aimed at being Solo PVP monsters.
So why not fly them? It would be trivial to throw together a video of an Orthrus smashing small frigate gangs to bits. Or a Gila. Why fly a ship that is, in the minds of many, relegated to yolo fast tackle and trolling? My answer? Uncertainty. When a Garmur tackles your autocannon Thrasher, you can be reasonably sure that you are going to die, and the Garmur pilot can be reasonably sure of that outcome as well. But when the Thrasher wins, then Solo PVP becomes exciting for me (and if I'm being honest, I feel like many people agree with me here). This is the reasoning behind why I fly the Stabber. No implants, no boosters, T2 fittings, (and in the past, no links). Just me, my fit, and my understanding of what other pilots expect me to be able to do. That expectation of what other pilots assume leads me to my fit, and why I chose it.
The standard Stabber fit in the minds of most looks something like this: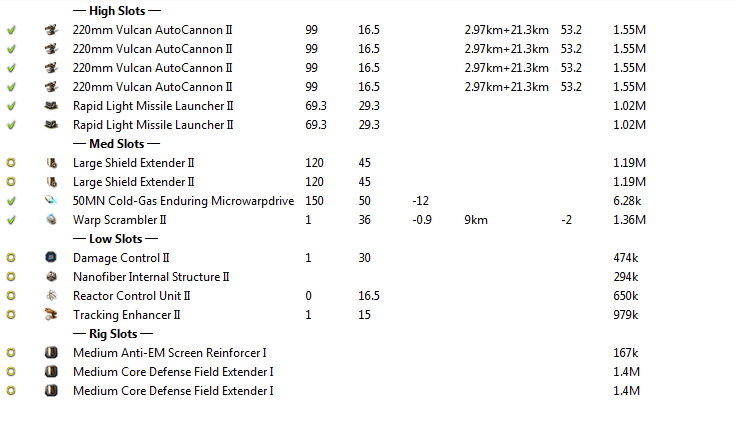 Details change, of course. Some have more damage modules, some have a point instead of a scram, some use heavy missiles, and some even forgo their two extra high slots in favor of 425mm autocannons.
My fit looks like this:
I almost always leave station hoping to find a battlecruiser or cruiser to fight, but you wouldn't know that from looking at this fit. Part of fitting with Solo PVP in mind is understanding that you will have to deal with frigates and destroyers. Some will want to try to get under your guns, and some will want to point you so their friends can come along and kill you. The web and neuts make quick work of any that try to get close, while the dual Tracking Enhancers and always having Depleted Uranium in cargo help to deal with pesky interceptors.
With so much fitting devoted to dealing with small ships, how then do I deal with cruisers and battlecruisers when I encounter them? Well, the ship is clearly designed to kite. The MWD and Point should make that obvious. But one of the major drawbacks of the Stabber is its poor cap life. You only get a handful of MWD cycles before you are cap-dry and have to either bail or die. The web helps mitigate this drawback. You can let brawling ships get closer than you would normally be comfortable with by overheating the web and pulsing the MWD when needed. The neuts also perform a vital role here. Sometimes you are just going to get caught. They are faster than you, you get a bad warp, whatever. I can't tell you how many times I have neuted off a scram and managed to escape.
I've managed to go on a bit more than I had intended, and while there is a good deal more that I could talk about regarding the fit, I will leave it at that for now. I hope you enjoy the video, and I would be more than happy to answer any questions in the comments either here, on the video itself, on Twitter, etc. Fly Dangerously.