While recovering from surgery last week, I took a moment to stop and assess the state of development in Eve Online. Looking back a lot of changes, improvements, and new content has come to the cluster in the last year. That being said, Eve Online is currently experiencing some minor growing pains. The game is in the middle of a lot of gameplay/balance changes that are taking a considerable amount of time to implement correctly. Alongside that, CCP is always pushing new content.
After the introduction and implementation of citadels into the game, there is no question that the next largest ongoing content introduction has been faction capitals.
New Toys!
Thus far, the Serpentis and Blood Raider Covenant capitals have been released into the cluster. The Serpentis now have a Dreadnought, a Super Carrier, and a Titan. The BPCs require to build them can be purchased directly from the Serpentis Corporation. The Blood Raider Covenant also now have a Dreadnought, a Force Auxiliary, and a Titan. The Blood Raider BPCs are obtained by destroying the new Blood Raider Engineering Complex sites. There is speculation that three Guristas Pirates capitals are likely to be released next sometime in the future.
What is so special?
These ships are intriguing. On top of already being built on the hulls of the biggest and most powerful standard ships in New Eden, they also boast some crazy mixed-racial and role bonuses like we have never seen before on capitals besides the Revenant. The Titans, in particular, are exceedingly more powerful than their standard counterparts.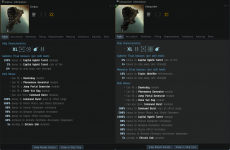 The image above highlights on the scale of the bonuses for the Vanquisher. It has a lot of the same bonuses as the Erebus hull that it is based on, and in addition to those, it gets a Minmatar stasis webifier bonus. However, on top of it's racial and standard Titan bonuses it gets a 1000% bonus to Capital Hybrid Turret damage, which is huge. That is ten times the bonus that the standard Erebus has at Gallente Titan level I, and still double at Gallente Titan level V. The Molok also has similar bonuses to its respective weapons systems.
The price and building requirements of these ships definitely reflect those bonuses. Only one Vanquisher has ever been destroyed, and ZKill values it's hull at 300 Billion ISK. That price tag makes these Titans the most expensive single assets in Eve Online. Even the faction Dreadnought hull costs as much as a fully fit super. These ships are certainly reserved for the richest pilots in the cluster, as their price tag outweighs their practicality for most people.
The wrong dream?
I'm going to admit it. I am poor in Eve Online. I mean, I get by just fine. However, I am in no way even close to the level of in-game wealth of even some of my closest counterparts, let alone the ultra rich of New Eden. And that is fine with me because I only have so much time to play Eve with all of the other crazy stuff going on in my life. Even after several years, I am a somewhat casual player and that's okay.
Where am I going with this? June 28th marks the one year anniversary of the first new faction capitals being added to Tranquility in the 118.6 release. One year of new content development has been spent to bring these ships to New Eden, and a lot more time is going to be used to release more.
This highlights the problem that I have with the development of these ships. A considerable amount of time is being used to bring them to the game. Too much time in my opinion to create assets that are only ever going to be used by a small percent of the player base. The closest I am ever going to get to a Vanquisher is on a killmail if I'm really lucky. I find it really hard to be excited for new content when said new content is not something I will ever get to use.  Why not create something else that can be more widely attainable and more useful to more players?

It's not all bad… I guess…
Of course, I don't think the Capitals are all that bad. In a way, their existence is cool. Just the thought of ships that powerful and that expensive. Along with that, work on the new NPC A.I. system have been the start of major changes to the game fostered in part by the new capitals, and that is good. However, why should I care? These ships only really exist to be some ultra-rich bitter vet's endgame. I feel as though more focus of new content development should get to new content that benefits a lot of players instead of a select few.
Put simply, I want new content that will make me want to log in and work to eventually achieve in a reasonable time frame as a semi-casual player. Not something that I can only dream about.