This was a team effort. Thanks to Dirk MacGirk, NoizyGamer, Mynxee and others.
Recent developments within EVE Online have caused a stir on the EVE Online forums and EVE's sub-reddit page. Moderators there have even created a "Summer of Rage" tag for threads regarding the current turmoil that pits players against devs. However, the "Summer of Rage" refers to a different time in EVE and a series of events that unfolded six years ago.
In June 2011, players began to rage on the EVE Forums after the release of the Incarna expansion, which included CCP's first steps into character "ambulation," and the introduction of the Noble Exchange (NeX) store, EVE's first in-game outlet for microtransaction-based vanity items. Incarna was broadly considered a flop due to the underwhelming reception of both of the expansion's primary focus, ambulation, as well as the limited and high-priced nature of the NeX store. The Incarna fiasco was within days followed by a series of other issues related to leaked internal CCP documents, and communications directed at the players that were seen as hostile, tone-deaf and dismissive. The net result was a player-led uprising against CCP that resulted in losses of subscriptions, bad press, and ultimately contributed to sweeping changes across the company. But that was then, this is now. Are we actually witnessing another Summer of Rage or is it something else that we don't understand?
What we do understand, with the advantage of time, is what happened in 2011.   
History: The Summer of Rage
In hindsight, the Summer of Rage seemed to last all summer long. In reality, the time of maximum player outrage only comprised an 11-day period that began on June 21 with the release of the Incarna expansion, and ended on July 1 following an emergency summit between CCP and CSM 6. Those 11 days echoed throughout the remainder of the summer, and culminated with major changes at CCP, including a change in development strategy that lasted nearly three years.
The issues that led to the Summer of Rage developed long before 2011. As far back as 2007, CCP T0rfifrans had talked about ambulation, or what became known as "walking in stations." The vision was that a first-person avatar perspective would lead to new and exciting content, allowing existing players to interact outside the confines of their spaceships. Two examples often mentioned were corporate war rooms where avatars could gather to consult 3D graphical maps and other tools, as well as locations like shops and bars along station promenades where other forms of player-to-player interaction could occur. The idea was to provide a more immersive sci-fi experience than was currently provided by the existing game.  
From 2007 to 2009, players were playing the hell out of EVE, even though many aspects of it were in need of developer attention or outright broken. Every new expansion seemed to offer new gameplay and expanding opportunities:
2008 Empyrean Age – Faction Warfare (new gameplay)

2008 Quantum Rise – Orca mining command ship (race to build them)

2009 Apocrypha – Wormholes (expanded the map and new gameplay)

2009 Dominion – Sov Mechanics & System Upgrades (new gameplay)

2010 Tyrannis – Planetary Interaction (new gameplay)

2010 Incursion – Group PVE (new gameplay)
Eve was growing, as evidenced by both PCU (peak concurrent users) as well as subscriptions. Each winter and summer offered big new features, and players old and new showed up to check out the new features of the latest expansion. From Empyrean Age to Incursion, subscriptions grew 26.7 percent (86,258 new subscriptions). Following years of hype and rising player expectations, the mother of all expansions, Incarna, was slated for the summer of 2011.
Although EVE Online was CCP's flagship product, the company was also in development of an avatar-based vampire MMO known as World of Darkness, as well as a ground-based first-person shooter known as DUST 514. Rather than use an existing game engine, CCP began to develop its own proprietary graphics engine known as Carbon to power these avatar-based games. Carbon would also be the engine used to develop EVE's planned expansion into avatar-based game play.
Development of Carbon and ambulation in EVE were no small feats, and the development process diverted resources away from EVE's core game. Player reaction was somewhat mixed. Some players believed EVE was a game about spaceships and didn't want to see development resources diverted from the core game, especially not when there were issues that required developer attention. On the other hand, many players understood the potential for expanding EVE beyond spaceships, and were willing to accept that the trade-off was worth the wait.
During CSM 5's June 2010 Summit, CSM chairperson Mynxee [currently CEO of Signal Cartel], suspected that there was very little progress on Incarna gameplay. At an emergency October 2010 summit,  It became clear that CCP was not prepared to deliver on the full vision for Incarna and that the planned expansion would simply deliver a downpayment on their vision for avatar gameplay. The expansion would roll out in stages, with the first including the new character creator, Captain's Quarters, and the Noble Exchange (NeX) store. Players became anxious after CSM 5 warned them that Incarna was not going to deliver, and when it appeared on the test server players grew angry.
In the lead up to Incarna's release on June 21, 2011, and amid a growing frustration with EVE's core gameplay, two events occurred that further soured the mood of EVE players. On June 8, CCP Games attended E3 to unveil the company's first-person shooter, DUST 514. During the presentation CCP announced that DUST 514 would be delivered exclusively on Playstation 3 consoles, which alienated many of EVE's existing PC-based customers. Then on June 12, EVE Online's login server was hit by a LulzSec DDOS attack that frustrated players who were unable to login.
Incarna Released
On June 21 the Incarna expansion was released to an underwhelming reception due to the fact that not only was there very little to show for years of development effort, but there were also issues right out of the gate. For starters, the hangar view was removed, and along with it the ability to spin ships in station. The new Captain's Quarters feature, of which there was only one racial variation (Minmatar), was forced on all players, and was responsible for excessive lag when docking/undocking as well as causing equipment failures with some video cards. Finally, the Noble Exchange (NeX) store offered only a limited selection of vanity items for player avatars, and those few items were extremely overpriced in the new currency known as Aurum. Given the fact that player avatars could ambulate no farther than the Captain's Quarters, these overpriced items looked like a cash grab by the company. Overall, Incarna was a colossal disappointment after years of hype and mismanaged player expectations. The mood of the playerbase shifted rapidly from frustration to outright disgust.
"Fearless"
If the mood wasn't bad enough on the day Incarna was released, the following day only served to gin up the rage machine. On June 22 an internal CCP publication known as Fearless was leaked to the public. The Fearless publication was used by CCP to foster ideas, debate and commentary on various issues. This particular edition of Fearless titled "Greed is Good?" focused on the subject of microtransactions. Some of the ideas it presented played directly into the worst fears of the playerbase. It should be noted that the purpose of this leaked document was unknown to the players. What players saw was an "internal" discussion by key CCP personnel about gold ammo, special ships and countless other ideas that went past vanity and into the realm of pay to win. Word spread like wildfire within the community and the community's mood went from disgust over the failure of Incarna to anger that the NeX store might be the first step in moving EVE onto free-to-play and pay-to-win path.
$1,000 Jeans, Monoclegate, Riots
Two days later on June 24, Senior Producer CCP Zulu issued a devblog titled "Fearless, Virtual Goods, and Rage" which attempted to answer player outrage over the leak of CCP's nefarious contemplations. It began by describing the timing being so close to the deployment of Incarna, which in his words was, "one of our more smooth and successful expansions, not to mention absolutely gorgeous." It went on to explain the purpose behind Fearless, which was designed to foster internal discussion about controversial topics, and is "often exaggerated purposefully to draw contrasts and make points."
Following this explanation, CCP Zulu moved to defending CCP's staff by saying,
"we think it's not cool how individuals that work here have been called out and dragged through the mud due to something they wrote in the internal company newsletter. Seriously, these people were doing their jobs and do not deserve the hate and shitstorm being pointed at them."
Following Zulu's remarks related to Fearless, he moved on to the issue of pricing in the NeX store. Considering the NeX was limited to clothing for the new full-bodied avatars roaming the Captain's Quarters, Zulu referenced clothing in real life. Namely, the difference between $1,000 jeans from a Japanese boutique compared to similar jeans for under $50. The point was that tastes and willingness to pay to express yourself differed from person to person. However, the selection of items was very limited and players were outraged over some "deluxe" items such as a monocle valued at upwards of $70 worth of Aurum. That high-priced monocle is also why the outcry over the NeX store was known as "Monoclegate." However, what many players heard was a CCP Dev saying that some consumers' willingness to purchase $1,000 jeans was the justification for overpriced merchandise in a virtual store.
Overall, the explanation was received as dismissive and combative, and player attitudes took a turn towards rage. That rage spilled over in game into what became known as the Jita Riots where thousands of pilots converged on Jita to shoot the monument outside of the Jita 4-4 station.
Apologies, CSM Emergency Summit
By June 26, the wider gaming press had latched onto the player revolt story; PCGamer, Slashdot, Gamasutra, RPS, Engadget, and others published articles on the issues and player response. Later that day, CCP Zulu took the unprecedented step of issuing an apology in which he referenced the "tone and demeanor" of his previous devblog, and noted that he had let his frustration take charge. He commented, "I know that sounds ironic considering those are the exact same feelings you have been having towards CCP." This devblog also included a notice that CSM 6 members were invited to Iceland for an "extraordinary meeting" June 30 and July 1 (a week after the release of Incarna) to discuss the events of the past week and address the underlying concerns.
At this "emergency summit", CSM 6 met with CCP over the course of two days to discuss the issues and player grievances. CSM 6 was chaired by the Mittani, but also included notable players such Seleene, UAxDEATH, Trebor Daehdoow, and Vile Rat, among others. CSM 6 was active from earlier in the events before this meeting, taking a lead role in promoting the interest of the players. There are some who believe that CSM 6 took advantage of CCP being under fire, perhaps even stoking some of the flames, to enhance and strengthen their position. Regardless of whether CSM 6 helped to orchestrate some of the revolt, or merely saw an opportunity to advance the council's position by jumping to the head of the mob, is unclear. What is clear is that the CSM went to Iceland and came away in a stronger position than perhaps it had ever enjoyed prior to the events of June 2011.
At the conclusion of the summit, a joint statement was issued by EVE's Senior Producer CCP Zulu and CSM 6 Chairman The Mittani on behalf of the CSM which outlined the findings of the previous two days. CCP Zulu acknowledged many of the grievances and mistakes that were made with regard to issues such as communications, the NeX store and pricing, microtransactions and the Fearless leak, and the performance issues related to Incarna's station environment. The Mittani concluded by stating,
"We believe that the situation that has unfolded in the past week has been a perfect storm of CCP communication failures, poor planning and sheer bad luck.  Most of these issues, when dealt with in isolation, were reasonably simple to discuss and resolve, but combined they transformed a series of errors into the most significant crisis the EVE community has yet experienced."
This was followed by a video, released on July 2, where The Mittani declared "we were not nice" to CCP, presumably in an effort to show players that the CSM was not co-opted by CCP and was in fact representing player's interests. The key outcomes of all this were:
Hangar mode would be the default, with Captain's Quarters an option, and ship spinning was restored.

CCP agreed to include no game-affecting virtual goods in the NeX, only vanity items.

CCP committed to improving their communication with players.
Things began to settle down following the summit. However, it wasn't until late September when CCP Zulu provided the first indication of where things were headed. The devblog was short, but indicated that CCP had been, "doing extensive and intense introspection and revitalization. The result of this is a refocusing and reprioritization on a scale unheard of within our company."
October 5 marked the official end of the Summer of Rage with two devblogs. The first was from CCP Zulu who communicated an "immediate refocusing of all the EVE development teams on EVE's core gameplay: spaceships." EVE Online's Winter 2011 expansion, which would come to be known as Crucible, would include a laundry list of improvements and fixes. The second was from CCP CEO Hilmar Veigar Pétursson who issued his own apology letter admitting, "I was wrong, and I admit it." It was a humble end to a period that witnessed a player revolt that cost CCP roughly 8% of its subscriber base. However, it was also the beginning of a new era when CCP would become better communicators, more engaged with the players, and more focused on fixing the issues that had piled up for so long.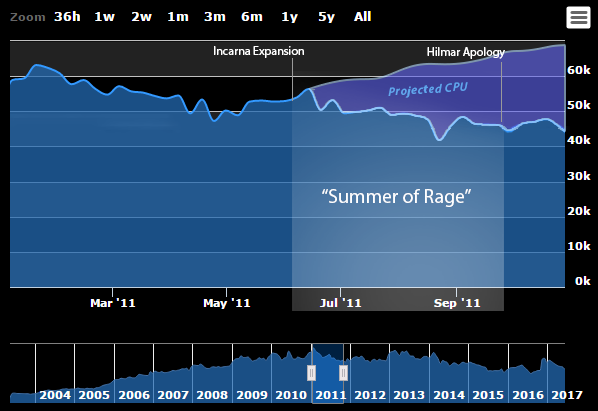 CCP was in financial straights in 2011. WoD/Incarna R&D was a black hole. Incarna didn't deliver and players were in revolt. Incarna was supposed to bring in a whole new type of player, but instead lost (by some informed estimates) 27,000 subscriptions, net. The company needed a big win, but it was not to be. On October 19, CCP announced a layoff of 20% of their staff.
The aftermath of the Summer of Rage was a dramatic shift for EVE. The "flying in space" game got  much needed attention, although the expense of new features that might attract different types of players drawn to new types of gameplay. We cannot predict what EVE might have grown into after six years of iterations on walking in stations – nor the kinds of new players who might have joined our shared universe. Some looked to games like Elite: Dangerous or Star Citizen and wondered if those would realize the dreams so many of us had for EVE. Meanwhile, we continued to fly our spaceships and engage in all the kinds of PvP and PvE that EVE offered us, while CCP began to release an ever-increasing flow of fixes, quality of life improvements, and eventually new features to the game… but none as ambitious as their original vision for Walking in Stations.
Then vs. Now
This article was inspired by the question of whether the "original" Summer of Rage and what incited it is comparable to current unrest among EVE players, which is also being touted as a summer of rage. After this brief walk through the events behind 2011's Summer of Rage, it seems clear that the current "summer of rage" is in no way comparable. The 2011 Summer of Rage terrified CCP into action and changed the company's approach to the community and the product. EVE has been their main focus ever since. 
The intent here is not to detract from the issues that are generating a backlash from the players today. Players have legitimate complaints. However, for all it's faults, CCP is a better company today than it was in 2011. Communication with players is vastly improved and the company is substantially more responsive to feedback; CSM representatives have much better contact with the developers and insight into CCP's development process, and the company is on better ground financially and organizationally. Today's CCP is in good financial health and is making money according to their public financial statements – including substantial revenue from their virtual products (which constituted 30% of their income in 2016). Skill Injectors brought in $5 million alone in 2016. Ironically, these profitable products were exactly the kind of things players were protesting in 2011.
Today, it appears players are in revolt for a few reasons. First CCP is taking things away that are pacifying players, while they wait for fun-creating features. Fanfest did little to hype this year's development, and the last major feature stumbled out of the block. Another reason players are upset is the feeling that CCP is mishandling Ghost Training. The distribution of pricey Concord ships seemed to benefit players with hundreds of accounts, perhaps skill farming ghost trainers? On the other hand, players say it is not the nerfs, but the communication. CCP Quant addressed players on Reddit when he tried to protect fellow devs, like CCP Zulu did years ago, with predictable results. The difference is Quant and CCP meeting the players where they are instead of releasing devblogs from on high. CCP is listening in a way they were not in 2011. That is the legacy of the Summer of Rage.
Perhaps we'll look back at this summer in six months or six years to evaluate what actually happened before we call this a second Summer of Rage.