Header art by Empanada
Welcome to another fun episode of the EVE Online Monthly Economic Report. The April edition has a few gems hidden in it. This month we are going to take a look at Delve in comparison to other regions in New Eden.
EVE has many types of warfare. There is the in your face attack or the more annoying than anything "cloaky camping". There's faction warfare, declaring war, and the ever exciting freighter-ganking of the enemy's high sec haulers.  But one of the more subtle forms of warfare in EVE Online is market warfare, and we've been watching this play out ever since Goons revived Delve. Anyone who rejoiced and thought Goons were dead because they didn't fight to hold the North during the Casino War failed strategy and leadership 101. Of all the things I have seen in EVE Online, this was one of the more masterful strategies I have witnessed.
Enter Delve: a rich and relatively easy to conquer region. Let's not forget there was a plan behind it all. There was an organization that knew how to adapt to new game mechanics. By forcing more people into a smaller area, CCP primed the pump for an economic powerhouse.
Those who were slow to adjust to the new meta of the market have been left in the dust. When you bring together specialists and give them the ability to do great things, great things happen.
ISK matters
The value of ISK and the size of your war chest matters. When you are at the point where your enemies are buying ships from you just to have ships to fight you with, it's only a matter of time before they are drained of their wealth and you prevail.
If you are the type that goes about your day and ignores the meta you are missing the key part of what is making Delve a powerhouse.
Like Shakira's hips, numbers don't lie – or at least not the ones that are extracted correctly by CCP.
First We Crow
Here we take a look at Delve's numbers for YTD 2018. Relying only on Delve metrics for Imperium numbers is imperfect since the Imperium also operates outside Delve. But nevertheless, they serve as a good bellwether as to what is going on inside the Imperium.
Here we compare key economic trends for Delve.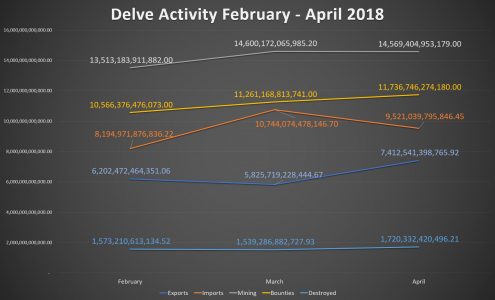 As we can see, the harassment of Delve miners and ratters hasn't manifested into lost income in Delve. Losses are up slightly from the previous month but those are more than offset by the increases in ratting income alone. Mining is relatively flat.
When we look at April's numbers in Delve on a 30-day average we see that an obvious trend has developed.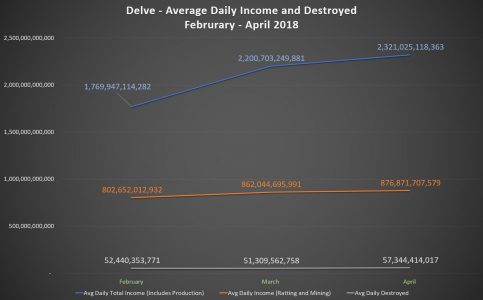 The total value of ships destroyed naturally includes enemies who have been killed by GSF forces – but let's assume for argument's sake that these are all GSF losses. In Delve, the total income is over 40 times the total losses. This might explain some of the ambivalence folks encounter when coming to Delve to "interrupt" the ISK making cycle or to voice the greatness of their kills in local.
Looking at the overall production in Delve relative to The Forge, we can see an exponential jump production numbers beginning in March. I'll attribute this to Moon Mining and the unparalleled organizational skills of Goons. With this month's increase in production and using  2018 YTD numbers, Delve now accounts for 18% of all production in EVE. The Forge has dropped to 16% YTD.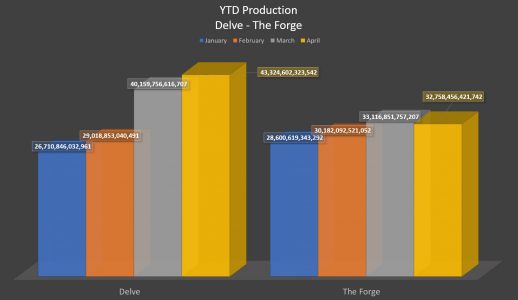 Deklein in Decline
Deklein, on the other hand, seems not to have fared quite so well. We can see a sometimes dramatic drop in all the key income-related factors. Coupled with increases in exports and value destroyed and you have the makings for an exodus and death.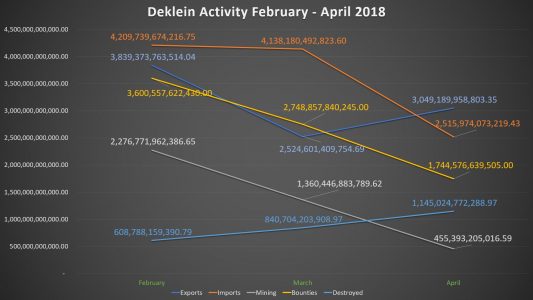 Pure Blind's Dramatic Fall
Like Deklein, Pure Blind has been in a free-fall for the last few months. The MER isn't simply a report about economics in EVE Online. It is a source of intelligence that clearly describes the regional activity. Corporations and Alliances can say what they want in "private" conferences but the numbers do not lie.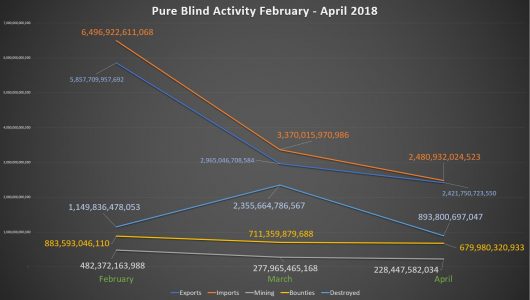 Closing thoughts
Economics is a complicated art. There are myriad factors that influence it. One of these constant factors is that less safety means less economic output. This is as true in New Eden as it is in the real world. While some may like to think they are ravaging Delve, the numbers don't show it.
The most interesting factor is The Forge's drop in production. There is no clear reason. While I attribute moon mining and reacting to a significant increase in Delve activity, it isn't clear why The Forge has suddenly dropped. EVE's market is as much dependent on new players and player retention as anything in the game. If CCP hasn't figured it out yet, they need to quickly. Nothing can crash a market-based game like lack of demand.