Another year has ticked by so quickly! Spring has sprung, the Imperium is burning down some Northern backwater, and, as surely as the Delve Time Unit rises, the CSM elections are upon us.  As all diligent goons and Imperium allies know, the official ballot was released earlier this week.  Those who are so fortunate as to log into the Goonfleet forums have surely already done their duty.  But for the benefit of our loyal followers abroad, our various supporters and readers from outside the Imperium, and our incredibly numerous fifth columnists, spies, infiltrators, deep cover moles, and Manchurian candidates, the Imperium's leadership has provided you with the correct choices to win this year's ballot!
First, log in to the CSM ballot!  Then, arrange candidates like so:
Aryth – Official leader of the entire CSM, eternally.
Merkelchen – KarmaFleet director and general good guy.
Innominate – Another poor soul cursed to live on the CSM despite his best efforts.
The Judge – Well known hero.
Vily – A guy from TEST.
Dunk Dinkle – A guy I actually like a lot, from Brave. He has a good attitude.
Sort Dragon – From Dead Coalition to dead immediately from being on the CSM.
Killah Bee – Please vote for this man, he desperately needs a win.
Steve Ronuken – A guy from highsec who also has been on the CSM a lot.
Xenuria – Yes.
It should look like this, if you've done it correctly!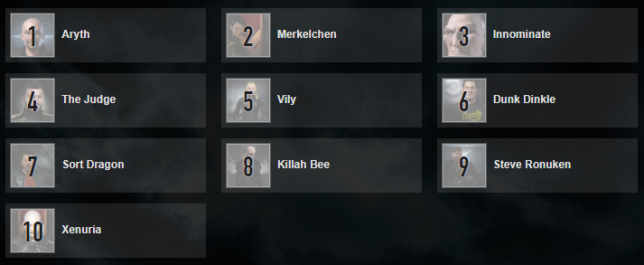 If you haven't done this correctly, please try again!
Then simply click the orange "submit vote" button and you, too, will be personally responsible for having selected the heroes that will continue to help CCP keep this game existing.
For those of you having difficulty with the instructions, the Ministry of Truth has produced this helpful infographic!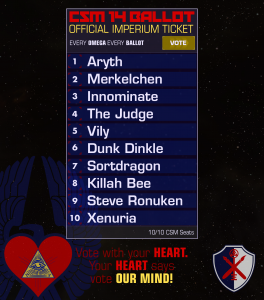 Now that you've completed your vote, and voted correctly, let me be the first to say congratulations! To those of you who voted using alternative, incorrect ballots, however, I express my deep condolences. You should probably consider registering more Omega accounts and voting correctly. After all, why play at all if you can't win? Unanchor your metaphorical Keepstars of bad ballots, dock up your fleets of wrong nominations, and join the winning side with an Imperium ballot, today!