I was a member of both the capital fleet and the subcap fleet in the first battle of Hakonen this week. The ti-di was horrendous, and even though my dread alt was denied tasting blood, my battleship was far more involved. Horde's head FC for both Tuesday and Thursday was Capri Sun SUPERFOODS on loan from Pandemic Legion. While I do genuinely enjoy the guy personally, he also happens to be a very competent FC. Horde's subcap group formed up in their home system and had to make the trek all the way to Hakonen as one. As boring as that was, it was almost like we were being FC'd by a Scottish Bob Ross. He was even more encouraging than most horde FC's (which is actually quite a feat), and I remember having a smile plastered on my face the whole trip. I found that I was most certainly not alone in this sentiment.
When we actually got to the fight, the time dilation was so bad. The server node had not been reinforced, and the nearly 3,000 characters in local did not help at all. As boring and frustrating as the fight got, the leadership collective of all the Fleet Commanders kept spirits up and the cats in line. Everything was organized and efficient. Capri Sun was very encouraging and the fleet was obviously eager to please him, quickly adapting to his strategies of timing simultaneous artillery strikes against the targets to vaporize them in a single blow. I also was listening to the Horde Capital FC, Sindri Oksaras, keep the carriers organized and focused on whittling down the fighter numbers and keeping the Supercapitals free to chew everything that moved.
In the second battle that took place on Thursday, I was in the carrier fleet directly under Sindri. I knew that the carriers had a far more thankless job than even the logi, as our whole purpose was to kill the enemy fighters and nothing else. But I was genuinely excited to participate in a vital role in the battle. Our FC never wavered in his commitment to our role. We were protecting a far more valuable asset. Every carrier in the Horde fleet was well aware that our purpose was part of a greater whole in the strategy of the combined alliance effort, and we did our job very well.
Horde Cultural Perspective
Right now, Pandemic Horde's morale is very high. It's amazing how different it feels to fight for a much larger picture rather than just for "gud fights". Horde's Alliance CEO, Gobbins, has most definitely been spinning a propaganda narrative. But unlike the highly organized Imperium, Gobbins's isn't necessarily the on the same level as The Mittani. His war updates are one of the most amusing parts of being in Horde. They are also very effective at endearing the line members to their leadership. Here's an example of right before the battle on Tuesday: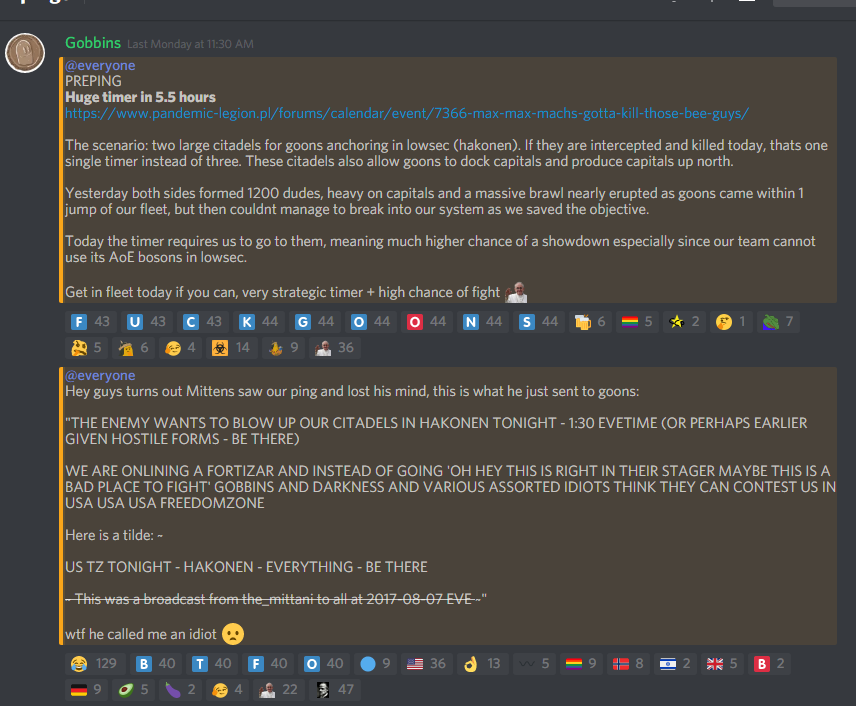 I always laugh at that last line! Gobbins—as well as many other Horde leaders—will often use humor tied in with encouragement to motivate the "beans" (Horde's term of endearment for its line members, especially the newbeans). The enemy is not big and scary if we can laugh at them. As potentially evidenced by the emotes tagged at the bottom of Gobbins's discord Ping, the Horde general perspective on the Imperium is both "grr goons" as well as bumbling (BZZ!) idiots. While some were surprised Goons actually showed up to defend their citadel (as TEST had failed to do not a month ago), the combined leadership of the Northern Alliances did not underestimate their opponents.
After Action
After the battle, once all the capitals were safe and sound in a friendly Keepstar, I could almost hear the smile on the Sindri's lips as he got ready to do his usual "After Action Review" to help us understand the bigger picture of what just happened. He explained that what we had just fought over was potentially a distraction, as the Goons had also anchored multiple other Astrahuses that were coming online during the fight. I saw this ping by another FC a few minutes later.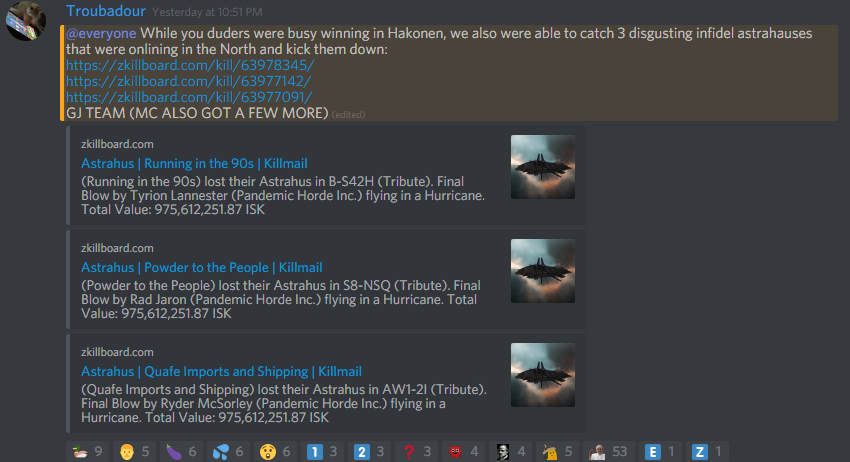 While the way this FC described the other side of the conflict was not particularly normal, it still had a similar bravado and encouragement that is consistent with Horde leadership. As I said earlier, while it is very different to participate in a bigger war, every battle counts. Horde's leadership often holds a Q/A session after a fleet fight to explain to the line members what just happened. While it's not always possible to inform us of what's going on during an operation, they genuinely do try. This has a significant impact on the eagerness to please that many line members show.
Anyone can be an FC with almost no restrictions. A culture of hopping in on day one and blowing stuff up because it's fun, being harnessed towards a larger objective for the greater whole. While horde may not necessarily be fighting for itself in this war, the general motivation that drives it aside from "gud fights" most certainly is potentially unique.
Why I stay
I was once asked by a fellow INN staff member why I've stayed with Pandemic Horde for so long, especially since many will leave very disgruntled. Apparently many will leave Horde after a while, disheartened by just how big it is. Chaos certainly is an apt description. For me, Horde has signified freedom. It's a place I'm free to fail and free to learn and pick myself up again. An FC won't necessarily be judged for taking a kitchen sink fleet out and getting everyone killed. Especially if they are honest about what happened and learn from the experience. Horde is a place where I can contribute to something bigger than myself as well as learn useful skills in leadership. While I am most certainly one of thousands, I am part of the "Horde". A collective that is ever in flux. It is not uncommon for people to show up to a citadel bash with the full knowledge they won't be on the killmail. They are doing it for the Horde, and to provide content for the people who do.
This war has provided the Panfam with two back to back overwhelming military victories. This really is a dirty war, and the objectives are solid and able to be measured in territory. As of writing this piece, I am tired from the battle but I enjoyed the fact I was able to contribute to the greater whole. Regardless of how dirty a war this may be, nor who the winner turns out to be in the end, I can tell you that the pack of loud and rambunctious puppies that is Horde, as well as the Alpha wolves that step up to lead them, will enjoy every second in the mud.