October saw several releases and product announcements for virtual reality making up for the lackluster summer. CCP Games announced the sequel to their chart-topping shooter Gunjack and they shipped EVE: Valkyrie for PS4, Sony released the PlayStation VR headset, Oculus started taking preorders for their Touch controller, and Google released information on the Daydream headset and their Pixel phone which supports it. Overall, the first year of commercial VR to date has brought us six new headsets, two hand tracking controllers, and four different software development ecosystems.
Gunjack 2 improves on its predecessor with motion controller support, storytelling, customization, and replayability. The improved storytelling comes in the form for cinematic cut-scenes showing the crew of your ship. Not much is known about the customization but some screenshots show an ability bar which might allow the user to change abilities. The replayability means daily missions. Only time will tell how replayable they really are.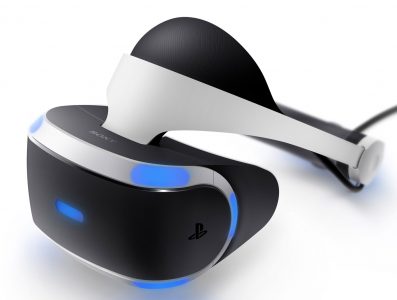 Sony released PSVR on October 13th and it is available at major retailers for $399. For that price you get the headset only. Users will also need a Playstation camera and Move controllers along with their PS4. With recent release of the PS4 Pro, and the subsequent price drop for the PS4, the total cost for a PSVR setup is roughly $700. The PSVR unit uses two 960 by 1080 displays with a minimum 90 Hz refresh rate.
EVE: Valkyrie released along with the PSVR last week and it is available for $60 as both a digital download or on physical disc. CCP has a history of pushing the limits in gaming and this release is no different. EVE: Valkyrie comes with cross-platform support allowing PS4 users to compete against PC users in intense multiplayer combat. To celebrate the release, CCP is hosting their first double experience weekend for Valkyrie over October 21-24.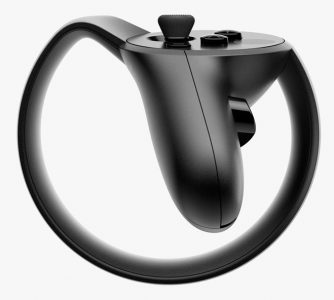 When the Oculus started taking orders for the Rift in January enthusiasts were disappointed that it didn't come with the Touch controllers. The Touch controllers are now available for purchase at $199 and they will ship in December. You can buy a Rift + Touch bundle for $798 making it one dollar cheaper than it's competitor, the HTC Vive. Hand tracking provides a huge boost in the immersion users experience and this feature is now available on both major PC VR hardware configurations.
Google Daydream was announced several months ago and the dream is now a reality. The Daydream View headset is like a posh version of Google Cardboard. The lightweight unit is covered in cloth and weighs in at 7.76 ounces. For $79 you get the headset and a hand tracking remote. Just add a Daydream Ready phone and you're ready to experience VR. As of writing this the only Daydream Ready phones are the Google Pixel and the ZTE Axon  7. If you preorder the Pixel, Google will give you the Daydream View gratis.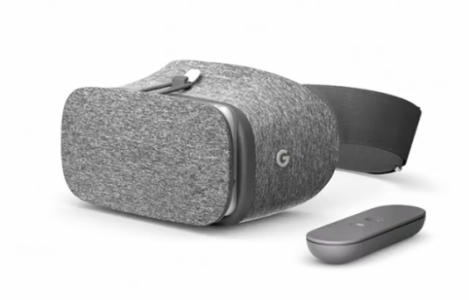 Google Daydream is both a hardware and software specification aimed at creating an open standard unlike the GearVR platform which is limited to use with certain Samsung phones. Daydream outlines the hardware so any Android phone manufacturer can build a device that works with the Daydream View. It also defines the software interface (SDK) so developers can have the confidence that their titles will work with Daydream hardware.
For PC VR there are currently three, somewhat orthogonal, software standards. The Oculus SDK is required for titles which run on the Rift and are sold in the Oculus store. Likewise, the SteamVR SDK is required for titles which run on the HTC Vive or Oculus Rift and are sold on Steam. However, the core of SteamVR is available as OpenVR which is an open-source version of the SDK for non-Steam games. Lastly, OSVR is an open-source SDK for creating titles which run on all major VR headsets including the Razer HDK 4.
The table below shows all the mainstream VR headsets which are currently available.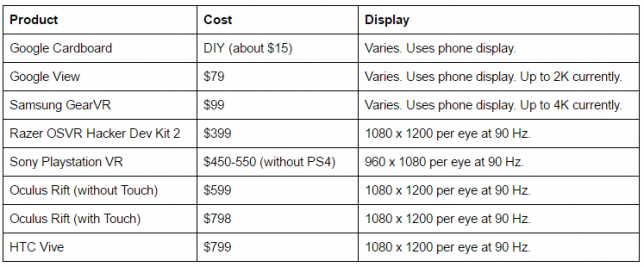 It is worth noting the Razer HDK 2. This little-known device is part of the OSVR ecosystem which provides an open standard for both hardware and software. The Razer HDK and OSVR, in general, are not for the faint of heart as they require lots on manual tweaks to get going. This is acceptable for a setup that is designed to be hacked and expanded. On this front, OSVR delivers a good product for those who like to tinker.
In 2017, standalone, mixed reality devices are expected to hit the market. Mixed reality is a term to describe a device which can support both removing your perception of the real world (VR) and expanding your perception of it. The latter is termed augmented reality. By the end of 2017 an obvious rift should form between VR/AR devices which you can take with you anywhere and high-end VR devices which require you to tether to a powerful PC.
If 2016 is any indicator, the next few years will be really exciting. How long before people can't remember flat screen displays sitting on desks?