ONLY A FEW DAYS REMAIN
Trajectory is a first person, VR-enabled, sci-fi adventure game set in a dystopian future where Earth is recovering from a global conflict dubbed the Cyber Wars. After technology has failed humanity by proving to be its biggest weakness in international conflict, nations have reverted to dated technology with no networking interfaces that could leave them susceptible to the kinds of attacks used in the war.
As a spacefaring civilization, one organization has assumed the role as a major contractor for all space voyages and operations. This company is known as Orbitek, a research and rehabilitation specialist that is entrusted with many duties by Earthbound nations.
The player takes on the role of an inmate aboard an Orbitek prison vessel who has only three days left in their sentence before they are set to be released. In order to meet the requirements of their release, the player is required to perform their allocated duties over the three days to appease the warden and be granted their freedom. Alternatively, the player can find their own way to freedom.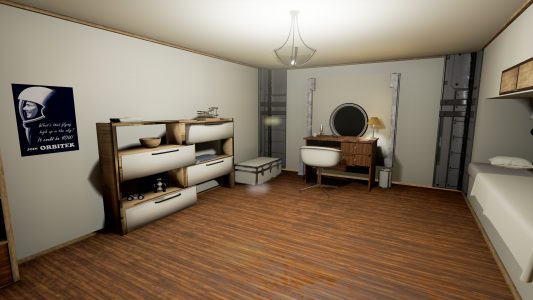 AIRBNB RATES IT 5 STARS
Loading up Trajectory for the first time, I was hopeful for the potential of the game – I have always been fascinated by the inherent challenges of making a good prison game. It's a concept that is intriguing, yet difficult to execute in a manner that is both enjoyable yet contained within a believable setting. The only prison games I have discovered that delivered a rewarding experience are Prison Architect and The Escapists. Needless to say, I was excited to try Trajectory.
As the game loaded, I awoke not in a dingy cell block but a well-furnished bedroom fitted with all the trimmings you would expect from a hotel. An initial bout of confusion set in as a small object floated across the room, indicating a low gravity environment. The confusion was onset by the abundance of objects sitting firmly on desks, the floor and shelves yet others drifted across the room weightless. Certain objects could be knocked into the air, while others refused to budge.
Then came the booming voice of the Orbitek warden over the intercom, informing me that I had three days left in my sentence. He advised I spend my time wisely before cutting all communications. Proceeding to leave the room, I walked down the hall to be greeted by another message from the warden – I was to wait in my room for an Orbitek employee to come and assist me. His tone indicated that this assistance wouldn't be favourable, however, I went under the assumption that this would be some form of a tutorial on how to perform my duties.
After a small wait, a fully suited guard entered the facility and proceeded to shoot me in the face. A dark screen appeared with a computer console, indicating that I was now deceased. The cause was defined as natural attrition. I would later discover that this sequence was intended for players who failed to sufficiently complete their tasks over the three days. For some reason, the game triggered this sequence just moments after walking out of my room.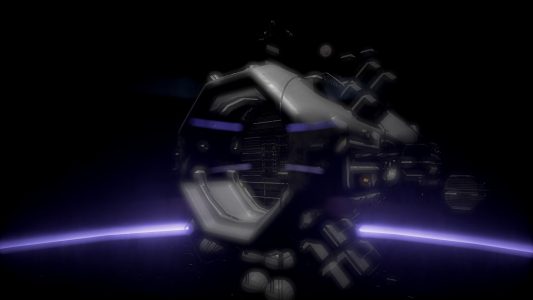 PRISON IS HELL…UNLESS IT'S AN ORBITEK PRISON
Even more confused from this experience than the selective gravity of the objects in the facility, I started a new game. This time I wasn't met with a guard ready to shoot me, after the warden's initial greeting there was silence. I further explored my facility, which offered everything you could expect from a luxury space cruiser; a games room, toilet facilities, agriculture room for food, a science room filled with various equipment, and a utility room with necessary equipment such as a space suit delivery system.
As I wandered around the facility, the game offered no indication of what I was meant to be doing. Besides the advice from my warden to use my last few days wisely, I was provided with no other instructions or guidance on what a wise use of my time might be. I sat in the games room and played some text-based adventure games on the dated computer sitting on the desk. They were exceptionally easy, however, it was the first gimmick that brought a smile to my face.
Deciding that I should figure out how to actually participate in my duties, I proceeded down to the end of the hall where a console sat atop a post. Behind this computer was a large window overlooking Earth. If this game has one redeeming factor so far, it is that the aesthetics are somewhat pleasing. The console blinked and requested I select an action, besides offering some news and station orbit information, there was a selection for missions.
Upon clicking missions, the warden's voice boomed over the intercom once again. I was to retrieve a space suit and head to the airlock for a special mission. I proceeded to do as the warden asked, heading for the airlock the door opened to the vast emptiness of space. With a short empty gap, another facility was stationed before me in synchronous orbit of Earth.
With a step out into space, I drifted across the gap into the airlock of the other facility. Upon entering the facility, the warden's voice provided some instruction; I was to find the gravity drive and reactivate it. With that I was set loose in a new area, navigating through a crumbling facility that looked like it was ready to fall apart at any moment. Navigating through different vents and corridors I found the computer and reactivated the gravity drive.
Around me, the entire level fell to the ground to reveal a big empty room. I was confused about what was going on, was this an experiment? Part of Orbitek's research? Why build this? The warden advised me that someone else would be along soon to clean up the mess and that I was free to return to my prison block. Shrugging it off, I returned to obtain my next mission.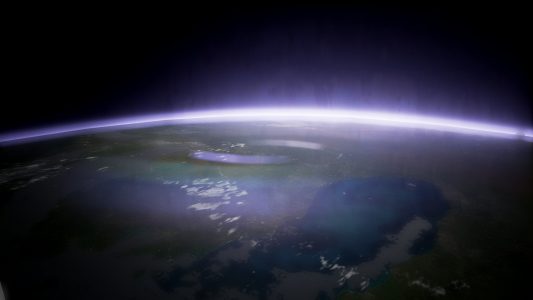 WHERE THE HELL ARE WE?
It was only a brief moment of returning to my prison block, obtaining another special mission and returning to the airlock before I noticed that Earth looked funny. What was previous a planet of landmasses and oceans was now a barren red planet that looked more like Mars than Earth. Had we performed a planetary transfer in the space of thirty seconds? Between selective gravity and almost instantaneously changing locations, this all made no sense.
My next special mission wasn't any more special than the previous, I was tasked with cooling down a fusion reactor by creating balls of ice and pushing them into the reactor core. This task was more frustrating than entertaining, and I was glad once it was over. After returning to my prison block I was advised that my work for the day was complete, I was free to play games, take a virtual reality tour of Orbitek's facilities or go to sleep.
I took a brief tour of the VR facilities, a rather bland set of rooms showing the different ships at Orbitek's disposal drawn in green line vectors. It wasn't long before I went back to the bedroom to end the day and get through this nightmare. Day two wasn't any more exciting, I was tasked with repairing a broken item which involved picking up a small cube, carrying it across the hall, putting it in a repair machine and then carrying it back.
The following tasks included mopping up a stain, which involved picking up a broom, finding the stain and waiting as a sweeping sound played while an invisible broom cleaned away a stain. Each task I was asked to perform was more mind-numbing and uninspired than the last. The potential of this game was quickly being lost, and thoughts of uninstalling the game were beginning to be the most exciting aspect of this whole adventure.
After completing another mundane special mission on the other facility — which seems to magically change in layout and size internally to match the special mission — I tried to return to the prison block. Exiting the facility, I waited for the loading screen so I could perform my spacewalk but was instead met with the starting introduction of waking up in my bed. The game had decided to reset itself back to day one. Are you kidding me?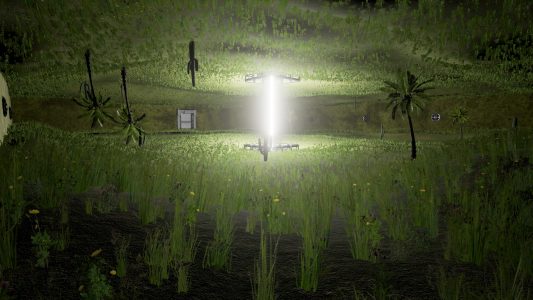 FOR THE IMPERIUM!
At this point, I was about ready to throw my hands in the air and give up. This game wasn't even in Early Access, yet it functioned like I was playing an Alpha. I persevered however, I was going to finish this game for the sake of the Imperium and this review. With some reluctance, I started a new game, proceeding to mop, repair, and stave off the desire to gouge my eyes out.
Eventually getting to day three, by that time I wasn't surprised when I saw things like missing textures on posters or experienced save loading bugs that magically completed missions for me that I had only just started, or even missions that randomly completed themselves while I was walking to the objective. At the end of day three I let out a big sigh, I had made it; just one more sleep and I was done with this whole ordeal. I could soon move on to something a little more inspired.
What followed was a sequence that was a part of one of the several different endings the game has. Based on your choices, you can either proceed through the game and achieve its default ending or walk off the allotted path and obtain one of the alternative endings. The missions you are provided with are handed out at random, and the intent of the developer is that you will play through the game multiple times to see all of the missions and achieve all of the endings.
The thought of playing through any more of this missions was painful, one ending was enough for me and without spoiling it I can say the default ending was completely demoralizing. It was like a big slap in the face from the developer as if they had purposefully decided that it wasn't worth their time or effort to at least make it somewhat rewarding.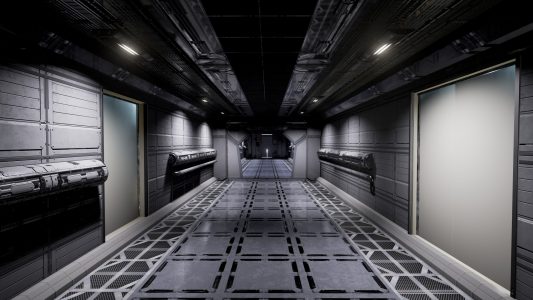 WANT TO KNOW HOW TO SAVE $9.99?
The whole experience was extremely disappointing considering how intriguing the concept was. With the depiction of Orbitek being a rehabilitation and research organization, it had the potential to be another Portal. The entire game feels like a class project for someone finishing their degree in game design. If that had of been the case I would've applauded them for their efforts if they then proceeded to tell me they wanted to charge $9.99 for the game – I would've cringed.
The game feels half-baked, at times the level design instills hope that around the next corner is something entertaining, which is then followed by the realization that it's just another fetch quest. The game was so unintuitive and lacking guidance that the developer even felt the need to provide a complete walkthrough guide on steam with further instructions on how to complete every mission. This should have been the first indicator the game wasn't exactly user-friendly.
I would like to say that with a bit of work this game could become something of value, however for that to be case almost the entire game would have to be ripped out and re-done. There wasn't a mission I was handed that wasn't worse than watching grass grow. I would be lying if I said this game was worth buying, even at the low price point of $9.99 you are better off saving your money.