Starting on Friday November 29 at 1800 UTC and running through to December 1 at 2200 UTC, our friends over at Streamfleet (the team behind the coverage of the Invasion World Tour) are running a 50 hour stream in aid of Take This, a charity that works tirelessly to reduce the stigma surrounding mental health and gamers, while also providing support for people going through their own tough times.
These stream-a-thons combine fun stuff to watch with raising money for a good cause. The Streamfleet guys have pushed the boat out this year with an impressive line-up, great giveaways, and even a silent auction where you can get your mitts on some swag signed by a range of luminaries including The Mittani himself (pbuh).
So, besides bidding on some stuff, what else is happening this weekend?
Schedule
There is a wide range of activities being streamed, so hopefully everyone can find something they want to watch.
The whole event kicks off with an AMA from the Streamfleet crew as an intro, then Jin'taan takes over to attempt to do some PvP. Friday is rounded off by Ashterothi explaining more than you ever knew you needed to know about the Invasions, Triglavians and the lore surrounding them.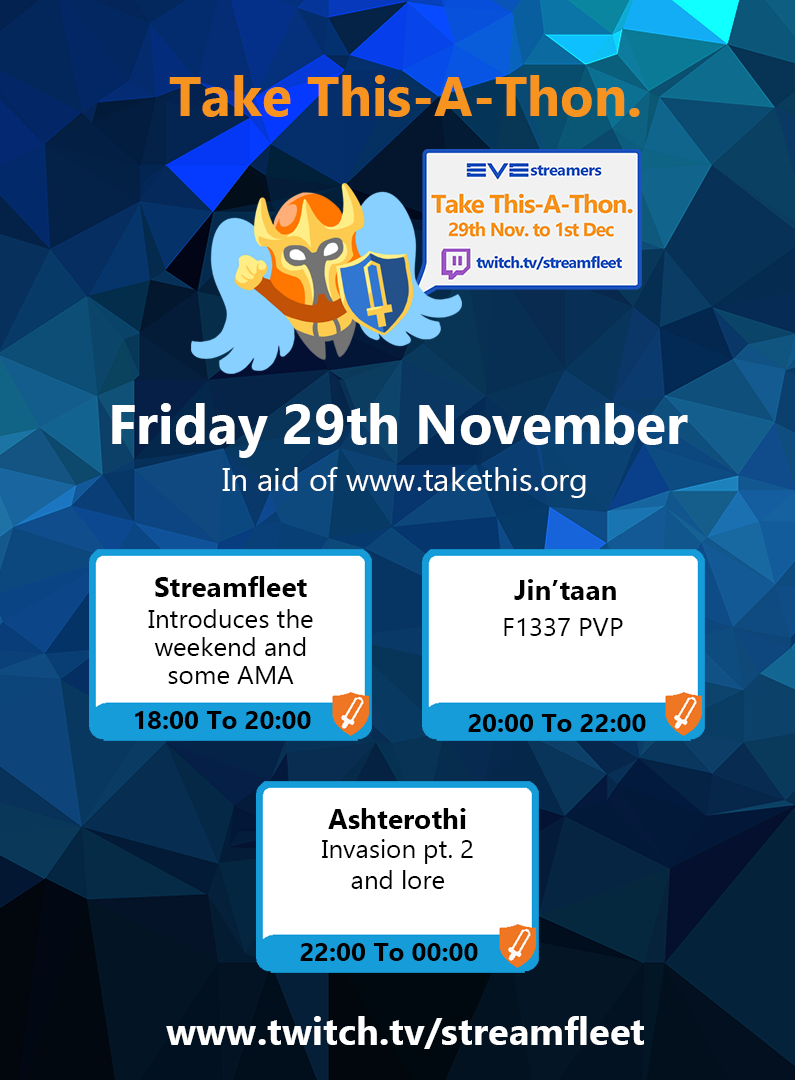 Taking you into Saturday, TamiyaCowboy will be teaching new players PvE, then the Open Comms crew swing into action with their usual mayhem.
If you are still standing after that, Zaenis Desef from CODE. will be spreading the mining permit love around.
From 0600 UTC through to 1000 UTC on Saturday, late night Americans and early bird Euros can follow PvP with Damasys Kadesh and Joebane.
At 1000 UTC a very special guest will be taking to the stream for two hours of unknown adventures with the one and only Ex-CCP Guard.
Other highlights of Saturday are Bjorn Bee, Corvus Onzo and Torvald (who will be off into the abyss in the hope of finding someone to shoot at). There will also be the one and only Erstschlag taking a tour through various aspects of PvE.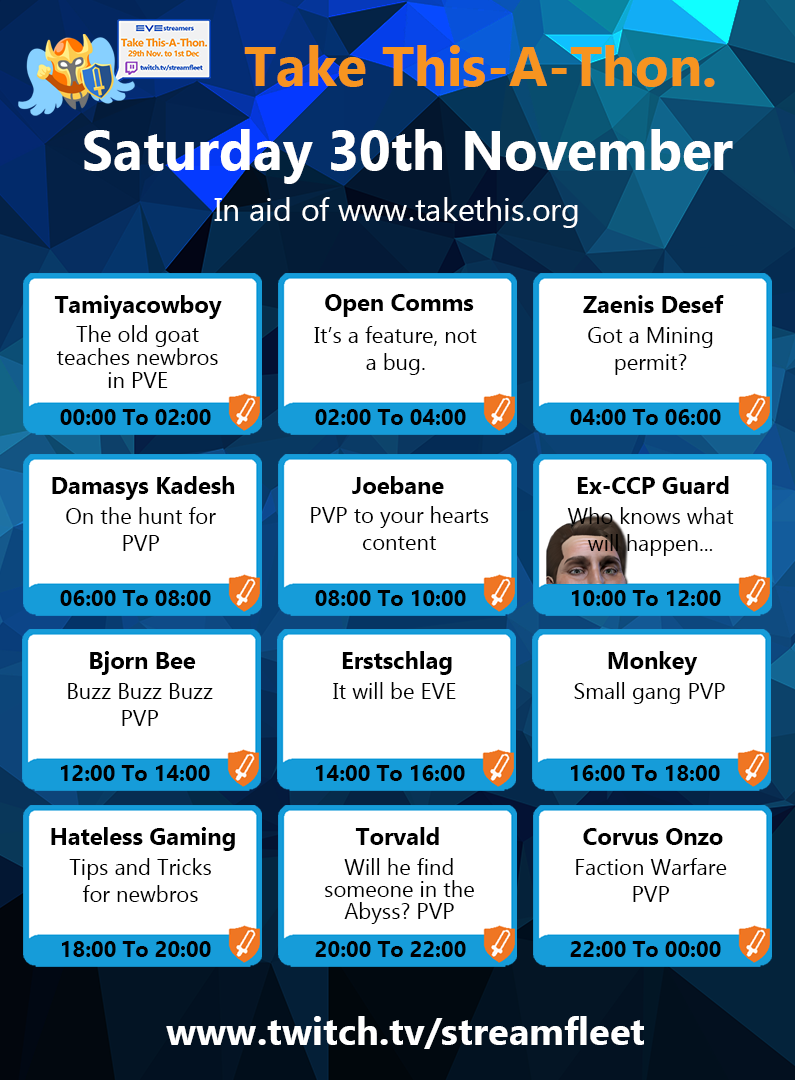 Rolling into Sunday RonUSMC will be doing a giveaway from 0000 to 0200, and additional highlights of the day are Johnny Splunk bringing you all the opportunity to do some backseat FCing via Twitch from 0600 to 0800, the inimitable Jebi Vjetar doing Jebi things from 0800 to 1000, Suitonia taking the reins from 1200 to 1400 starting out an afternoon of PvP with Andy Virus and Wingnut Cross, and rounding up with Rahne and Manic Velocity from 2000 to 2200. They will be joined by Ms Moses, Raiden and MomBellicose for this final show, and the results of the auction will be announced live, so make sure to tune in for this!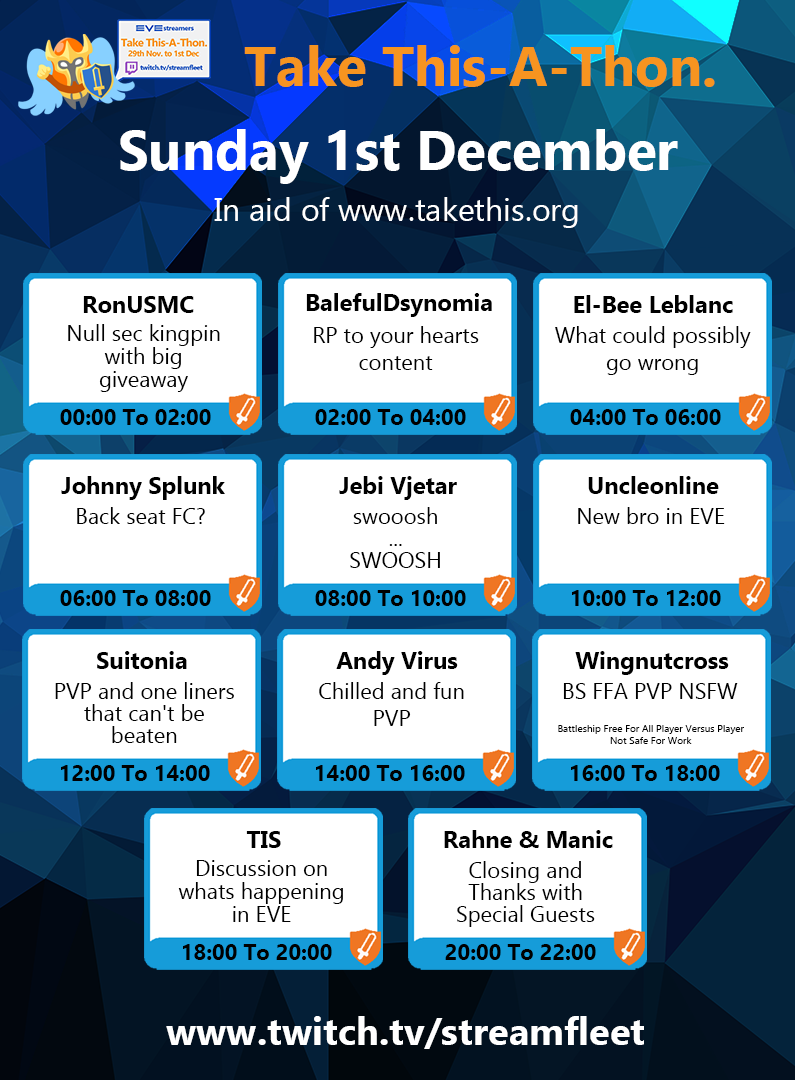 But wait! There is more!
As if the streamers were not enough, and the swag for auction, there is a whole smorgasbord of things to be given away during the stream, including 2 complete sets of Invasion World Tour skins, a fully fit Nyx and a Nidhoggur, and more skins than you can shake a stick at.
Head on over to the Streamfleet Twitch from 1800 UTC on Friday to take part in all the fun and do your part to help raise some money for a good cause!