With the explosion of exoplanet discoveries in recent years, you would expect some of these new worlds to be unusual. In fact some of them are so bizzare, they should not even exist! They exemplify the saying "the Universe is not only stranger than we imagine, it is stranger than we CAN imagine." Most of these worlds are rather perilous to be near, despite their amazing qualities. In the words of Terry Pratchett, "they are beautiful in the way a wildfire is  beautiful; best admired from a distance." So let us take a tour of a few of the most mind-boggling.
The World of Darkness: TrES 2b
This gas giant is blacker than coal, reflecting less than 1% of the sunlight that falls on it. It is also rather hot, at 980C(1800F). Being so close to its star it will be tidally locked, showing it only one face. As it is so hot, it gives off a faint red glow like the coils on an electric stove. It is still very much a mystery as to why it is so dark. Scientists belive it is probably due to light-absorbing chemicals such as vapourized sodium or potassium, but it may well be something else entirely.
The Diamond Planet: 55 Cancri e
This very hot, dense, carbon rich world has its own dazzling secret – it is believed to be mostly composed of diamond due to its intense gravitational pressure. How much diamond? $26 nonillion's worth, or 26 followed by 30 zeroes. Thinking about that amount of money just makes your brain ache, especially if you imagine that one nonillion in dollar bills would cover Earth in a layer 12 million miles thick, or half the distance to Venus. We should have a few of these in hard to scan places in New Eden. Can you imagine the fun and games that would ensue with people trying to find them and hold onto them? That sounds like a great idea to me! Someone poke a dev.
The Waterworld: GJ 1214 b
I am sure that those of you who saw Interstellar will remember the waterworld sequence. That one has nothing on the weirdness of this crazy place. With a surface temperature of 230C, it is too hot for life as we comprehend it and doubtlessly somewhat steamy (although we do not recommend it as a sauna destination). It orbits a red dwarf, which means it as not as hot as it could be as you will see shortly. It is thought to comprised of 25% rock at its core with the rest being water under varying degrees of pressure, including exotic forms of ice surrounding its core.
The Doomed World: Wasp 12b
This poor planet is quite literally 'circling the drain,' as it is being pulled apart by its star, much to the delight of astronomers. The gravitational pull on it is so strong it is in fact shaped like an egg. It will take another 3 billion years for it to consumed entirely, but that is a mere eyeblink on a Universal scale. Its orbit is so close to its sun, one of its years takes just 1.1 of our days, so imagine having your birthday and Xmas on the same day, every day!
The Oldest World: PSR 1620 26b
Unsurprisingly, this 12.7 billion year old planet has been dubbed Methueselah. It is in fact about as old as a planet can be, having been born in a crowded core of a cluster of 100,000 stars. What is intruiging about it is that it shows planet formation beginning soon after the Big Bang. If that is not remarkable enough, this old codger orbits binary stellar remnants(the leftovers after a star has fallen off the main sequence and burned all of its fuel), a white dwarf and, remakably, a pulsar!
Super Saturn: J 1407 b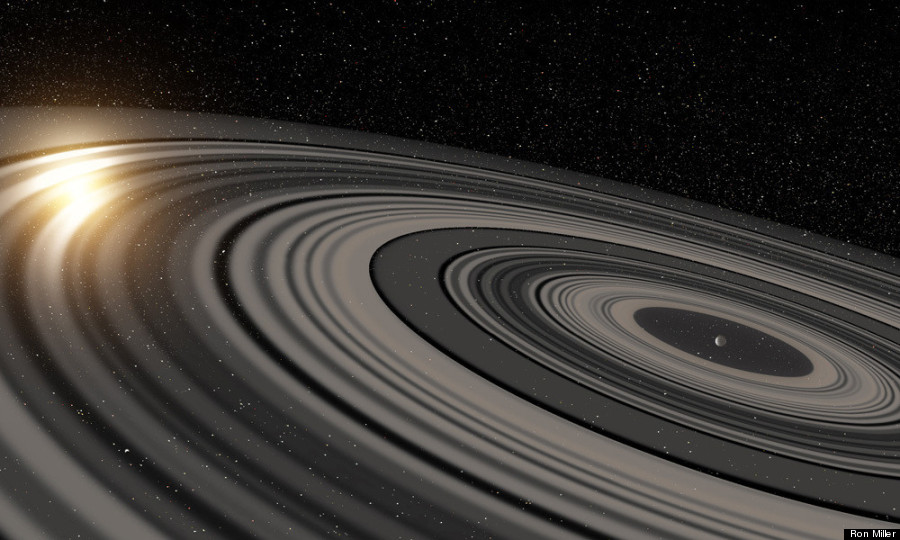 This planet is much larger than either Jupiter or Saturn, with a ring system 200 times larger. If they were around Saturn, they would be easily visible and larger than the full moon. It may even possess a moon as large as Mars or even Earth. This moon would not be Earthlike as it is too far from its sun, but Europan like? Maybe.
Most Likely to Harbour Life: Gilese 581 g
For a while, there was controversy as to whether this planet even existed, but recent evidence points to this planet being firmly in its star's habitable zone. As it orbits a red dwarf star, it has to be much closer to its star in order to recieve as much light as we do. Imagine a somewhat murky sullenly red sky and you will not be far wrong. The downside is that it is likely to be tidally locked due to its proximity to the star, so one face is going to be uncomfortably toasty and the other face somewhat frosty, however there could be a habitable strip suitable for life at the edges, just do not step too far into either side if you do not want to burn or freeze to death.
The Hell Planet: Kepler 78 b
Weirdly, this inhospitable planet shaped lava lamp is close to being Earth's twin, at least so far as its composition is concerned. It orbits so close to its star that a year is only eight and a half hours long. The puzzling thing about it, as if being a representation of the firey pits of hell is not enough, is that it should not be there! No planet should be able to form so close its parent star, so scientists are having to question their prevailing theories on solar system formation.
The Pink Planet: GJ 504b
It is pink. This should be enough to give this place the wow factor. However, there is more to this fabulously pink world to make scientists scratch their heads. It orbits its star at 43.5 AU – this is very odd, as it should not be able to form there in all its gloriously pink splendour. Neptune at 30.1 AU is, as far as we understand it, at the limit of where a gas giant can form, so it should not exist, or be pink. Thus this is another world calling into question what we think we know. Did we mention that it is PINK!
The Planet Where it Rains Glass: HD 189733b
This is where things start to get seriously weird. This is actually a blue planet, but that is where any similarities to Earth end. Imagine standing on a world where it is 1000C(1832F), there are 7000km per hour winds and it is raining glass, raining glass sideways in fact. I mean what the….? It is believed to have a hazy atmosphere laced with silicate particles, hence the glass. We would not recommend a visit without protective clothing, in fact we do not recommend a visit at all unless standing in a mincer is your idea of fun.
A Song of Ice and Fire: Gilese 436 b
We saved you the best until last! This is our favourite by a long shot. In the "messing with your head" stakes, this piece of mind boggling real estate is a clear winner. This impossible sounding planet is made of burning ice, yes, you heard us right, burning ice! It is thought to be about the size of Neptune, orbiting very close to its star. It could not have formed in its present position, but likely migrated inwards, its surface is 300C(572F) which would make you think the water would evaporate. However, the planet's gravitational field, combined with huge pressures, compresses the water so much that it remains solid even at high temperature, much like the way diamonds are formed. The water simply cannot evaporate, so we have ice all right, but you would require a new limb if you tried adding it to your drink!
Our knowledge and understanding of what other worlds are out there is ever increasing. Finding planets like these, that exist despite how strange or impossible they seem, is not only exciting, but huge amounts of fun! We are sure even more space oddities will be discovered, probably faster than you would think. We will be sure to keep you all updated.
This article originally appeared on TheMittani.com, written by Feiryred.