Over the weekend there have been some weird broadcasts coming from The Mittani's Twitter feed.
We were warned. We didn't listen. pic.twitter.com/gDr12QFOMI

— ~GOON-EMPEROR OF DELVE~ (@TheMittani) October 7, 2017
What in the galaxy is he up to now?
https://www.youtube.com/watch?v=TAWc8Lo6Fco
Electroencephalography! That's a mouthful. Let's use EEG for short.
Here, let me Google that for you:
EEG technology records microvolt fluctuations produced by neurons firing in the neocortex by using electrodes placed along the scalp. The analysis of measured waveforms lets us functionally peer into the mind, providing insights into higher cognitive functions or revealing abnormalities within the brain.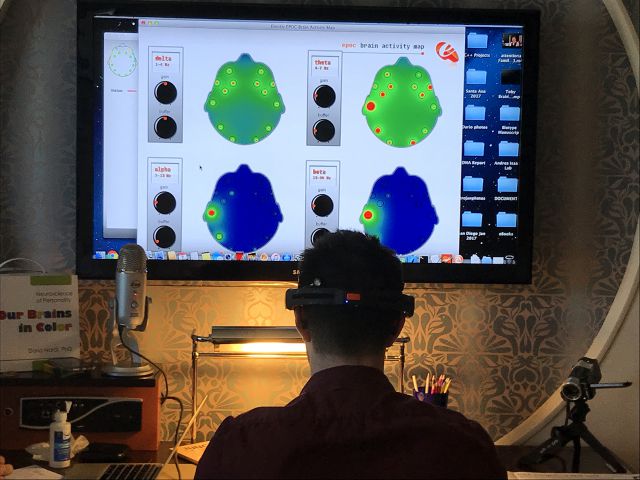 If that all seems like mad science to you, that's because it is!
Mad Props
The magic you see here is brought to us by award-winning UCLA professor, author, and neuroscientist, Dr. Dario Nardi.
But how did he end up hanging out with us at Eve Vegas?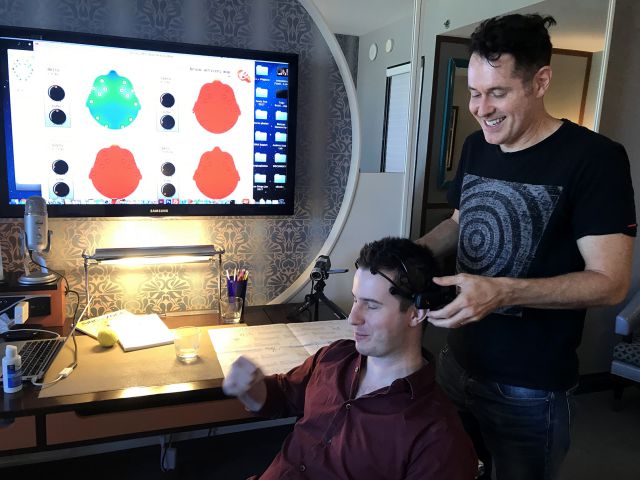 Well, I'm a bit of a junkie on psychology, Jung's cognitive functions, and really anything about humans that can be studied empirically, so naturally I've been following Dario's research for years. I really admire a person who is so dedicated to this mutual passion, having many insights on the topic of my own, and one day I figured, why not just reach out?
No doubt Dr. Nardi would be right at home among our ranks: Rocket scientist gone anthropologist, with interests spanning broadly, from aerospace engineering to East Asian studies, human complex systems to Burning Man. He's authored numerous books on personality, organizational development, and even tabletop gaming via his own publishing company on the side. It's meant to be!
So, one thing leads to another and next thing you know we invite Dario to chill with us in Vegas, and he says, "Okay, it's only a small hop for me to visit, let's make it worthwhile!"
Mad Science
Humans have known about electrical phenomena in the brain for well over a century, with the first human EEG recording occurring in 1924. EEG tech has advanced a long way in the last decade, with consumer grade wireless headsets coming in at less than $1000, generally marketed for use in things like gaming, personal well being, or manipulating gadgets with the Force.
Here's the EEG hardware used in our session with The Mittani getting setup:
https://www.youtube.com/watch?v=VJjgaJvR4D0
Don't worry, EEG is a completely passive technology only recording spontaneous electrical activity produced along the scalp — there's no way this thing can control your brain.
Just to make sure though, I offered up The Mittani as a guinea pig, to confirm EEG would be a safe and worthwhile experience, and to take it all in with my own eyes.
The experience was amazing. We're really excited about Dr. Nardi's lab and the potential of his research — a main goal of his is to discover real, implementable benefits of EEG tech that can help individuals really change the things that matter most in their lives.
We asked how we could help.
An Invitation For You
Dr. Nardi travels the world speaking and consulting with organizations from Mountain View (at Google) all the way to Stockholm, always learning something new each place he goes. He mentioned to us a few different groups he'd like to meet with, to further expand his body of research. We hit on ideas for people right here within our virtual community:
Individuals with a military or law enforcement background and/or individuals with a "sensing / thinking" preference (i.e. ESTJ, ISTJ, ESTP, ISTP).
If that's you, we're delighted to forward you an invitation to participate in a research session with Dr. Nardi. (Sign up here.) Not sure if that's you? Here's Dario's assessment to help you determine your cognitive type and preferences.
Normally, a professional functional neuroimaging scan would run you some $$$ (think getting a sleep study, or an epilepsy diagnosis, or finding out whether or not that aunt you hate is actually brain dead after all … … … okay, too far).
This session is totally free to you and purely for research, as Dario uses neuroscience and technology to find insights into creative flow and maximize potential for every personality. And, of course, you'll receive a report of your results when he's done crunching the data.
I think Dr. Nardi says it best:
Neuroscience offers us a wonderful opportunity to clarify and perhaps even redefine who we are and what we are capable of. Knowing the brain lessens guesswork while promoting a valuable idea: Every person comes into this world with capabilities and potential, and together we can prosper by our different gifts. (Neuroscience of Personality, 2011, p. 7)
Thank you, Dario, for letting us share your work!
If you're interested in participating in a session, please sign up via this form or contact me with any questions at [email protected].
The meta game collides with the frontiers of psych………….. only in #eveonline pic.twitter.com/7Vmpz0fW4L

— ~GOON-EMPEROR OF DELVE~ (@TheMittani) October 7, 2017