Friday, May 14 saw a day-long string of PAPI losses, bookended by two crushing bomb runs. At the end of the day, PAPI subcap losses topped 300 billion. Both bombing runs came from The Initiative., striking PAPI fleets as they tried to evac through the E-V gate in 3-DMQT. The day also marked the end of three weeks of fighting since the Pandemic Horde townhall. There, alliance leader Gobbins announced PAPI's strategy for taking the O-EIMK constellation and Imperium throne system of 1DQ1-A. So far, however, PAPI has nothing to show for their efforts but many hundreds of billions in subcap losses and a few onlining Azbels in 3-D.
Friday's Fights
On Friday PAPI launched multiple attempts to reinforce objectives in the O-EIMK constellation. These culminated in a large battle in USTZ and a determined attack to hack the 3-D IHUB.
The first attack came early in the day during AUTZ. PAPI brought Eagles, Muninns, and Feroxes, and the Imperium countered with Sacrileges and Feroxes of their own. As has become common in defenses in O-EIMK, the Imperium also parked Carriers and Supercarriers on citadels near the fighting to bring fighters to bear. Unable to take any objectives in the face of the Imperium's defense, PAPI eventually moved to the E-V gate in 3-DMQT to withdraw. There, INIT bombers launched a surprise attack that destroyed hundreds of retreating HACs and shifted the battle report massively in favor of the Imperium (94 billion ISK lost by PAPI to 10 billion by the Imperium). Word and video of the stunning bomb run quickly began to spread on Reddit and Discord, and Imperium spirits were riding high. Both sides brought more than 600 pilots to the AUTZ fighting.
In the aftermath of the losses on the E-V gate, PAPI formed a smaller group in EUTZ which again met with defeat. PAPI Feroxes and various supporting ships (200+ in total) were countered by a larger number of Imperium Feroxes and Eagles (300+), and after feeding 19 billion against the Imperium's 6 billion in losses, PAPI once again withdrew.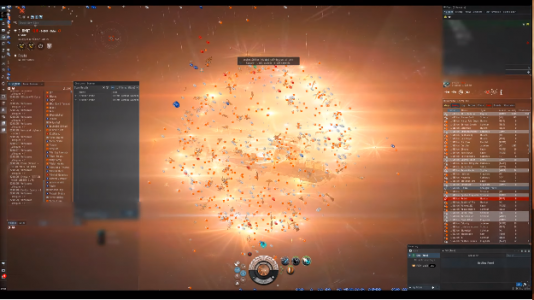 In USTZ, PAPI tried a third time to turn the day into a win. They mounted an extremely vigorous assault with roughly more than 1100+ PAPI pilots (countered by 900+ for the Imperium) contesting objectives in multiple systems. The bulk of the fighting was concentrated on the 3-D IHUB, and for most of the attack PAPI traded well, though they ultimately failed to take any objectives. After the Imperium finally pushed PAPI off the IHUB (fighter support for Imperium subcaps was again decisive), the attackers moved back to the E-V gate to withdraw. At this point in the night they were ahead in the ISK war, having killed 84 billion against 65 billion in losses. They had taken particular vengeance on INIT for their earlier bombing run, annihilating an entire INIT Abaddon fleet worth almost 20 billion on the 3-D IHUB grid. Unfortunately for PAPI, those INIT pilots reshipped to bombers and once again met them at the E-V gate as they tried to extract. In what is likely the largest bombing attack in the history of EVE Online, INIT destroyed 144 billion in PAPI HACs and supporting ships in a single bomb run, decisively turning the battle report once again in the Imperium's favor. PAPI finished the night down 209 billion to 84 billion for the USTZ battle.
PAPI finished the day having lost 330 billion against 109 billion in losses for the Imperium without taking any objectives.
The Status of PAPI's Invasion
Prior to Friday's events, TEST FC and Legacy Military Director Progodlegend provided an assessment of PAPI's progress to date against the Imperium in O-EIMK. In particular he emphasized the the lack of apparent progress in the weeks since PAPI's strategy was announced on April 24 is not in any way concerning. Attacking the Imperium in 1DQ and O-EIMK is unlike anything that has ever been attempted in EVE, and PAPI is not rushing.
"These have basically been probing attacks to get a feel [for the defense]," he said in a brief interview before Friday's attacks had taken place. "Using capitals requires more commitment than subcaps, so the timing on when we use them will be very precise and when we've gathered as many advantages as possible." For opsec reasons Progodlegend did not specify what "advantages" he was referring to, but one might assume he was referring to the kinds of strategic advantages that PAPI has relied on in the months since their defeat at M2, cyno jammers to prevent Imperium Supercapital response and Citadels to provide tether. These are some of the same factors Gobbins indicated PAPI would be pursuing in the April 24 PH townhall.
In the mean time, PAPI is feeling it's way. "Probing with subcaps as we have is low commitment, especially when we mostly win the ISK war anyway," said Progodlegend (prior to yesterday's battles, PAPI has been trading well with or winning the ISK war against the Imperium in O-EIMK, with some exceptions). "We've ignored objectives a few times already just to focus on the good subcap battles in progress."
The Road Ahead
In particular, Progodlegend is not concerned by the pace of PAPI's progress. "I would say our progress is on track, even ahead of schedule somewhat," he said. "The fact that we win most fights means that this pace is easily sustainable, so we have time to figure out what works and what doesn't. And we have basically been doing probing attacks and experiments with no real expectation of major progress, and we have often just ignore objectives entirely to focus on the fight at hand when we could have instead made plays to ensure the objective had we felt like."
Progodlegend underscored the unprecedented difficulty of what PAPI is undertaking, given the conditions currently in game, such as massive numbers of Supercapitals, tether, and other mechanics. "Considering how terrible these game mechanics are, we always knew it would be extremely difficult to break into the constellation and eventually win," he said. "But we'll eventually get there."
It is unclear whether or to what extent Friday's events change these calculations.