If you are interested in anything nullsec, or the great war currently going on, then you will have undoubtedly heard that there is a "big" announcement coming on the 24th of this month. It's a day being heralded as the next coming of PAPI, a day that will, some hope, live in the history books of EVE. Perhaps it will be the day that PAPI finally finds their collective testes. Let's not hold our breath though. Will this announcement actually amount to something worthy of a week's worth of hype? Or will it simply fail to satisfy, like the big "subcaps-in-1DQ announcement," or the "booshers-are-the-answer" proclamation?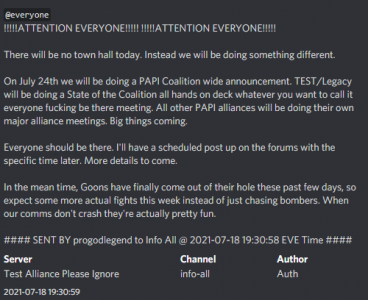 So, as it is only natural for me, a long-term EVE player, with a huge interest in null-sec politics, to have spent a little time pondering what this large announcement could be. Let me make this clear; I have sources who have given some information. However, nothing is concrete just yet. But, before the announcement is put into the EVE political sphere, it will have already leaked, for the one thing to remember with the PAPI leadership is that ego drives them, and if they think they have a fantastic plan, they are driven to share that plan to empower that ego. You remember this, of course, from how the war began.
What could the announcement be, I hear you ask? Let's take a swift look at what the options are.
End the TTC agreement
This option is one that is well within the ability of PAPI to pull off. However, destroying the Keepstar in Perimeter is also an option that Imperium has at its disposal. Many PAPI members keep on suggesting that this is something that should have been done at the onset of hostilities.
Likelihood: Unlikely
Full summer campaign against 1DQ
Coinciding with the above option, PAPI could use the end of the TTC agreement to drive up support for the war. However, given the inability of other similar announcements to improve numbers, I hope PAPI leadership is aware that this option simply retains the status quo. If this is the option they take, then it essentially means PAPI has no idea what it is doing, which may not be surprising, given the leaks we have seen recently.
Likelihood: Most probable
SRP Increase
With the recent announcement of regional banks being unlocked, it is well known that this is something Gobbins wants to exploit. I imagine the announcement may entail all of PAPI working together to create a key-trading scheme that allows alliances to take ISK from their own regional banks. However, this issue is one that will undoubtedly create hostilities in the already struggling mega-coalition. No two banks will be equal, so two like-for-like keys may not payout at the same rate. Additionally, keeping all members in line when the keys are released will be a full-time job for internal staff. The bank ISK will probably be used to shore up some SRP programs that clearly need the help. However, this move would be an attempt to improve morale with ISK that has not materialized yet. Therefore, it would be another announcement that doesn't really change a thing.
Likelihood: Probable.
Panfam and Legacy Merge
With the leadership of PAPI knowing that "carefully" laid plans are no longer working the way they planned, and that internal strife is at an all-time high, both Panfam and Legacy know that they are in this for the long haul. What better way to ensure they are capable of assisting each other than to merge? This isn't as likely as the above; however, crazier things have occurred in EVE. The one thing that will stop this merge from happening is the ego of those at the top. Will Vily and Progodlegend really want to share power with Gobbins or Vince, for example?
Likelihood: Unlikely.
Egos and desperation everywhere!
One option I refused to put on this list is a full withdrawal. Why? Because the people pushing this campaign simply don't understand how to deal with their own failures. Their egos simply will not allow for it. It doesn't matter if they destroy tons of content in the process and damage EVE Online (more than they already have). Their own desires come before anything else.
In all honesty, the announcement is most likely to be fluff in an effort to assuage the egos of the PAPI leadership who are currently fighting off any form of introspection regarding either their leadership capabilities or the absolute shambles their campaigns are in.
With an all-time low of bums on seats for their coalitions, the PAPI leadership simply want to save face with their members. The only way to do this is to promise announcement after announcement, just to provide a slight sliver of hope for a membership that is losing faith in its leadership.
While all of this is ongoing, T5Z looks like this.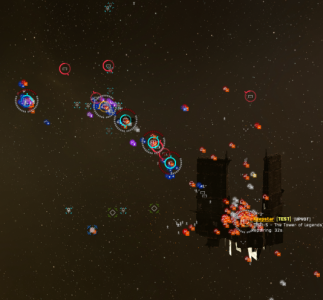 Let us wait and see what happens. I am, however, willing to bet this desperate attempt at hyping is just another situation where the egos sitting at the top of PAPI are simply not willing to see the writing on the wall.