EVE Online is pretty unique among MMOs. But it's got a lot of things in common with other hobbies. Unfortunately, one of the things that makes EVE stand out is just how invested players get. That can lead to stress. So what do you do when your hobby stresses you out? Simple: Have a back-up hobby.
Time to Make a Change
As of recently—the last half year or so—I have found myself very stressed out from both life and the life I live to escape life: EVE Online. Real life started going downhill in the first week of 2006. My EVE life started falling apart when Empress Jamyl was killed and has slowly gotten worse. In the past month or so, things got to a point where I couldn't really cope. C'est la vie.
Since the United States Government won't let me kill people anymore, and murder is illegal, I've had to come up with something to do. While taking a trip to Kurdistan and fighting ISIS with the Kurds sounds fun, I don't know any Arabic other than 'imshi.' Okay, there's 'yalla' too, but that's it. Actually, until writing this I didn't even know Kurdish was its own language. All the more reason that won't work. So, my dream of stacking terrorists bodies like so much firewood died. Like my soul on August 21, YC117.
I decided to take up a hobby. My requirements for said hobby were: 1) it has to be able to be done inside, in air conditioning, and 2) it should take up a lot of time and money. After briefly looking into taking up hookers and cocaine, I decided to go with the more expensive option: Warhammer 40,000. I promise you, per ounce, all the paints and plastic and tools that are needed to just put together and paint one tactical squad of Space Marines are more expensive than cocaine.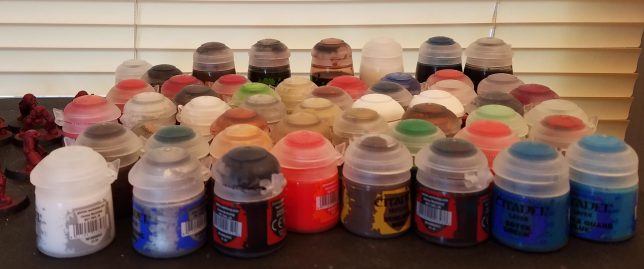 Pictured: Paint. I don't have cocaine. I spent all my money on paint.
I played Warhammer 40,000 (hereinafter 40k) way back when I was in high school, in the third edition of the game. So, it's been almost twenty years. However, I kept up with the novels about the setting.The Gaunt's Ghosts series and the Caiphas Cain series were my favorites, but there were some others that I liked, too. 40k is the setting that literally—in the literal sense—lead to the term grimdark, and it's awesome The novels are fun and the video games by Relic are great. For a long time, the Relic-developed games, including Dawn of War I and II, and Space Marine, were my touchstone to the 40k franchise.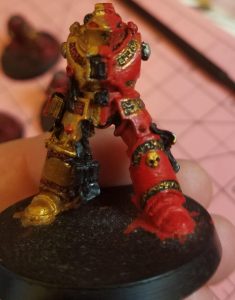 My earliest attempt at painting a mini. All the previous models were vehicles. I gave up after realizing how bad I was.
There are also fun and enjoyable videos on YouTube. "If the Emperor had a Text-to-Speech Device" makes my sides hurt. It also has great rewatchability. After watching one of those movies on a fairly long bus ride to the airport, I saw a suggested video by Warhammer TV on how to paint Blood Angels. Intrigued, I watched it. (The bus ride was boring and I could either watch that, or stare out the windows at the nothingness that is northern Illinois.) After watching Duncan Rhodes paint a Blood Angel, I thought, "Hey, I can do that!" I was so mistaken.
Still, that was several months ago, and I hadn't picked up the hobby yet, since I was still shackled to EVE Online like some Starkmanir slave to her Mistress's bed (Bow chicka bow-wow). However, it was pretty fascinating to watch all the how to paint videos that Warhammer TV put out and realize all the mistakes I made when I was first starting out, way back when. Of course, back then, there was no such thing as YouTube. JPGs were fuzzy, and it took several seconds for one to load on the screen. Besides, I had other things to do on the internet, like getting around the school's filter to look at porn. (I actually got banned from computers for a year.)
So, when the time came for me to take a break from EVE, all the how to paint videos were in the back of my mind, and I realized that I'm not a broke high school student anymore; I'm an adult with a decent income; I can afford the hobby. So, with my debit card firmly in hand, I went to Games Workshop's website and choked. Twenty years of price increases (and the odd bit of inflation) meant that everything was way more expensive than I remembered. Not that 40k models were cheap in the first place, but damn (in the Will Smith sense).
Still, with the idea of go big or go home firmly in my mind, I went big. Knowing that Games Workshop (hereinafter GW) makes decent stuff, even if it is overpriced, I did some shopping on Amazon for some brushes. Getting some Winsor and Newton sable brushes seemed like a good idea. Rumor has it that Winsor and Newton is the company that actually makes the GW brand (actually Citadel, which is a wholly owned subsidiary) artificer brushes that are twice as much as the Winsor and Newton brushes on Amazon. I got some other synthetic blend brushes and a knife at Hobby Lobby.
While I was shopping at Amazon, I noticed that they also had plenty of 40k models for sale, and in some cases, much cheaper than MSRP. So, I snagged my models from there, saving almost twenty-five percent. What I did wind up getting at the local GW store was almost twenty-five shades of paint, a single brush, a drill, a file set, cutters (the ones I got on Amazon were not great), and the mold line remover. Again, GW's stuff still is decently good, but overpriced.
Now a couple hundred dollars lighter in the purse, I started out to paint my models.
Why Paint Anyways?
When I was a kid, I watched Bob Ross paint, a lot. My family didn't have cable TV, so my choices were pretty limited. While the rest of the kids my age were watching Nickelodeon, I was watching Bob paint some happy little trees and more mountains than actually existed in the world. It was a great way to relax and spend an afternoon. (It is still a great way to relax and spend an afternoon to late evening binge watching on YouTube.)
I never considered myself an artist and the idea of me painting like that was never anything more than a dream, but it was great to watch Bob paint in real time. He was always so happy when he painted. It also had the benefit of demystifying painting. As a kid, I always had the idea of these Renaissance masters in their studio essentially producing paintings though magic. More to the point, painting was something that other people did, not me. I was too normal.
Back when the show was on its first run, I didn't quite get all the lessons that Bob was teaching, but watching them again as an adult, with the benefit of some similar experiences, I realize that Bob went through some stuff. In painting, he would talk about how every highlight needed a shadow, or where there is light, there is dark. Sometimes, he would add: just like life. Life was not all happy little trees and fluffy clouds for Bob.
Bob spent twenty years in the United States Air Force, retiring as a master sergeant. Now, as a US Marine, I naturally do not consider the Chair Force a real military service, but no one gets to the rank of master sergeant, even in the Air Force, by being as soft spoken and easy going as Bob was on his TV show. His persona was one he adopted after getting out to try and differentiate himself from his military career. After retiring, he said he would never yell again.
Painting was Bob's way of coping with his life. By painting, he created the world he wanted. On his show, he would tell the viewer over and over that, "painting should make you happy." As a kid, I accepted it, but I never really understood why. As an adult, I understand. When Bob paints, he has complete control over his canvas and picture. He can paint whatever he wants; he can make the world whatever he wants. It's his escapist fantasy, in a much more concrete and real form than a daydream. (There's also the fact that he became a millionaire from selling art supplies.)
For me, there is much the same effect. While I don't paint on a blank canvas, I still have the freedom to paint my models my way. I don't worry about the Games Workshop official colour schemes, or their official armies. I make my own organizations in the 40k universe, with my own colours.
Bob painted on a blank canvas, which was amazing. However, I'm not nearly that creative enough to start tabula rasa. Painting miniatures is a happy medium; it's a lot of painting by the numbers. This part of the model is supposed to be a different colour from another part of the armor. There's nothing that's really just freehand. So, it's just enough to give me creative freedom with plenty of guidelines.
The best part about painting, for me at least, is that it's very attention grabbing. It's not really possible to paint and do much else. The details on the models are tiny and cannot really be done without complete focus. Maybe as time goes on, that might change, but I doubt it. So far, the best that I have done is talking on the phone while painting. However, being honest, conversations mostly run on autopilot anyways.
The second best part about painting is having something concrete to show off to my friend and family. Yes, it helps that I consider them well painted models (so do others), but the fact that I've done something tangible (rather than just watch YouTube for four hours in a row) is something I can be proud of. There's also the joy that comes from seeing improvements and from discovering a new technique or colour combination. Just the other night I finally found the sweet spot for my technique of highlighting the joints in the armor. It's wasn't quite the Archimedes 'Eureka!' moment, but it was very satisfying. Procrastinating and painting rather than writing this was so justified.
It is an interesting side note that most Veterans' hospitals in America have some kind of form of art therapy. I've never gone, because it's in the morning, but I am told it's good.
So, Why Blood Angels?
Three words for you, my friend: bishi space vampires. The Blood Angels are a chapter of Space Marines (if you don't know what they are, at least, I cannot help you) that suffer from a genetic defect, the overwhelming desire to drink blood. In some cases the 'Red Thirst' has driven Blood Angels Marines and their successors to insanity. They are also incredibly handsome: long, flowing, majestic, golden-blonde hair; perfect, symmetrical facial features, cheekbones that can cut glass; eyes that are dark and piercing, demand respect, obed—my, where was I? Right. Blood Angels Status: (take me to b) Incredibly Handsome Vampires, In Space.
Their primarch (half spiritual, half literal) father, was a literal (with wings and everything) angel. Named Sanguinius, he's the second most revered figure in the Imperium of Man. In addition to being so beautiful that mere mortals were driven to tears on sight, Sanguinius also sacrificed himself in the final battle of the Horus Heresy so that the God-Emperor of Mankind could defeat the traitor Horus. His glorious death and sacrifice can be likened to that of Jesus, or Jamyl.
If the idea of angelic, bishi, space vampires taking you to their secluded fortress monastery (the gothiest of all gothic castles), biting your neck, drinking your blood, and then cuddling with you in their coffin until dawn doesn't send your heart all a-flutter, then you need to get more in touch with your inner Slaaneshi cultist, girl (or boy; we don't discriminate here).
Other than my vampire fetish (or fantasies?) there's another reason I picked Blood Angels. No, really, I promise; there's a good reason. Games Workshop has four chapters of Space Marines that have their own lines of models. They are: Blood Angels, Dark Angels, Space Wolves, and Ultramarines. The Dark Angels do not really have a lot of unique models, and there are no Dark Angel specific tactical Marines. The Ultramarines models are generic Space Marines with very plain armor, able to be used by any chapter. There's not a lot of unique detail on the basic Space Marines model, and they look boring.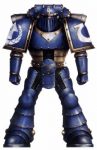 (Editor's Note: After extensive fighting with the writer, INN would like to note that the ubiquity of the Ultramarines means that for someone just starting out, they're not a bad choice. They're generic. And if you paint them up in light blue with red packs, you can call them 'Spitfires' and confuse all of your friends who, like you, didn't get the 'Supermarine' joke right there.)
Games Workshop has actually released a lot of very distinct models for the Space Wolves. There's a very wolfy Viking feel to the models and from across the room, anyone can pick them out as Space Wolves. This is the chapter that PETA complained about wearing fur. (I wish I was making that up.) However, that's the problem with the Space Wolves. They're very much Team Jacob, only more alcoholic (Editor: No, we're not making that joke, Sophia.) and furry. There's a distinct lack of refinement in the Space Wolves.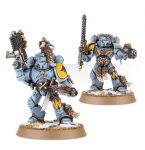 The Blood Angels models also look distinctive, but in a much more subtle way. The chapter prides themselves on their artistry and appreciation for beauty. Each Blood Angel Marine will spend time making sure his armor is exquisite. This is reflected in models that are decorated with ropes, and gold, and gems. And lots, and lots, and lots of blood iconography. There are blood drops all over their armor.
It's this detail that I find engrossing to paint. The ropes, vials, wings, scrolls all add additional notes to the model, making it a symphony of colour and shapes. It is challenging (highlighting ropes is hard), but rewarding. My Team Edward Marines are just as savage and brutal in combat as the Space Wolves, but with much more refinement and elegance. And I get to paint lots of angel wings on the armor.
Blood Angels are not just bishi space vampires; they are bishi space vampires with elegance and artistry.
(Editor's note: Didn't I ask you to write an article about how to paint Space Marines? Not to swoon.)
Yes, Yes. I'm getting to it.
Over the next several (dozen) pages, I'll explain my method of painting and how to. Sometimes there will even be pictures taken from my phone. I'm also going to commit the moral sin of using 'you' to address you, the reader directly. May Jamyl forgive me.
So let's have them run all the colours across the screen that you need to paint along with us.
Since we seem to have no screen, I'll just tell them to you as it comes up. However, the first thing we need to do has nothing to do with brushes or paint. You need to remove the pieces from the sprue and clean off the mold lines. Even the best plastic molds will have a mold line; that is just the way they are made. Even Legos. (See: https://www.youtube.com/watch?v=RMjtmsr3CqA for everything you want to know about injection molding plastics.) These mold lines have to go. Nothing will ruin a model faster than noticeable mold lines. If you make a mistake, you can paint over it. If you get halfway into painting, and notice mold lines, it's easier to just strip all the paint off and clean the mold line rather than try and fix it. So, you need to clean your mold lines.
How doesn't matter too much. Games Workshop makes a special mold line removal tool that is not half-bad. Pricey, but not bad. There's also file sets, X-Acto knives, fingernails, and clippers that I also use. How the mold lines are removed doesn't matter. Just make sure they are gone. Also make sure that you drill out the barrel on your weapons. Solid plastic looks bad.
I should also say that you're going to want to invest in a decent magnifying glass lamp. They're not too much on Amazon and are pretty much a must. This is the one I got. They are called miniatures for a reason!
Once the mold lines are all gone, you're going to need to prime them. I use the Chaos Black spray. I tried the Imperial Primer that comes in the pot and a brush, and let me tell you, spray them. Priming models with a brush is painful. Oh so painful. (The primer has a consistency of tar, and is hard to paint evenly.)
The spray versus the pot. Some finished Marines off to the side.
I don't actually assemble my models before I prime them, but take each part and use the sprues to prime them all separately, but simultaneously. This makes it easier to paint. I use white poster putty to attach parts to the sprue. This ensures that everything is completely primed.
My Dudes
One important thing to add is that I'm not using standard Blood Angel colours. So, for the 40k aficionados out there, I should probably explain why. The Marines I field are not actually the Blood Angel's chapter proper. That's Games Workshop's thing. Games Workshop wrote out all the characters, and the storyline and they have their ideas how things works and what will happen. I would rather make my own chapter, which is what I did.
My chapter of Marines are descended from the Blood Angels, formed around a cadre of the 33rd, 35th, 36th, 37th, and 39th companies when the Space Marine Legions were split following the Horus Humbug. Named the Vengeful Seraphs chapter, they have spent their ten thousand years in service to the Imperium of Man in the galactic south fighting off Orks, Dark Eldar, and the other enemies of Man that aren't really the headliner bad guys, but still need killing.
They rule over a system cluster of seven civilized worlds that form the basis of their recruiting and stability efforts of the galactic south. Their fortress-monastery is on the capital world of Palatine, and also houses a shrine to the Imperial Saint: Sister Jamyl. (Fuck you. I do what I want.)
Sister Jamyl was a Sister of Battle Seraphim that was actually affected by the black rage—visions of Sanguinius fighting Horus—an affliction of the Blood Angels and their successors that resulted from the psychic backlash of Sanguinius' death. It drives the Marines crazy, but also turns them into killing machines par excellence. Sister Jamyl died on the battlefield, but through the grace of the God-Emperor of Mankind, and the spirit of Sanguinius manifest in the Black Rage, she killed ninety-nine Orks solo. Since then, the Adepta Sororitas has left a minor order to maintain and defend the shrine. They and the Vengeful Seraphs get along rather well.
Their chapter colours are a dark red and gold. (Like an Amarrian House that I can think of off the top of my head.) Their chapter badge is a golden sword, unsheathed, pointing down, with angel wings lowered. God help me the day I try and freehand paint that.
This is the most important part of painting to me. My army is my men (and women if Games Workshop ever releases plastic Sisters of Battle). Their paint scheme is based on what is pleasing to me. If you ever watch Bob paint, he'll always tell the audience that even though he's putting a tree there, in your world, you can do whatever. It's your canvas, you have the power. Well, it's your model, you have the power. After spending enough money to buy a kidney off the black market, you have the right to paint them however you like. No one is obligated to follow the official paint schemes, ever. You should feel free to paint the colours you like for your army. Of course, if you want to paint Games Workshop's official scheme, that's your choice too. (Cue Rush: Freewill.)
This was confirmed to me by a Games Workshop employee. If you want to paint Grey Knights pink, feel free. So long as the model is painted completely and based, you should have no problem playing in any tournaments or store. The only bad paint scheme is the one that you don't like.
My Marines' colours are based on their history.  Like most of the Blood Angels' successor chapters, they have a fetish for red armor.  Their gold trim comes from their time fighting in the Battle of Terra where the founding members of the Vengeful Seraphs chapter fought side by side with members of the Adeptus Custodes—the Emperor's elite bodyguards who wear all gold armor. Marines of higher ranks will have more gold on their armor.
Before the miracle of Saint Jamyl, their wings were black, mourning Sanguinius, but after the miracle, they painted their wings white to echo Saint Jamyl's armor.  Assault Marines paint their helmets and jump packs white as well.  The Marines of the Vengeful Seraphs chapter view the Black Rage as a sort of blessing and paint their armor white and gold before they go off to die in glorious battle.
Right. Back to painting!
Cleaned and Primed
Now that I have all my pieces cleaned and primed, I start painting and building my Marines from the ground up: legs, chest, arms, overly-large shoulder pads, weapon, backpack, then head.
Before that, though, I should go over the equipment that I use, in a little bit more detail. I know I covered it earlier, but that was ten pages ago.
First, the brushes that I use are not Games Workshop except for their dry brush. That works pretty well, but most of their other brushes are not that great. I have Winsor and Newton Series 7 sable brushes in 00, 0, and 1 sizes, and their Professional Acrylic Colour filbert brush in size 2. It's also a good idea to invest in a bottle of brush cleaner and restorer. I leave the brushes that I used in the restorer overnight to ensure they are in good shape for the next day. I bought some pyrex test tubes on Amazon for the purpose of soaking brushes.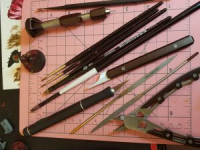 All the Brushes and Tools I use.
Next, you will need to make a wet palette. We're going to be thinning down the paints so they apply smoothly and evenly. If you don't use a wet palette, your ridiculously expensive paint (per ml, Games Workshop paint is more expensive than Crystal champagne) will dry out and become useless. Simply put, if you are not going to use a wet palette, don't bother painting. Luckily for you, it's really simple to make. (Of course, if you're lazy, you can buy one on Amazon. I have this, haven't used it, so no idea how good it is.)
I use a top that I got from a Chinese takeout box. Then I got a few paper towels, folded them and poured in a lot of water, leaving some standing on each side of the paper towels. Finally, top it with parchment paper. Reynolds brand works fine. Make sure the parchment paper is saturated with water. As the water evaporates from the paint, it will be replenished from below. Eventually it will dry out, but it should be good for hours. If you use an airtight container, your paint will stay good for a long time.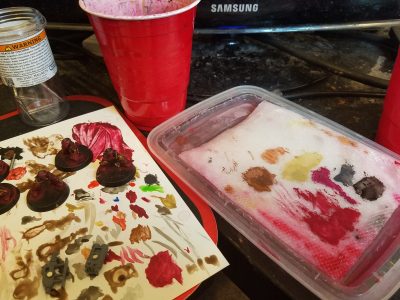 Wet Palette on the right. Dry Palette on the left
Finally, a couple of note on your paints:  Thin your fething paints. Games Workshop paints are pretty thick. If you take it out of the pot and slap it on the model, it will clog all the details, and dry in a lumpy kind of way. Not good! Not good at all. My second miniature that I ever painted, way back fifteen years ago looks horrible because I painted out of the pot. I didn't know better. Now I do! Just use some water and your palette to get it nice and smooth. It will apply better and flow from your brush better.
How thin is too thin? When the paint is so thin that it's impossible to control. The wet palette will help thin down your paints naturally, so don't add too much water. Remember, it's easy to add more water. Taking it away usually involves waiting for a few hours. For me, that just means that I have time to write the next paragraph. To you, it might be that you have to twirl your thumbs.
If you're using Citadel paints, you also need to remember not to thin out your shades. Shades, like the Agrax Earthshade and Nuln Oil Shade I'm using, are thinner pigments Citadel puts out specifically to be able to flow into the crevices and give you those shadows. More on that when we get to it.
Now that the equipment is out of the way, painting is simple. Pretty much everything is done in three steps: base, shade, then highlight. There are certain exceptions, but only for very special effects. Because these are tactical Marines, I don't highlight too much, compared to Games Workshop's in house painters, which highlight every fething thing. I have thirty of these things to paint, and they are the most basic units.
The most prevalent colour on my Marines is their red armor. For that, I use Khorne Red. I use the filbert brush (which for some reason has a handle longer than my forearm) and apply a few thin coats in a roughly blocking in colour sort of way. Then, on the last pass, I use my magnifying glass lamp to make sure everything is covered.
Now, with your paints thin, the first coat might not evenly cover the paint beneath it. That's fine. Just add another coat once the first is dry. Since the coats are going to be thin, they will dry more quickly. Once the colour is consistent and even, you can move to your next step, shading.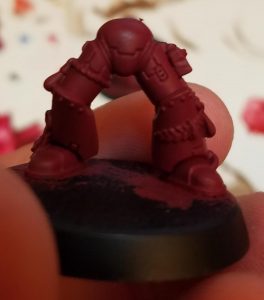 A model before shading.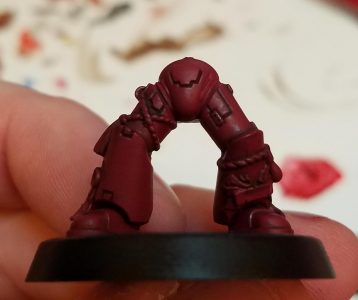 A model after shading.
Shading is like an inverse highlighting. For the shade, I use Agrax Earthshade. This is a brown shade, a very thin and watery pigment designed to flow into creases and darken them. Brown works well with red and looks more natural than a black shade. Paint the shade into the recesses and details and let it dry. Bam! You've given the model a lot of depth and it wasn't hard at all. Important note: do not use the wet palette for your shades. Use a plastic, non porous palette.
Now that the armor is done, we can move onto the other details. The highlights will be done last. Also, this is done in paint. If you make a mistake, paint over it and fix it. It's not like we're sculpting with marble here and one accident with the chisel turns David into "Very Pretty Eunuch by Unknown Artist That Was Definitely Not Michaelangelo." If the worst comes to worst, put the model in a glass of Simple Green overnight and then clean all the paint off with an old toothbrush. Once it's stripped, you can start over. Like Bob said, no effort is wasted so long as you learn something.
On the subject of learning, when I started, I kind of felt myself wishing that I had a couple of practice models to try things out on before I started on the others. Then it hit me: these are tactical Marines. They are the most basic unit in the entire army. They are my practice models. I should experiment and make my mistakes with them (so long as these mistakes are not horrid), so that when I get to the more elite centerpiece models of the army, I know more or less what I am about. Still, though, I treat every model as a practice piece. Don't be afraid to try things.
The joints of the armor, I paint in Abaddon Black. There are raised ridges that will need to be highlighted with Eshen Grey, and the highlight is the hard part. The raised ridges are really too small to highlight individually with the point of the brush, so using the size 1 brush, I get some slightly thinned (do not over-thin this paint) Eshen Grey on the brush. Making sure not to get much on it in the first place, I think drag it along the dry palette to get the excess paint off it and make one side of the brush very flat. Then I barely brush it against the raised ridges, following the grain. After that, I shade the whole thing with Nuln Oil, which is a black shade. (I'm actually going to try and experiment with a Nuln Oil Gloss to see how that looks, but I just got that today.)
Now that all the detail is really visible, it's time to do the features that will be shaded with Agrax Earthshade. Technically, it's okay to do the recess shade after this step, but I've found that it's easier to paint when the model is shaded. For all the ropes and paper on the purity seals, I've chosen Zandri Dust. All the wax of the purity seals will be painted Screamer Pink. Amd for the gold parts, I'm using Balthasar Gold. Once the features have their base coats, shade all of them all over. Again, I'm going with Agrax Earthshade. This is not only a recess shade, everything needs to be covered, but not too much. The shade in the recesses will also help hide the border line between the red of the armor and the dust of the rope. It's good stuff. Let that all dry. When it has dried, it's time to highlight.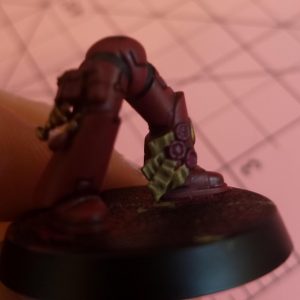 Shaded, but not highlighted purity seals
Purity seals with highlights.

I usually use the size 0 brush for highlights. The most important thing about highlighting is that you have to keep the dark areas. Bob taught me that a long time ago. Without dark, the highlight just becomes a base. The purity seals and ropes are highlighted with Ushabti Bone. Just pluck out the raised part. The trick to this is not to have too much paint on the brush and twirl it as you drag it through the paint on the palette to get a good sharp tip on the bristles. The sable brushes hold a very good tip, so make use of that. Make sure it's not too thin either. If your paint is flat out watery, you're going to have a bad time. For the parts on the tassels, I use the side of the brush to just pick out the raised parts.
Gold, I'm highlighting with Gehenna's Gold. Just like with the purity seals and ropes, only paint the raised parts. Finally, I highlighted the raised parts of the purity seals with Screamer Pink (which I swear to God, I just had, where the hell did it go?).
(Never mind. I found it. Hiding behind the Khorne red.)
So, the good news is that these techniques work for every purity seal and rope and gold part of the entire model. If there's rope on the backpack, it works the same way. Gold on the bolter is painted the same way. It's like Bob's mountains. Once you know how to do one, you can do any of the others, just changing the shape.
Before we leave the legs, I highlight just the top of the kneepad and tip of the toe of the boot with Wazdakka Red and a fine highlight of Squig Orange. This is low effort, but high payoff.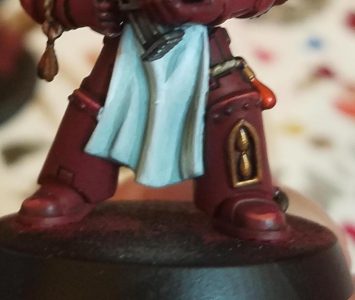 Highlights. I was hoping to have a set of legs only for people, but apparently deadlines are a thing?
Then it's time to move to the torso. It's based in Khorne Red and shaded with Agrax Earthshade just like the legs. The chest piece has two features to it that will need to be given some attention. The first is the metal bands on the stomach part. Those are painted in Leadbelcher and then shaded with Nuln Oil. Quick easy work.
For me, the eye grabber of the model is the wings on some chest pieces. The official Blood Angels' paint scheme has that painted black with grey highlights. Boring. I paint my wings white. The important thing to know about painting white is that most of the white, is not actually white. Three colours and a shade are going to be needed. Celestra Grey, Ulthuan Grey, White Scar, and Nuln Oil.
After painting the center icon on the chest gold, using the technique for gold, I basecoat the wings with Celestra Grey. Two thin coats is usually enough. Then I shade the outside of the wings, the middle line of the wings (see picture) and the part where the wings meet the gold icon with a very light bit of Nuln Oil. After that is dry, using my size 1 brush, I get some not too thin Ulthuan grey and drag it on the dry palette to flatten the side of the brush and remove excess paint. Using the flat side, I highlight the feathers much like I highlight the ridges on the armor joints. Finally, I use the tip of the size 0 brush to highlight the very top line of the wing in White Scar. This really gives the wings depth and makes them look good.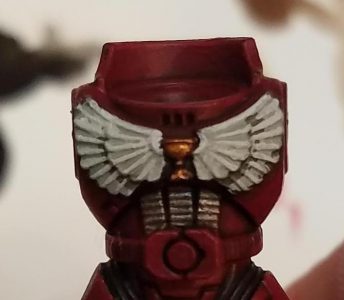 I promise this looks great from twelve inches away.
 The wings technique works for all the wings on shoulder pads, leg plates, backpacks, etc. However, with the smaller ones, a Nuln Oil shade is not necessary in the middle.
After that, I paint the arms. There's nothing on them that hasn't been covered. Purity seals, ropes and gold icons are all painted the same. Joints are also painted the same. The bolter is where it gets fun.
The silver part of the bolter is done in Leadbelcher and then shaded completely with Nuln Oil. If you wish, you can pluck out some highlights with Runefang Steel. I maybe do the bottom of the magazine and the top left corner. The top of the bolter is painted Abaddon Black and then highlighted with Eshen Grey. For the lense looking thing on top of the barrel, I paint Leadbelcher and then use the technical colour Spiritstone Red to give the impression of a laser pointer.
Important tip, learned the hard way: make sure the bolter and arms all line up on the model before gluing, or you will be like me, cutting pieces apart with a knife and trying to fix semi-melted plastic where I couldn't get the pose right. Thankfully, the damage is mostly hidden by the shoulder pads.
Speaking of shoulder pads, they're next! Fortunately for us, and my word count, there's nothing on them that hasn't been done before. The gold, the wings, and the scrolls are all done the same as before. See, we're learning. Find what works and repeat it.
For the backpack, I paint them the same as the armor. There are exhaust and heat fins that are done in Leadbelcher and then shaded with Nuln Oil. All icons and other details are done as all the others.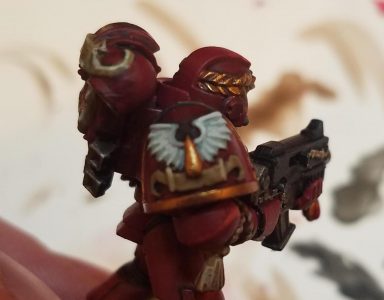 Shoulder pad and backpack.
For the head, I leave that on the sprue and use plastic vice grips to hold. The reason is that the eyes require precision to do. After basing with Khorne Red and then shading with Agrax Earthshade, I use White Scar and make a small line in the eye sockets. If I mess up, I paint over it and go again. Mess up three times and into the Simple Green it goes to get stripped. Once I have the line of White Scar correct, I use Waywatcher Green glaze, just a bit, in the eye socket. Once the eyes are done, I paint the rest of the helmet in line as the rest of the model and glue it together.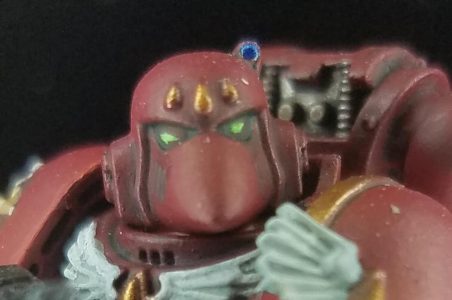 Eye detail. Not totally perfect, but still good enough. That is also dust. I have a cat.
For the blood drop gemstones, I use the technical paints designed for gemstones: Spiritstone Red and Soulstone Blue. I'm working on finding a good way to mix them to a purple, which is a work in progress. I will say that blue really pops on the model. There's already a lot of red. Use Stormhost Silver to basecoat and then use just a bit of the technical paint, unthinned to drop on there. For the vials of blood, I paint the whole thing Khorne Red. A third of the way up and above, I paint Wazdakka Red. Two thirds of the way up I paint Squig Orange. At the very tip top I paint a small bit of of Auric Armor Gold. I paint all over that with Spiritstone Red. It gives it a nice shine and a colour gradient that makes it look more like a blood vial.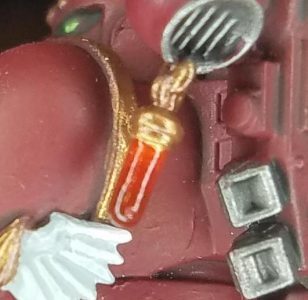 Blood Vial
The model is complete. And since I've not really gotten to basing mine yet, I'm not going to cover it!
When all is said and done, I've killed a heck of a lot of time painting instead of myself. I have something to show for it, and hopefully soon will be fighting it out on the table with actual live people in person. If this is decently well received, I might do another article on painting some of the more elite models in my army, when I get them.

I have attempted to base one, using the snow paint. I'm not quite happy with it.
(No, Games Workshop did not pay me to write this. However, I am more than open to them doing so!)