At the time of the Olivia scam, the scammer and his corp, Storm Tribe, were a part of Krab Republic. They issued a statement to distance themselves from Storm Tribe. The corp moved to a different alliance, Legio De Mortem, a few days before the scandal broke. The following post originally appeared on the EVE Online Public Group, from the Alliance Executor of Legio De Mortem, and covers his own investigation into the inconsistencies surrounding Storm Tribe corp. As part of our continuing coverage of this story, TMC/Imperium News is happy to reprint it with his permission.
After reading the article exposing "I am Olivia" as a scam, that most of us have already read, I was quickly put on my feet as to how one of my own corporations was pulled into this. I hoped to god it was not true and naturally was defensive of one of my corporations. I popped down in teamspeak and started to talk to all of the Storm Tribe members and started asking simple and direct questions. Most of them were very defensive at first, trying to protect their CEO and their corp. "Have you ever talked to Oliva on comms?" the response across the board from all of his corp was no. No one had ever seen or talked to this person? This was at the point when i started to get a little suspicious about the situation.I started doing some more digging and reread the article with a new perspective. Now to go where this goes next we have to go back a bit to early august. Noah Dupont posted a type of B4R post about him coming out to others and needing help from the community.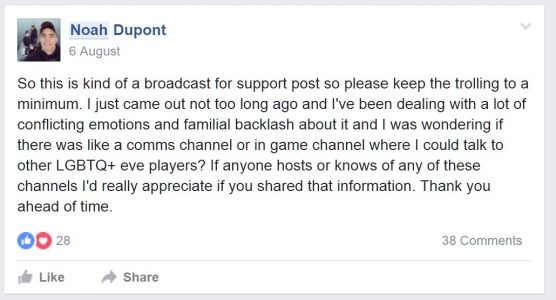 Being the awesome community we are, he had broad support from everyone in the community. I reached out to him and talked to him. He had struggled a bit with ISK, and I wanted to help him out so I sent him plex and skill injectors for a Sin that he wanted to skill into. I started talking to him more and more and started to like him a lot. Even made plans to meet up with him at Eve Vegas coming up here next week. He then revealed that he was having troubles in his alliance Krab Republic and may be leaving. He then started asking questions about how my alliance operates and our rules in null sec.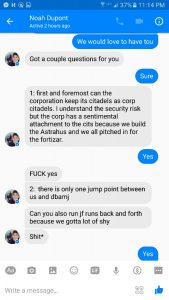 I answered them, but the next part threw me off. It showed him calling himself the CEO and then correcting himself to call himself CO-CEO.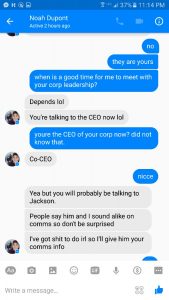 Now to spring back to current times, I started asking his corporation members if any of them have ever heard of this Noah character. No one had heard of him. So you are telling me that no one has ever heard of him or talked to him on comms and he is the corporations CO-CEO? Now what does this have to do with the Oliva incident? Well, it has to do with the person that created not only Noah but Oliva and her entire family. Now to spring back and gather more information on this Noah character. I continued to do more and more research on this and the way that this man talked, we had chatted on teamspeak multiple times and this is where it got even more interesting for me. When i finally got to talk to Jackson Thrane, Noah was nowhere in sight. Not only that but right before Jackson Thrane connected to teamspeak, Noah said this,now not only did this picture look and sound weird but the fact that he had the same teamspeak logo's assigned to him (lgbtq tag) and a (friend tag) and had the same avatar photo as Noah. Past that he also sounded identical. I was thrown back by this but was willing to toss this off as I had no reason at that point to not believe him. Could have been using Noah's PC right?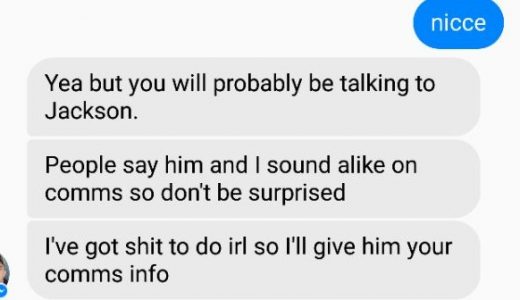 Well more and more stuff at this point didn't add up. Noah after their corporation joining my alliance was nowhere to be seen. His excuse for this was he was in a car accident. I was willing to believe this as I liked his corporation and him. Now, with all that is happening recently, I recall all of this and do some more digging. The corporation's previous CO-CEO, Alexsis had never heard of this person and was one of Jackson's real life best friends. This all made sense after reading this article in the Imperium News about a person creating identities and pretending to be people there were in fact not real. However, this was not nearly enough evidence for me and so I kept digging. I wanted to start right at the beginning where it all started. Where the accusation of the bullying that had taken place. 
I asked Dreamslayer Anzomi (one of the players accused of the bullying)to join my teamspeak so I could speak with him more about this entire incident. He told me how his alliance ripped him a new one asking why he would ever do something like this and how terrible of a person he could be for this. He had no idea in the beginning as to what they were even talking about and past that asked for the logs that proved that he did any of this. At that point he brought another supposed bully on. He had the same story, except he could prove he wasn't even on that night and alliance leadership verified that. So then this started to sound like a personal vendetta to me. Why would this person create a fake suicide? Why would they do all of this? All the normal things went through my head attention, fame, to gather ISK or was it a vendetta?
I kept my search up, and brought Marrowbone (Executor of HADES) onto my teamspeak. She had the same story, she ripped her members a new one and went off and was on the verge of kicking them. But nowhere could the logs be found. She even reached out to B4R and they had nada. So you're telling me, no one has any logs of what happened? I reached out to B4R myself and they have no evidence any of this has even happened. At this point all of the evidence is pointing to agree with the article that i had read over and over again at this point. I kept on looking for evidence, i did not want any of this to be true. I kept on talking to his corp members, explaining all of this information that I had gathered. They found it more and more interesting, but none of us were convinced yet. I kept on looking for more information about this Oliva character and a fellow eve player had helped me out and sent me few messages on facebook explaining that he had saw my post and had come to read the article and wanted to see if we could help him out and see if there was any way we could get his ISK back that he had directly donated to Oliva for something. At first I was far too busy and kind of chucked it off, but entertained him a bit and saw something that made me jump.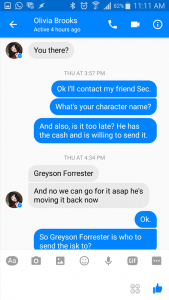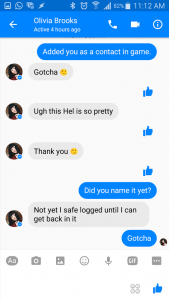 So what is so special about these two pictures of someone giving her the money for a Hel? Well funny enough, Jackson Thrane had bought a Hel that same exact date at that same exact time. Now to throw you back just a little bit. A corporation in my alliance was leaving the alliance due to their corporation wanting to go a different direction (they left on great terms). One of the corporation members was selling a Hel and had asked the alliance members first and foremost if anyone wanted to buy it. Jackson Thrane started badgering me every single day for about a week if I could help him out and buy it for him and he would pay me back. Every single time I said no, I do not do loans. Each and every time he got annoyed and stopped asking for a bit and would continue. Then all the sudden out of nowhere he stops asking and says that " one of my friends that owes me 10's of billions of ISK is finally paying me back. " Keep in mind this was said to me just hours before the buying of this Hel. Also keep in mind, no one has seen Oliva on teamspeak and has yet to see her online and this Greyson Forrester person was never to be seen and was only ever recorded ONCE talking in corporation and that was at the same time that Jackson Thrane was talking about the new industrial arrays coming out.
[ 2016.10.07 20:22:04 ] Greyson Forrester > https://imgur.com/a/WAUE7
That was the only time anyone in the corporation, could find in their chat logs that they searched on their computer him talking at all. So something else to point out here as well. Jackson Thrane had not once ever told us anything about him getting the Hel FOR Oliva or anything of the matter.
He would not stop talking about how he was getting the Hel for himself and we now see proof that this "Oliva" is talking about the Hel being so pretty. How did she ever see it, and ever get access to "fly it" as she states in this picture if she was never online in the first place? Now to add something else to this mix of BS that is circling Jackson Thrane. As many of you know, I Want Isk owner, Eep Eep/Iwantisk was going to donate a Keepstar to "Oliva" to help her out and make it a B4R haven. Now around the time that this was brought up Jackson Thrane convoed me in Teamspeak and asked me if i had any questions about the Keepstar that was going down. I had said I would, of course, want to talk to Oliva herself about this as it is her that is getting it. I wanted to talk to her mostly because as many of you know, it is a huge thing to get a Keepstar and in the wrong hands is a HUGE security risk. He then proceeded to get very defensive and would not allow me to talk to Oliva and said he was the CEO and I didn't need to talk to her. It wasn't really going to be hers it was going to be the corporations. I had denied his request to not speak with her and had asked to speak to her whenever she was well again. He stopped talking to me in the chat and didn't bring it up again. Shortly after that was when IWI was banned and it was no longer worth bringing it up as it was no longer an issue. (keep in mind this was already a huge red flag for me at that Oliva was not willing to talk to us about this massive investment in my space)
Now to spring back to yesterday when all this research was going on. I asked over and over and over again if Jackson could get me the logs to prove that he was in fact not guilty. Even his own corp members at this point were leaving his corporation due to the distrust they now had in a person they had followed and liked. I mean, after all, he did post over and over again in this same group that he was going to post the logs. Well, it has been 19 days and still nothing has been seen of these logs. I asked for him to get Oliva on TeamSpeak and he said yea i can get her on but she is on her phone and won't be able to send you the logs. I still would have loved to have talked to this Oliva, even in chats or just her voice. Nothing at all. I thought well that is very convenient.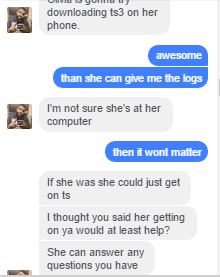 All of this adding up to nearly 12 hours of research that i had done. I had talked to numerous people and had gotten his own corp mates to do their own research. Warbaker one of his previous corporation officers started doing research on some people in Jackson Thrane RL affairs. Maybe he had created other fake people that were directly linked to him. He looked into his brother and he was 27 years old and was a lieutenant colonel, and had also switched more than one branch of the military. With only 7 years it is impossible to be that rank in the military. The youngest recorded person of that rank in the military is 36 years old. So now he is surrounding himself with fake people and they are also all gay and all talk and type the same.
The person who donated the super money to "Olivia" was kind enough to send me all their chat logs, so, me and his previous corp mates sifted through all of them and she sounds identical to Jackson. These show her talking just like him and his corp mates can confirm.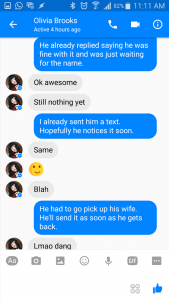 Now that in itself is not enough to be enough to make him sound suspicious, but all of this put together? Even after all this, I was willing to hear Jackson out, so late last night and into this morning we had a long and in-depth convo.
During this convo I was very calm and brought up the majority of all these concerns posted above. Each and every one of his answers from him was convenient. He even confirmed to me and the other corp mates that yes, this Noah guy, was the corp CO-CEO. But no one had ever spoke to him or let alone seen him! He even said that this Noah guy was his roommate. To put that in perspective his corporation members and himself video chat almost every single day. They have not once ever seen or heard of this guys existence. Even his long time friend that has known him for a year and a half had never heard or seen him.On the Oliva thing he said that Oliva was just out of game and didn't want to talk to people. But she just bought a Hel? He said the Hel was for oliva and that OLIVA was the one who sent him the isk to the character. WHEN we just saw that is not true in the chat logs between the guy and her. Kept saying that "Oliva" never wanted any isk and in this photo we can see that is clearly not true. In this photo we can clearly see she asked for the money.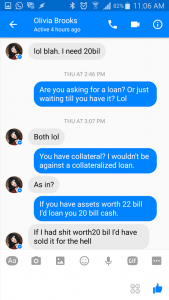 This entire time, he is falling over himself and is stumbling and continues to lie. I then bring up the Keepstar red flag mentioned above. Then goes off and starts screaming at me that I am now over the line. That she was in the hospital and I am a terrible person for wanting to talk to her then. I tried saying i would have been fine to talk to her when she was better but he ended the call.
Now to end all of this, if you do your own research, all of these people in this big lie are never seen together and have limited posts and limited pictures and yet none of those photos have each other together in it. So my conclusion?
My conclusion is so: Jackson Thrane is the culprit behind all of this. He created all of these personas to get people that he argued with banned from this game. (People even in his corp have known him to be petty, and take things to the next level.) He was acting alone and his entire corporation has fail cascaded. No one is supporting him and everyone has abandoned him. To add to this, this super that he stole money for has been taken and the Fortizar his corp owned has been transferred over to me by his own directors. His corporation has been kicked as of this post.
I want to thank everyone that has helped me come up with all of this. I want to thank the B4R community and these group admins.
Thanks,
Kris Tyrell
Alliance Executor