It is that time of the month again. Time for your healthy assistance of graph porn. The Monthly Economic Report is out!
As expected it is another month of showing just what space occupancy focused living can produce. Delve has once again dominated, well pretty much everything. Again.
Now before you say it, YES I realize it isn't news that goons are still pushing the production numbers of Delve up. Nor is it news that the Imperium is making so much money that the rorquals have rorqual alts. The news is in the scale of things.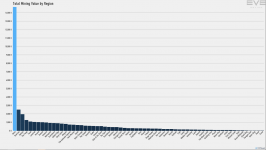 You are seeing that right, Delve has between 6 and 7 times the amount of mining as the next closest competitor. I am going to go out on a limb here, and without actually trying to do the math, say that Delve has out mined if not all other regions combined, then close enough as to not make much difference.
Also, keep in mind these are the numbers for October, they don't include moons at all. Once those numbers start hitting the MER, you can expect a significant uptick. For the record, I personally hate to mine. A lot. Though even I have trained up Exhumers V, to get in on the land rush from moon mines.
NPC Numbers are much the same.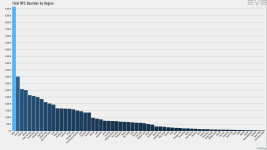 We are only about twice the closest competing entity here, instead of many times over. Which only goes to show how effective mining is despite repeated attempts to nerf it. The rest of the data is what we have come to expect. Production numbers are very high with a healthy dose of dead ships to balance it. There is more activity in highsec for trade, but Delve is about to bump Amarr out of the number 2 spot.
And so on and so on.
Really, this months report is more of a benchmark, than anything in the way of news in its own right. It will be the last look back to see just how significant the mineral, moon goo, and overall production markets get changed by the new moons and their refineries.
If they have gotten the balance right, we will see some shakeup but overall we will see it all come out in the wash. A bit easier for the little guy to get their hands on some moon materials around the edges, which I don't think is a bad thing. If they didn't get the balance right, well who knows what it could spark. Too far to one extreme and we start seeing markets glut, too far to the other and we see them spike. I'm not willing to speculate either way at this juncture.