Note: "Skill extractors" are empty "skill injectors"
Months ago, CCP noticed a trend: the majority of players leaving EVE were those in the 6-24 month old zone. At EVE Vegas, CCP Rise and Executive Producer CCP Seagull made it clear they were out to retain these struggling players by offering 500,000 SP injections to get them past the "waiting for skills" roadblock. CCP needed to get those players unstuck so they could join their friends, and any side effects caused by injectors would be worried about later.
The playerbase's initial reaction to injectors was hostile. Most players couldn't even explain why they hated the idea, but it felt fundamentally unfair, though this idea was nothing new. Long ago, players would buy game cards (30, 60, 90 days) and sell them to each other in-game through a chat channel. CCP formalized a process to trade via ingame mail, which evolved into a forum outside the game: Timecode Bazaar. That forum's function, selling purchased time for ISK, was brought into the game itself. The PLEX market was born.
Skill points have a parallel story. CCP's lax enforcement of account sharing and trading was eventually formalized as character trading through a forum: the Character Bazaar. Rules and guidelines ensured the process was transparent and safe. Now CCP wants to bring that into the game too, through skill injectors.
Both PLEX and skill injectors are commodities that allow the unlocking of ships, modules, and various forms of gameplay (exploring, overheating, mining). They may work differently and have different waste ratios, but they get you to the same place, skill-wise. It all depends on the markup for cutting through time and organizational effort.
That "cutting out effort" may be the Achilles Heel of the injector concept, and the reason so many veteran players distrust this concept.
EXTRACTOR PRICING IS NO MISTAKE
(update:This section is now outdated due to CCP realigning its price structure on extractors and having a 1 month sale on Aurum.  They have also added gifted extractors to resubscriptions. After Febuary, the Aurum prices will resume to levels depicted here.)
The final ISK price of skill injectors will profoundly influence EVE. If priced too low skill injectors could spread widely and destabilize game fundamentals, like progression track, recruiting trends and overall perceptions of fairness. If they are priced too high, they make retention issues worse for struggling players who cannot keep up with the ISK grind needed to stay competitive.
CCP announced its skill extractor pack price: roughly 1000 Aurum ($5.55), with discounts for buying in bulk, just like PLEX and Subscriptions. Since EVE players are who they are, this means farmers will do the math, and bulk buy everything (PLEX, AURUM, extractors) in order to produce the lowest price possible. That reality is why CCP priced extractors as high as they did, and why normal players scoffed at the high price.
CCP went a step further: They purposefully misaligned the rates of Aurum, extractors, and skill levels to make a an inefficient system. Each extractor tier price falls just below the amount needed for the pack, forcing you to overbuy. To buy one extractor (1000) you have to buy $5.55 worth of Aurum (since $5 buys only 900), so you pay $10 instead. If you want to buy a 5-pack, you have to pay $25. This is set up to leave you with unused Aurum to be used later on more injectors, or on items like outfits or ship skins.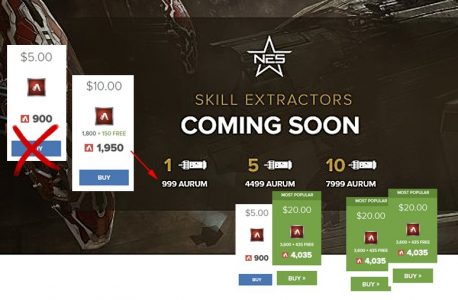 Note the downright insulting x99 aurum pricing for packs, like 1/1000 of an extractor will eventually add up to something. *This has since been corrected to 1000 per extractor.
Skills vs Injectors also break down inefficiently:
Each pack holds 500,000 SP, not 512,000. This will be frustrating when trying to knockout prerequisite skills that need to be level 5. If you want to get a rank 2 skill to level 5, you will fall just short with an injector, and be forced to buy another or train a little.
Taken together, these inefficiencies pressure you to overbuy. This high demand makes market prices go up. Most see this as a money-grab by CCP, but it really serves a different purpose: Offsetting SP farmers efficiency.
Even non-farmers will get in on the action. Once they have no use for new skills, the characters will park, with +5 implants and a favorable respec, to fast track SP creation for monthly harvesting: A new passive income. For most players, hedging bets on attributes will give way to hyper focusing on Perception skills (for piloting) and the Intelligence support skills (engineering) can just get injected. Even Charisma skills for tax reduction and social standings will get attention. Overall SP will go from the medium 1969 to well over 2000 SP per hour.
PRICES
Doing some napkin math, the overall price of each skill injector should land around 700 million, considering the extractor will cost 350 million, and the SP needed to fill it will cost roughly the same. This puts the injectors at roughly 60% the cost of PLEX, but the PLEX will get you three injections worth of SP, not a good trade off.
All the pricing and models you read will change because there are so many different pressures at work. The EVE marketplace is often illogical, with items being sold far below what it costs to produce them. Most player predictions of how much the extractors would cost were off, and so will the market predictions – including mine. I'm not convinced CCP itself knows how this will shake out, but they want to error on the side of having high priced injectors, even though CCP Quants presentation indicated that players did not pay an "instant skill" premium on the character bazarr.
A large percentage of skill injectors will never make it to market.  Players will redistribute skills among their own characters, making alts more efficient. Expect many badly named characters to be stripped and biomassed, as players revisit earlier decisions and reverse them.
SP SINKS AND FAUCETS
What is certain is that EVE will see a faucet of SP open as players harvest redundant skills and unsubbed accounts, some with a CCP gift of 5500 Aurum on them. Countering that SP faucet will be the drain of 20-40% SP when skills are injected, since most players able to buy will likely have between five-to-eighty-million SP.
Less than 5,000,000 skill points trained = 500,000 unallocated SP injected
5,000,000 =  400,000 SP injected (20% loss)
50,000,000 = 300,000 SP injected (40% loss)
80,000,000+ = 150,000 SP injected (70% loss)
Once a character reached extraction maturity (5.5 million SP), it can never again inject at 100%, so there is a one way door for all new characters and alts. Which is an interesting block to the "blank slate alt" that morphs into whatever low SP form is needed; cyno alt, bomber, explorer, etc. You can still make the faceless alt, but it always cost you in SP overhead.
SKILL POINT DISTRIBUTION
It will be interesting to see if the SP distribution of the player base flattens. This graphic shows that the vast majority of main characters is under 50 million SP (3 years old).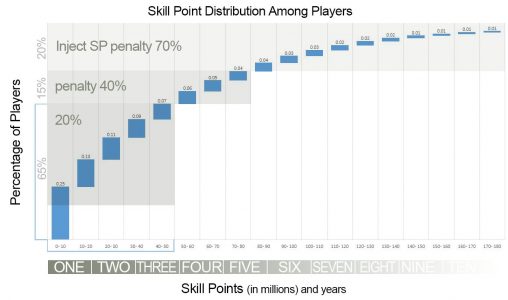 "This is taking the primary character (highest SP character) on each active account and putting it in a 10 million skill point bucket and then showing the % of primary characters that fall in each of those buckets." – CCP Rise
As illustrated, most players will be losing 20% SP. My information does not differentiate between the 5 million and 10 million SP groups, but estimating by using the curve helps. Probably 15-20% of characters will see no penalty when injecting.
The reality is most active EVE players have been playing for less than three years. We know 65% of all EVE players use only one account, so the majority of this "newbie population" is real. Even if one-third are alts, they would still be the majority of total EVE players. This makes sense considering Asakai was three years ago, and a strong influx of new players arrived after that battle. They came looking for action, and CCP is busy lowering as many barriers of entry as they can, to get them involved.
Over time the skill points spread will flatten out, as veterans shave off skills and new players inject them. This will help close the veteran to new player 12-year skill point gap.
THE WINNERS
First-year players will mostly be priced out of the market, but real life income can provide the capital needed to get "unstuck through injecting." Without outside money, the isk grind will be a tall order for them. Earning hundreds of millions in ISK takes a huge investment up front. The good news is that if their character is under 5,000,000 SP, they get the full benefit of the injector.  That means multiple skills shoot up to level 4 and open progression pathways quickly. Will there be a division between newbie have's and have-not's, and if so, will it discourage new players that can't pay to progress?
The big winners are Corp CEOs that can now insist that members skill into doctrines. When Carrier skill requirements changed, all NC. pilots were expected to fly Archons, no excuses. More doctrine fleets sharpens the contrast between fleets. Knowing what your opponent is flying and using the hard counter will become more pervasive. Already, some fleets to not undock until their spies tell them what the other guys are in.
Recruiting will be easier for corps that offer an SP Injection plan, or an alliance wide subsidy like the current SRP. The SP difference between a go-it-alone player and one that joined a financially-backed newbie corp will increase. Fitting skills will be an afterthought for sponsored pilots. This is an overall buff to nullsec alliances, where FCs command large numbers of pilots through fleetwarps, maneuvering, and targeting. Areas of PVP where the pilots actually have to fly (low sec and wormholes) will benefit less, since players with injected SP will still need to take the time to practice PVP.
RISKS
If injecting skills is a cost effective way to progress, the major risk for CCP is a massive destabilisation of incentives to play EVE. Cutting out time is one thing; cutting out the hassle is another. Every little thing players overcome is a brick in the wall, a victory that motivates them to the next goal. Small goals leading to big goals drove retention for years. Gifting someone progress is actually stealing an opportunity for that dopamine hit.
Cheapening character progression might turn training into "character fitting." A player could have his favorite named character go through careers; a year as a miner, then stripped and rebuilt to explore.
The overall balance of the game is also at risk.  If players start gaining SP faster, and using injectors to shore up skills they are not respecced for, the progression will become a lot fast for most. This means faster access to high-end content on an equal footing — you won't have to use a T1 ewar frigate to participate. At first that sounds great, but faster progression means faster exits.
We've seen Brave Newbies and TEST shave off dead weight, and it wasn't pretty. Maybe they left because they did not progress fast enough, but they may also have not been characteristically the right match for EVE in the first place. EVE is not fun. It is torture. At best, a two-hour slog for 15 minutes of heart pounding stress, and post combat shakes. Speeding that up might cheapen it.
CONCLUSION
Now that CCP has put out high-priced extractors through an inefficient system, the signal is clear: Injectors are not modules for characters, changing fits constantly. They are a massive SP (and ISK) sink for a game that has been around 12 years. The system should drain SP away, but there are so many warehouses of SP out there it is hard to know if it will work. At least the distribution of SP wealth will get flatter.
As for sacred cows, skill points as a marker of veteran status is over. Whereas corp history dates showed when a character was created, it didn't show how active you were. Many veterans will shave down skills they don't use anymore, altering the paper trail of their decisions over the years. In the psyche of the game, this is like erasing your scars or tattoos. Maybe that's the new reality: scraping away wrinkles, injections here and there to touch up those sagging spots, and newbies inflating themselves past their natural balance. Aging sucks, and at 12, EVE is an ancient MMO. Move over Hollywood; EVE is the new Babylon.