Yesterday an article was submitted by a reader which had a line in it that caught my interest.  The line was  "Perhaps an observer more suited will analyse and dissect the intertwined relationships between the above-named corporation and the supposedly free trade networks operational corps, a starting point might be Spontaneous Defenestration and its members."
As I had not much to do while off work, I decided to take a look at what they meant.
The corporation Spontaneous Defenestration is part of the holding alliance for the New Eden Trading Company citadel network. So, first a bit of background. The New Eden Trading Company is the network of freeported Keepstars and Fortizars across New Eden that was conceived by Lenny Kravitz2 as a neutral set of locations for traders to use in lowsec, which were strategically placed to service low and nullsec alliances. Full details from the launch of the network can be found here.
The network is controlled by Chribba, who has control of the ACLs for the citadels, through his holding alliance and corporations. Whilst the map for the keepstars and fortizars shows multiple keepstars, in reality, only one of the keepstars is in the New Eden Trading Company. The Maila Keepstar is owned by Care for Kids and they retain control of the ACL, and the Basgerin Keepstar is owned by Mercenary Coalition. More discussion of the NETC can be found on the most recent Talking in Stations and the aftershow.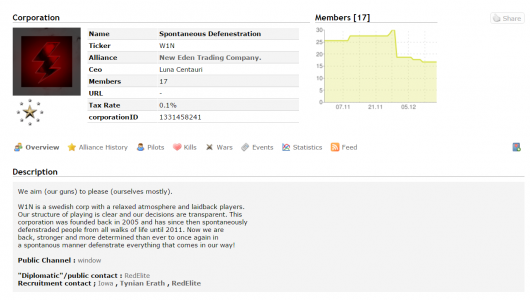 Spontaneous Defenestration are the defense corp within the alliance, and the only one that is not a shell corp owned by Chribba's alts.  This is where the Super and Titan pilots live who can pop out of a citadel if an enemy fleet lands.
The corporation has also been out and about doing things that do not immediately seem to be related to defense of the network, including dropping on ratters in Pure Blind, shooting Dreadnoughts in Tasti with Sniggwaffe, and blowing up haulers in Aunenen, the location of the only Keepstar which is part of the Network. The Nonni gate in Aunenen seems to be a particular favourite location for the corporation to launch defense of the citadel against very dangerous pilots.  This is problematic, as the NETC is perceived by many to be a neutral organisation, and the locations are meant to be freeports, so you would not expect a corp in the alliance to be killing people on the gates to the Keepstar, or out in nullsec killing ratters, or joining Snigwaffe to take down a Dreadnought.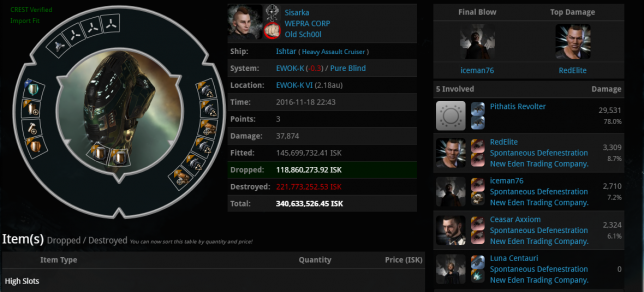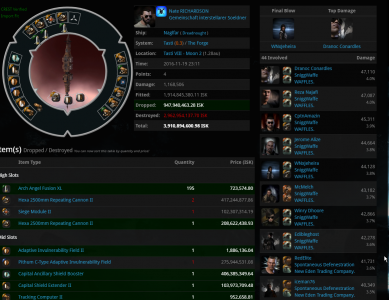 Many of their members have previously been in Svea Rike, a Circle-of-Two (CO2) corporation, including the listed public contact, RedElite. They were in CO2 until September, when they joined Spontaneous Defenestration. They stayed there until the end of November when they moved corp once again.
They moved corp to Reikoku, the Pandemic Legion corporation where C4W3 is the CEO. C4W3 is the owner of the Maila Keepstar.
Pilots of note who have made the move from Svea Rike to Spontaneous Defenestration to Reikoku are as follows:
Pilots with recent activity on Supers/Dreads/Titans
RedElite – Dreadnought Pilot – Svea Rike from September 2015 until September 2016
Telixa – Titan Pilot – Svea Rike from March to September 2016
Marco Wolf – Super Pilot – Svea Rike from January to September 2016
Jaime Summers – Super Pilot – Svea Rike from December 2015 to September 2016
Semtecs – Titan Pilot – Svea Rike from October 2015 to September 2016
Tessa Miner – Dreadnought Pilot – Svea Rike from May to September 2016
Ralg – Dreadnought Pilot – Svea Rike from April to September 2016
Pilots with older activity on Supers/Dreads/Titans
Mariachi Desperado – Super Pilot – Svea Rike from July to September 2016
Tynian Erath – Dreadnought Pilot – Svea Rike from April to September 2016
Nice Bear – Dreadnought Pilot – Svea Rike from December 2015 to February 2016, and again from April 2016 to September 2016
It could be claimed that the pilots left NETC due to the non-citadel defense activities they were involved in, but, several of the pilots on the various killmails are still in NETC, including the CEO, and the main pilot who kills things in Aunenen.
The pilots who have left for RKK do not seem to be actively involved in citadel defense anymore, certainly, none of them were at Gare last week when PL joined in the shooting of the Fortizar with their long-time rivals from The Imperium.  Instead, they are out and about with Pandemic Legion on normal ops.
If they are involved with the defense of the citadels, despite leaving the defense corporation, there are other issues that arise from the Fortizar destruction.
As per the NETC rules, if you attack any of the citadels in the network, you are locked out for 10 days from all points on the network.  The assumption has been made that PL are locked out of the network, but as of yet there has been no confirmation of this.  If they are, this means that PL are currently unable to dock, or tether at the citadels.  This means that it is now more difficult, but not impossible, to jump into network locations in a cap or supercap fleet if needed.  The lack of tether means that you are vulnerable as soon as you land on the field.
Locking PL out of the network would also mean they are locked out of Basgerin and Maila, where at least one PL corp has an office.
So anyone with an office in Maila… they randomly seem to be jacking office rent from 20 to 200m. NICE GOING THERE! #tweetfleet #wtf pic.twitter.com/KUTkWNGYNd

— Doomchinchilla (@Doomchinchilla) December 18, 2016
We reached out to Seraph IX Basarab of CO2 for a response to this article, and his reply was as follows (at his request, I have posted his full reply here)
"I've been asked by the 'Imperium News Network' to make an official statement regarding a handful of Co2 pilots that left this past September (some 3+ months ago) including two titan pilots. My statement is simply to say thank you to INN's integrity. Obviously this is a ground breaking report and we should be ecstatic at the enthusiasm and interest shown by INN regarding the rare instance where people leave their old corporations to join another one. Had it not been for the inquisitive investigation by INN, few would even be able to fathom such a thing happening in Eve. I cannot overstate the importance of such an event. This is in no way a continuation of petty vindictive bitter ex propaganda designed to denigrate Mitten's enemies who have only bested him by cheating, backstabbing, and with the money earned on the backs children addicted to internet video game gambling. Furthermore I believe INN could possibly further their investigation of people leaving their corps to whole alliances leaving coalitions. I have heard rumors that along with Circle of Two leaving, FCON, SMA, Razor and EXE have also left the Imperium. Using the abundance of integrity INN has inherent from TMC, I am sure they can also further provide articles on all of those alliances rumored to have left the Imperium in an unbiased and fair way, despite Goons clearly doing nothing wrong and it being the fault of every one of those entities instead."[
It is reassuring to know that CO2 were aware of this movement, and that the perceived neutrality of the network is not something that they find to be an issue, perhaps due to SUAS (Shutupandshave) having heavy involvement with the NETC, which may have been why the pilots originally moved over to NETC.  CO2 of course, also evacced their supers to the Aunenen Keepstar from M-O and then used the fortizar chain to move to another keepstar in the network for overnighting their super and capital fleet before moving onwards.
The move from NETC to RKK is also perhaps not surprising, if the pilots were unsatisfied with their role in NETC, as there has been a limited number of conflicts around the citadels, and perhaps they signed up for more action than they were getting (which might explain their excursions into null and their activity with Snigwaffe prior to joining PL).  As C4W3 is the CEO of RKK, and the owner of the Maila citadel in the trade network as well as being responsible for the day to day running of the network, any dissatisfaction among pilots in NETC would have come to his attention, and given RKK the opportunity to increase their member count, which is now up to 72 after the 12 pilots from Spontaneous Defenestration joined them.