Today, we continue our delving into the cooking efforts of KarmaFleet members. Dave Stark returns with some great-looking breaded chicken and stuffed potato skins.
Today, we are venturing into my friend's pinch of nom books again. Our first part comes from the same book as our last.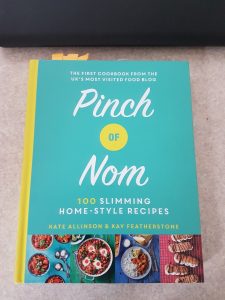 The Recipes
Today, we will be creating the Zingy Chicken Salad! (minus the salad, because that's the food my food eats).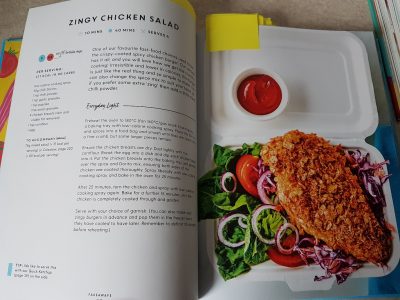 To go with our Zingy Chicken, we have a recipe from a companion cookbook – It'll be the buffalo skins!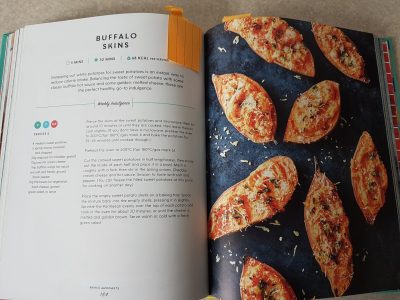 The Process!
After a nice afternoon walk, it was late-afternoon. Time for the fun to begin.
1730: First we prepared our sweet potatoes by giving them a good forking, to pierce the skins then bunged them in the microwave for 10 minutes while we made the crumb for our chicken by mashing up a bunch of spicy doritos with chilli powder, paprika, garlic granules, and onion granules.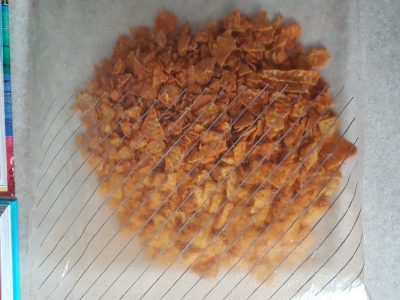 1736: Time to get messy – We cracked an egg into a bowl and scrambled it with a fork. Then we made our chicken run the gauntlet of cornflower, egg, and crumb in that order.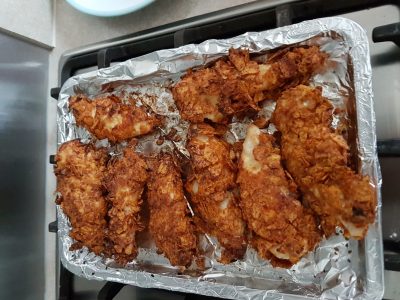 1749: The doritos were still a bit chunky as per the instructions, but I'd advise you crush it almost into a fine powder – the large chunks seemed to stick to each other better than they stuck to the chicken. Bundle them into the oven while you prepare the skins.
1750: With the potatoes out of the microwave and cooled, we halved them and scooped out the portion of the potato ready to mash. I mashed the potato with cream cheese and some chipotle paste, while my lovely assistant cut the spring onions and grated the cheese.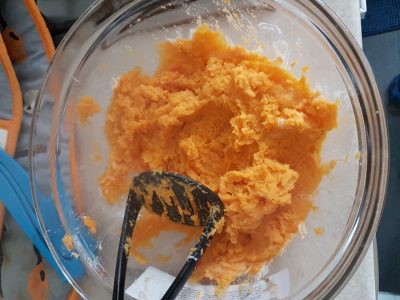 1800: After we finished faffing about (read: after the novelty of absolutely pulverising some potatoes with a masher wore off), we stirred in our onions and grated cheese, then loaded the potato and cheese mixture back into the skins.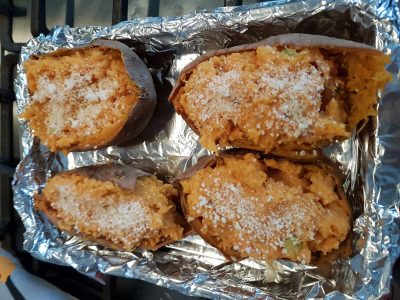 1805: We gave the chicken a turn and then bundled the skins into the oven to join them. Then I tried my hardest not to start an argument for the next 20 minutes while we cleaned up – the cornflower and egg splattered all over the worktop definitely wasn't me. Right?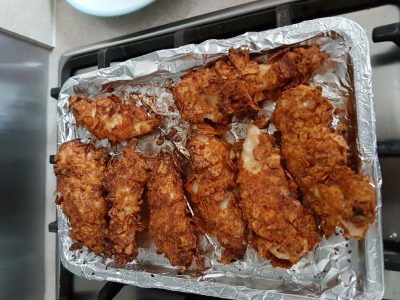 1830: After sharing some of the spare chicken that didn't get a spicy crumb with the cat, we plated up our dinner.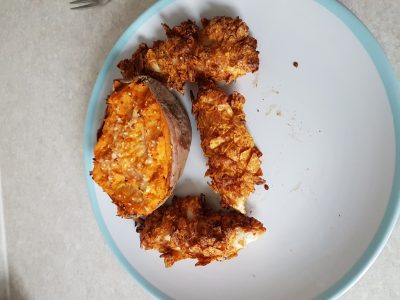 And this is the face of somebody who thinks they're getting more chicken, the cheeky blighter!