We're continuing to dive into the cooking efforts of KarmaFleet members. In today's article, Guilford Australis brings a Cajun twist on a seafood classic. Will his cat approve?
Crab cakes are a touchy subject in the eastern US. Like Buffalo wings, crab cakes are a very simple dish that everyone insists no one else knows how to make correctly. So I'm already playing with fire here, and to complete the circle of irreverence, I've combined a Creole side (maque choux) with a Cajun sauce in the same dish. Important People from Louisiana (if such people actually exist), say you're not supposed to confuse Creole and Cajun foods. So, in essence, I'm doomed to offend everyone of the Cajun, Creole, and Chesapeake Bay persuasions. Now that I think of it, I'm actually okay with that.
Sauce First
I like to start by making the remoulade, because it is both unexpectedly complicated, and it can be made ahead of time – even a day or two before. You see the basic ingredients in the photo below. In the spirit of Cajun cookery, I measure nothing when making remoulade, ever. Basically, you start with a shit-ton of mayonnaise, add about a third that amount of Dijon or whole-grain mustard, and then add pinches and dashes of the other stuff until it tastes like remoulade. As Chef John from Food Wishes Dot Com would say, that's just you cooking. You'll know when it's right.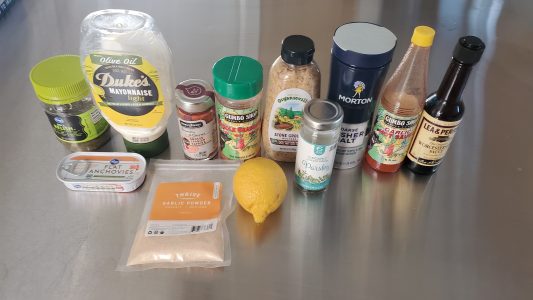 Sides Next
Now we come to the maque choux – a shamefully underappreciated side dish. Anyone should be capable of tossing together a can of corn, a diced bell pepper (I actually used Anaheim), onion, and bacon. You then sautée it until the corn is lightly charred. If you've ever found yourself asking, "What is the point of corn?" Well, now you know.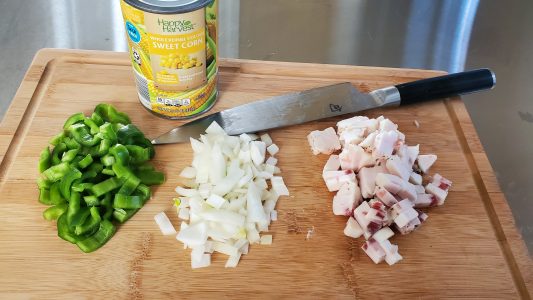 Then the Star of the Dish
Up next we assemble our cakes. The ingredients are simple. I use one eight-ounce container of claw meat for four cakes. Now, some people insist that backfin or even lump crabmeat is the only acceptable ingredient for crab cakes, but I disagree. I use claw meat because: (1) it is inexpensive, and we're about to pan-fry this stuff, and (2) it is more flavorful than backfin and lump, which means our crab cakes will have more crab flavor, and that is, of course, the point. But feel free to use whatever type seems best to you.
You then add a bit of mayo and panko to hold the cakes together. I already anticipate the whiny protests that I'm using gluten-free panko. I assure you – it's not by choice. My wife has Celiac disease, so if I want to eat in my own home, it's got to be gluten free.
Final point: the Old Bay is traditional, and to my mind necessary, but I've already ridiculed culinary dogma, so I'll leave seasonings up to you.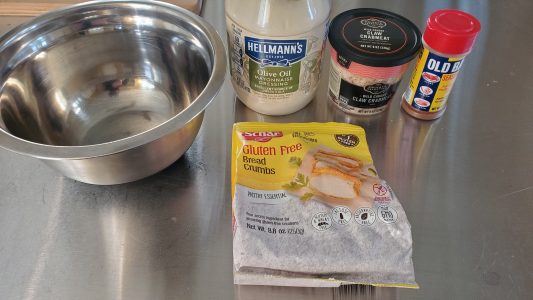 It All Comes Together
I use enameled cast iron cookware for almost everything. Properly cared for, it lasts forever, is effectively nonstick, retains heat very well, and can be used on the stovetop or in the oven. It does everything. These are two Staub pieces – a four-quart Dutch oven on the right, and a 5.5 quart cocotte on the left.
Yes, I could have gotten matching colors, but where's the fun in that?
The maque choux doesn't require any butter or oil. Just saute the bacon first and then add everything else once some fat has rendered. I used butter to pan-fry the crab cakes.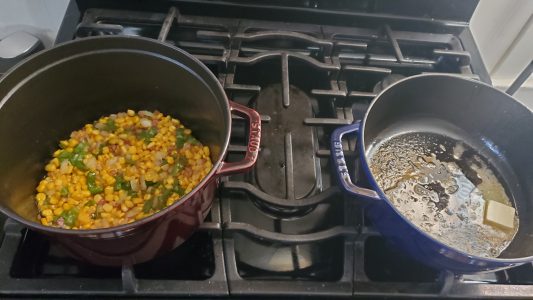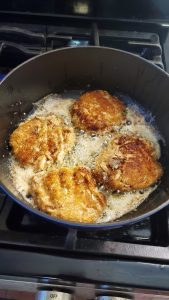 Dinner is Served
Once the maque choux is cooked to your preference (I like mine a little charred) and the crab cakes are firm and slightly browned, you're ready to plate up with some of the remoulade from earlier.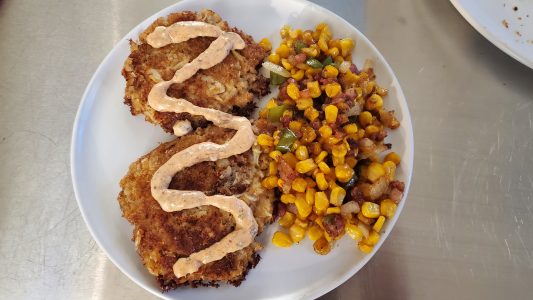 Sasha did not approve. Incidentally, this is the same expression I get whenever I try to tell a Marylander about how I make crab cakes.