A team of researchers at Japan's Osaka University recently fired what is claimed to be the world's most powerful laser. This laser was first debuted in the publication Plasma Physics and Controlled Fusion, by Fujioka et al.
The laser is housed in Osaka's Institute of Laser Engineering, alongside another large laser named GEKKO XII. This laser project, known as Laser for Fast Ignition Experiments (LFEX), is pulsed at an extremely high power for a very short duration, its pulses only measuring around one-trillionth of a second. However, the short pulse emits equally extreme amounts of energy in that space of time, measuring in at two petawatts, or two quadrillion watts.
The way a laser works is relatively simple, and hasn't changed since their invention in the 1960s. Light is amplified through a medium, typically a crystal, and is emitted coherently and focused into a narrow beam. LFEX is approximately three-hundred feet long, and occupies a large portion of the GEKKO-LFEX facility. Despite LFEX's immense size and power output, because the pulse was of such short duration, the beam was created with only a few joules of electricity — around enough to run a microwave oven for five seconds. The team utilized special glass lamps designed to boost the energy of the beam as it passed through them. They claim that their laser generates twice as much power as a rival laser at the University of Texas, and approximately one-hundred times as much energy.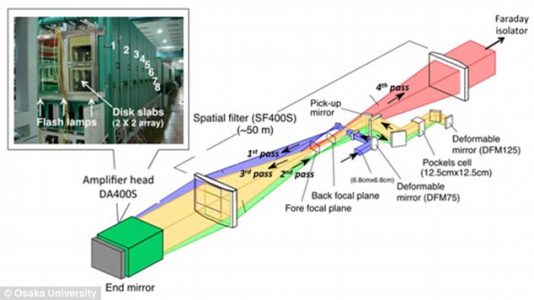 GEKKO XII, a high-power 12-beam Neodymium-doped glass laser, was completed in 1983, and has been used for high-energy density physics research, as well as early testing on Inertial Confinement Fusion. In 1997, GEKKO was upgraded with a 0.5 Petawatt ultra-short pulse beam, which was used to investigate a new technique, "fast ignition," which later became the basis for LFEX. In 2003, construction began on the LFEX laser, as part of the FIREX-1 program. FIREX-1 intends to be capable of delivering a 10kj pulse of energy on-target in 10 picoseconds (ten one-trillionths of a second), to further research into fast ignition and fusion reactions.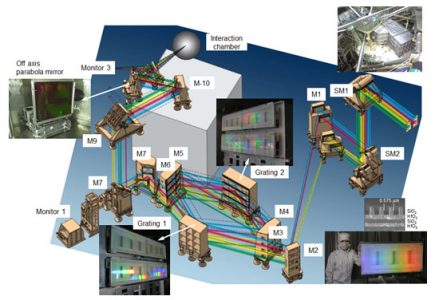 Osaka University reports that their current configuration is only the beginning, and they plan to create more powerful lasers over time, with a goal of achieving ten petawatts of output. Currently, the lasers are only of scientific interest, since any practical use for such a laser would require far more power than would be currently available.
A two-petawatt laser, running continuously, would require more energy than the entire world produces. So, we don't have to be afraid of giant laser-wielding mechas, or a Death Star just yet.
A video of the GEKKO XII test in 2009. (Skip to 55 Seconds)
This article originally appeared on TheMittani.com, written by kristoff Merkas.