The Opening Gambit
The Initiative. recently taught PAPI war planners a lesson regarding how to successfully anchor structures, not through force, but through deception. The move is known as a gambit in chess. Make them think you are moving one way and strike where they do not expect you. As the dust settled from another unsuccessful Azbel pawn move by the PAPI Coalition, INIT leadership were half-way through their gambit to protect the gates on 3-DMQT–call it a king's side castle. In a multi-day operation, kept secret from all but the lead fleet commanders, INIT drew their enemies' pieces north, then swiftly relocated their own pilots and anchored a Keepstar on the gate to the O-EIMK constellation.
Following the highly pinged operations during the UK Bank Holiday, where the Imperium destroyed Azbels #17 and #18 in 3-D, the Initiative purported to plan an attempt to online their own Azbel in the Pandemic Horde staging system of R1O-GN. The structure, one of many placed across the Dronelands during INIT's deployment, was designed to generate a response from Pandemic Horde, which it did. PAPI formed in large numbers during their prime time, and assembled their deployment HQ of Uemon with a full Muninn fleet and then set out for Etherium Reach to contest the 1900 EVE timer.
Since the initial excitement of the Initiative's deployment north, where they were met with a ferocious welcoming party from Pandafam that destroyed the first two Fortizars, tensions have remained hot. PH, having viewed the destruction of Catch and Immensea, clearly understand the threat posed by the so-called "dead alliance" if left unchecked. Trading pieces daily, structures have been anchored and destroyed, ratting and mining operations have been targeted, and jump bridges destroyed. But apart from a few one-sided engagements, there have been no major escalations from either side.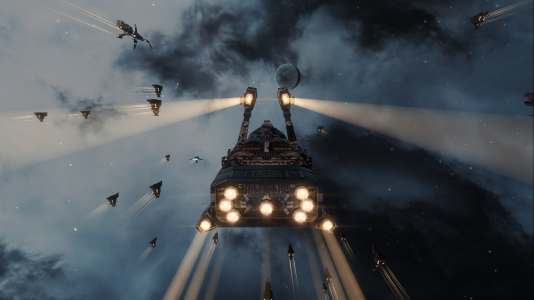 With PAPI reeling from yet another unsuccessful week in their ongoing quest to clear Delve, combined with the ruthless application of anti-PAPI memes on Reddit's "Meme Monday," their line members needed a win. Despite the costly but successful Chinese TZ assault, which anchored the two Azbel's destroyed this Monday, PAPI has not followed up with any additional moves. With ships fresh and ready for a fight, Pandemic Horde, Northern Coalition, Fraternity and friends jump-cloned home to once again "eliminate" the perceived Initiative threat before it grew out of control.
Initiative's lead FC, Dark Shines, had prepared for this very gambit. Calling for a strategic operation, INIT formed a full Muninn fleet plus support in Uemon and undocked, heading deep into enemy territory. Upon entering Horde space, fleet comms were filled with scouting reports – there were at least 300 NC. pilots in the next system. The chess board was set, the players ready, but Dark Shines announced that they were too late, that INIT should have formed earlier. Spies from both sides undoubtedly fed this disinformation back to their handlers: INIT needed to punch up and re-ship to a new doctrine. Swiftly, all INIT pilots they fell back to Uemon, where they were ordered to dock up and wait in capsules.
Only then was the true plan revealed. With over 1000 PAPI pilots having jump cloned north and descending on the INIT Azbel, Dark Shines ordered all INIT troops to death clone in the opposite direction – back to Delve. Horde and NC were stuck like a bishop trapped behind a pawn, unable to make a counter play. Once back home, INIT switched into subs and supers and proceeded to anchor a Keepstar off the E-V gate in 3-D.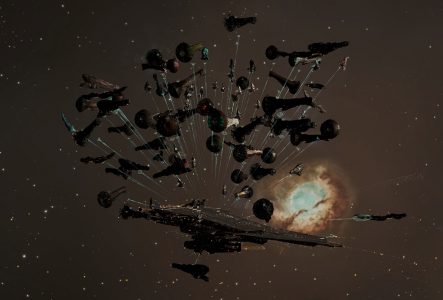 The Middlegame
With the Keepstar onlining, on Tuesday June 1 at around 1900, PAPI attempted to disrupt proceedings with their own spoiling operation during CN/AU TZ. Around 1000 pilots, from all alliances, once again pushed into the O-EIMK constellation. With the Imperium's focus on 3-D, PAPI entered through the T5Z gate into 1DQ, clearing bubbles as they went. With two fleets of Cerberus from TEST, AOM and Siege Green, Muninns from Horde and FRT, and a combined support Jackdaw/Harpy fleet, they made their way to the 1DQ > 3-D Ansiplex. With the majority of the Imperium's fleet in 3-D, PAPI held an initial numbers advantage.
A quick response from the Imperium FCs saw a large form-up with carriers supported by Eagles jumping back to defend the Battleship Superhighway. However, even early in the battle it became clear that the server "weather" would be interfering with both sides' lethality. Modules failed to cycle and fighters lacked their usual punch. With both sides trading evenly on the jump bridge, PAPI forces secured the T5Z gate and brought Rorquals through with Azbels in their cargo.
In an attempt at their own gambit, PAPI anchored three Azbels in the constellation, in MO-GZ5, N-8YET and 8WA-Z6. The one in N-8 was destroyed by bombers. The other two will online on D-day, Monday June 6, a day off for USTZ. This attempt to online is likely to be highly contested. PAPI then decided that they had achieved all they could and began to evacuate through the T5Z constellation. Jackdaws attempted to defend from further Initiative bombing runs, but once they aggressed, they were easily picked off by the closing Imperium HACs and Feroxes.
The overall battle once again saw PAPI anchor Azbels, lose the ISK war 61bn to 28bn, but fail to make any significant progress unless you count planting the Azbels as forward momentum. It's getting harder to see these moves as forward impetus, as 18 Azbels have subsequently been destroyed without onlining.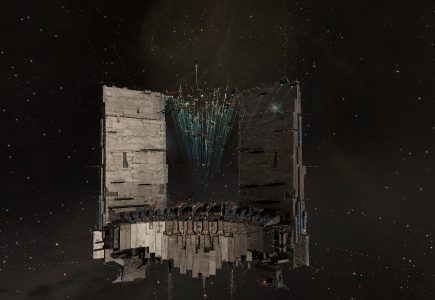 The Endgame
Following the successful anchoring of the Keepstar, it was now up to the Initiative to ensure it onlined. Forming over 500 pilots, in a mix of Titans, supers and sub capitals, they stood watch on the E-V gate to prevent any potential incursion. Legacy formed a small fleet of Retributions, but there was no other attempt by PAPI to attack the system. With a Keepstar now online, it causes further problems for the mega coalition in their attempt to crack into 1DQ.
Tactically, a Keepstar allows a faster reaction from Imperium supers and titans; the larger range allows more ships to remain safely on tether; and the proximity to the gate reduces travel time for fighters. Further, the Keepstar has its own doomsday weapon. In addition, this move reduces the Imperium's areas of interest in 3-D from three down to two.
The tactical picture may cause additional problems for PAPI, but the main issue remains their lack of will to contest. Throughout the siege of O-EIMK, they have made inroads towards achieving objectives, only to fall back within moments of completing them. A Keepstar that was onlining, right next to their entry point, would have been an opportune target for them. But the gambit worked. The Keepstar is online. PAPI line members, across all their various alliances, must now be asking themselves "If we can't kill that Keepstar, how can we kill a rigged and armed Keepstar in 1DQ?" As the siege approaches its 5th week, these conundrums will be causing sleepless nights for the PAPI leadership, who look at the 3D chessboard and ponder just what their next move might be. They thought checkmate was in their grasp – they've made pronouncements accordingly. And yet they seem to be staring stalemate right in the face.